Meeting the Harley-Davidson Pan America 1250 Special for the first time in person is an interesting experience. First of all, it looks nothing like any motorcycle to ever wear Harley-Davidson's iconic badge. It stands tall, rides on tubeless, cross-spoked wheels, sports a centre-stand and there isn't a speck of chrome to be found — and yet a large bar-and-shield is present and accounted for.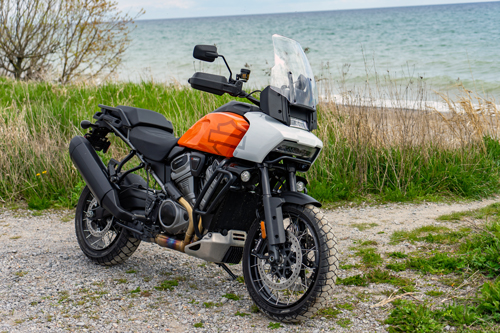 Fire it up and the Pan America doesn't exactly sound like any Harley ever has either. The all-new, 1250 Revolution Max Motor is liquid cooled. It forgoes the tried and tested 45-degree "V" for a wider, 60-degree spread. The valve timing is variable and a computer controls it so that the intake and exhaust cams of each cylinder can adjust up to 40-degrees in rotation to optimize the powerband without destroying fuel economy. The engine uses two counterbalancers to keep things uncharacteristically smooth and it pumps out a stonking 150-horsepower.
On the road, the Pan Am is sublime. The quickshifter works seamlessly, the ride modes tailor fuelling and suspension settings expertly, and the seat delivers all day comfort. Roll on the power from damned near anywhere in the rev range and the torque — 94 pound-feet of it — shoves you along with ease. Not content to plod along in the low end of the tach? No sweat. This Hog won't hit the redline until nine-thou!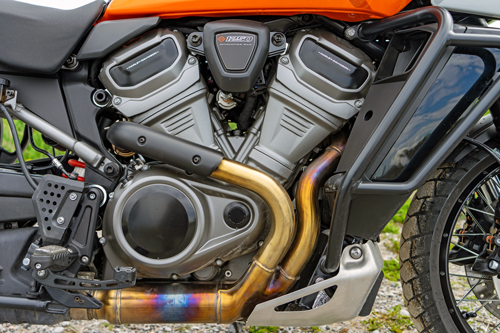 The semi-active suspension on the 1250 Special automatically adjusts to accommodate pillion riders and luggage too. Come to a stop and the entire bike lowers itself, so you needn't worry about tip-toeing at the lights. Get aggro with the bike in Sport mode and everything tightens up, so carving corners and exploiting the Pan Am's 42-degrees of lean is a thing to be encouraged. And when the road ends, the Pan Am simply shrugs and says, "Let's go".
I was amazed at how well balanced the Pan America felt off-road. It's weight was barely perceptible and its composure over rough terrain was admirable. From a standing position, it was easy to control and comfortable too. For aggressive riding, an Off-Road Firm mode can be called upon to minimize G-outs but for leisurely cruising to a campground or treading lightly for exploration, Off-Road Soft is Citroen-esque.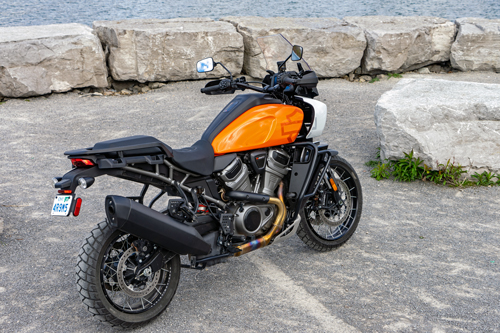 It's rare that a manufacturer builds such a stellar first effort. Rarer still that they do so with something completely out of their comfort zone. The Harley-Davidson Pan America 1250 Special is an incredibly well sorted machine. It won't surprise me to see it top most publications lists for bike of the year. It is certainly my choice.