Despite never having owned one, the Ducati Monster has always held a spot in my heart. The 1996 Monster 900 was the bike I longed for the moment my M endorsement was earned. It captured everything I loved about motorcycling with its minimalist styling, clean lines, trellis frame, and the Italian exotica associated with the brand. I still contend that the Monster S4R S may be one of the most beautiful bikes ever created, and actively poke around for used ones, at least once a month.
The all-new, 2021 Ducati Monster isn't exactly what I'd call a looker. It's not that it's an unattractive bike – it's sleek, refined, modern and looks fast standing still – but visually this bright red apple has fallen quite far from the tree. Were it not for the script on its tank, some may struggle to suss its Italian roots.
Spend twenty minutes riding it though, and you won't care.
The new Monster is lighter – eighteen kilos(!) – and, thanks to a tighter rake, a skinnier rear tire and smaller overall wheelbase, it's more agile too. The 937cc Testastretta 11°, V-Twin engine that motivates it has 111 angry cavalli on tap and they are, all of them, champing at the bit.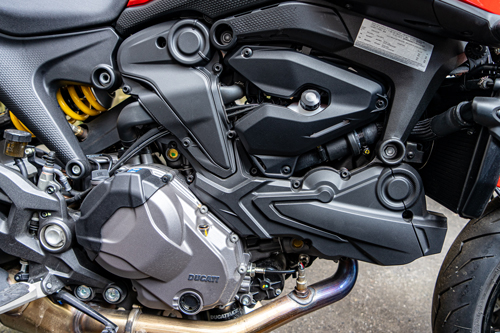 Engaged in a session of lead-follow at Shannonville Motorsports Park, my rusty track riding techniques should have me at least a lap down on my instructor, but the front tire of my Monster is sniffing at his fender. Speed is easy on a hundred-plus horsepower machine that's just shed the equivalent of nine bags of sugar, but how the Monster maintains that speed is impressive.
The chassis is stiff and communicative. The KYB fork, although not adjustable, is well suited to my 84kg frame and maintains a relatively flat plane while compressing under the beefy Brembo binders. That helps make tip-in feel natural and progressive and delivers confidence in spades. Coming out of the turn-five hairpin, I can get on the gas quickly and let that Testastretta stretch its legs.
Lap after lap, I feel my confidence grow despite a nearly four-year hiatus from the track. By the end of my final session, I'm easily one of the quickest in the group and it has little to do with the skill I brought to the table. The 2021 Monster is a hero maker of the finest order.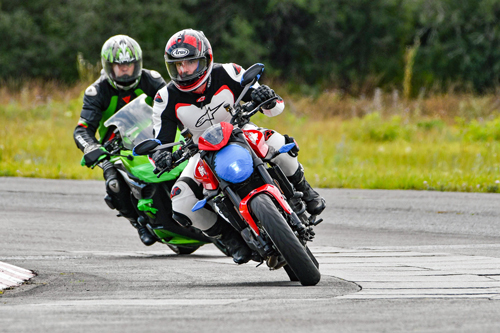 Better still, it hasn't lost any of its workaday charms. To get to and from Shannonville meant I had to load my leather onesie onto the pillion and ride the 460km roundtrip. The ergonomics remain downright comfy despite its high-speed prowess and it motors along happily at highway speed (and in traffic jams) for hours on end.
The Monster's poster-bike good looks may be a thing of the past, but the performance and potential this new evolution delivers, more than makes up for it. I had a feeling it would be good, but just how much better it was, was a pleasant surprise.