We always want what we can't have.
In some cases our desire is so great simply because we've been told no! This explains why my puppy is enamoured with my sneaker collection.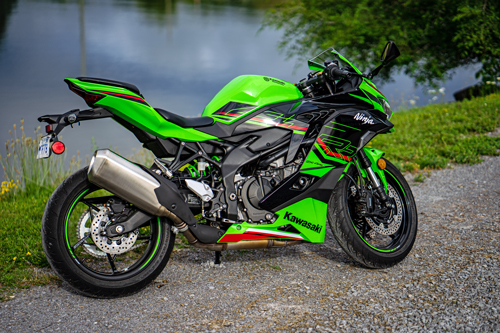 And in other cases it's the fact that what's desired is just so damned good.
Just three short years ago, Kawasaki made all of us riders salivate over the high-revving, 250cc, 4-cylinder Ninja it released exclusively for the Asian market. A fifty horsepower, pocket rocket that revs to seventeen grand and weighs a scant 184 kgs?  Yes, please! And while us folks west of the Atlantic will never snag one, I'm happy to report that Team Green has atoned.
The 2023 Kawasaki Ninja ZX-4RR is a lightweight, four cylinder screamer that may actually be the better bike for us Canucks.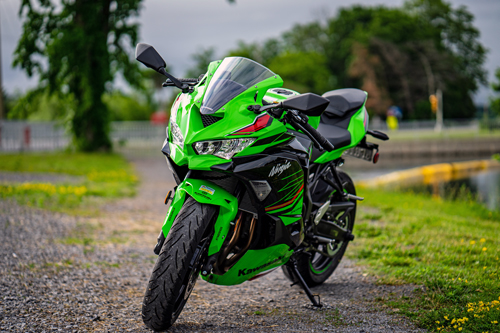 From a distance, you'd be forgiven for thinking the new ZX-4RR is actually its larger, 600cc stablemate. The proportions, plastics and Kawasaki Racing Team (KRT) graphics make this lil' Ninja look bigger and more aggressive than it is.
Powered by a 399 cc, liquid cooled, inline, four-cylinder engine with a rev ceiling of sixteen-thousand RPM, this lil' Ninja sounds and feels like its bigger brother too.
The track-day warrior fitment doesn't end with that 4-pot banshee motor, either. There's a set of twin, 290mm discs up front with four-piston monobloc callipers to bring its 187 kg mass to a halt. The forks are a 37mm, upside-down set-up with adjustable preload and the rear is suspended by horizontal back link shock, complete with remote reservoir offering preload, damping and compression adjustability – essentially the same unit from their top-tier, litre-bike Ninja. There's even a dual-direction quickshifter bolted up.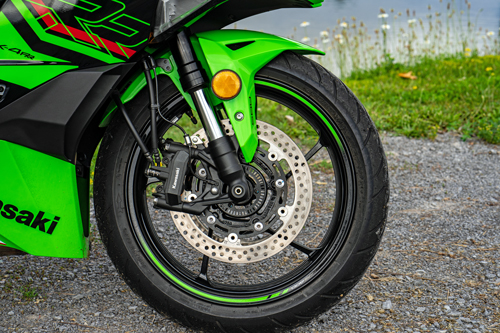 The dash isn't the bargain unit you typically see on small displacement bikes either. The full colour, 4.3-inch TFT screen that adorns most of Kawasaki's bigger bikes is called into duty here. From it, or from the controls on the clip-ons, you can select your riding mode, toggle around with trip computers and dive into the user menu to set the bike up the way you'd like for traction control or even access the Circuit Mode, complete with lap timer.
Riding the bike is an absolute riot. The wail from the intakes at everywhere north of 8,000 is absolutely addictive. At redline, it's a religious experience. Feedback from the brake lever is accurate and confidence inspiring and at tip in, the bike feels even lighter than it actually is. On a track, it's mesmerising. On the street, well thanks to its beginner-bike power output of about 60 horsepower, you can ride at 7 and 8-tenths while still staying on the (mostly) healthy side of the law.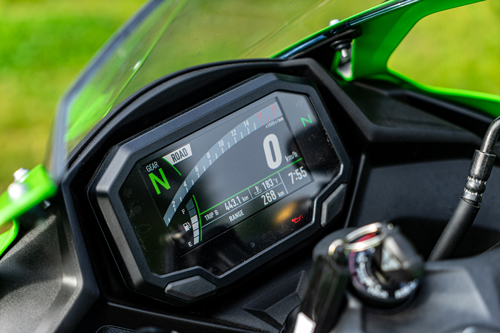 The other surprising bit is that the lil' Ninja is actually quite comfortable. The saddle is wide and spacious. The rear sets don't have my legs in a permanent squatters press and the leans to the clip-ons is such that I can even rest my elbows on my knees. While I certainly wouldn't choose it first for a long weekend away, I happily logged 200+ kilometre rides with minimal cramping or discomfort and rode it to and from my track day without complaint. Of course, whenever things started to tingle in just the wrong way, I'd simply downshift, let that engine scream a little and lock back into position with a Cheshire grin. Truly few bikes provide such a ready dopamine hit as the throttle on this one.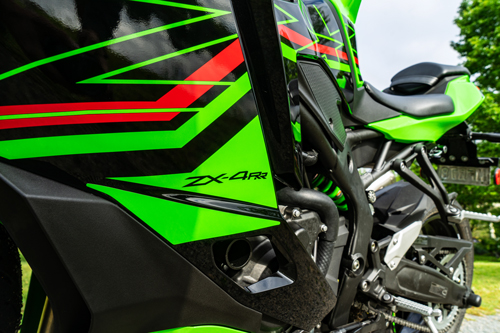 There are really only three issues I can log about with the Ninja ZX-4RR. The first is that, even after adjustments, the front fork may be a little soft for dedicated track duty – especially with a North American carcass on board. On the street, it does just fine but under hard braking into a corner there is a bit more dive than some heavier experts may wish for. This could certainly be remedied, but the bike is already fairly spendy at $10,999 and aftermarket suspension upgrades don't come for free.
The next issue is that the ZX-4RRs sold across the pond actually make more power. The North American units are neutered by sound and emissions laws which results in a flat spot in the power curve above 11,500 rpm. Sure, that too can be fixed but it involves a warranty destroying flash tune. Whether that's worth the approximately 17 horsepower gain to you or not will depend on your fear of voided warranties, chequebook and desired use case. For me, were one to find its way into my garage permanently, I'd leave things well enough alone until I was able to ride the bike to its absolute limits. By the time that happens, the 12-month warranty would be gone and so would my apprehension to reflash that ECU.
As for that third thing, well that's really a "me issue" and not a bike issue. I just don't have the room in my garage for this incredibly fun, addictive, screaming lil' Ninja. At least not right now…
As they say; we always want what we can't have.
2023 Kawasaki Ninja ZX-4RR
Motorcycle Style: Supersport
Engine: 399 cc, liquid cooled, inline four cylinder
Power: 60 horsepower
Transmission: 6-speed manual
Weight: 188 kg (ready to ride)
Price: $10,999
Website: Canadian Kawasaki Motors Inc.