In recent months, Harley-Davidson has gone about creating two completely new and different motorcycles around the best engine in their near 120 year history. The first of which, the Pan America 1250, is a unanimous success that has thrust the Bar and Shield into a booming and lucrative new market. The second effort, The Sportster S, also looks poised to disrupt some conventions (we'll have more to say on that in the coming weeks). Regardless of our riding impressions though, both of these models demonstrate The Motor Company's commitment to a change many of us in the industry have been asking, nay begging for, for years.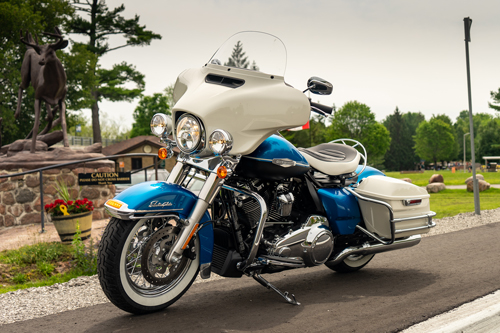 However, somewhere in the midst of making these potentially more impactful announcements they also went about creating something called The Icons Collection. A series of limited run bikes (only 1,500 examples of each will be built, ever), each creation will both celebrate a specific moment in Harley-Davidson's storied past while also showcasing its current technological and performance abilities.
The 2021 Electra Glide Revival is the debut offering from this new niche of exclusivity. A bike created in homage to the 1969 FLH Electra Glide, the motorcycle and year that first saw Harley's ubiquitous "Batwing" fairing debut as well as marking the shift from soft to hard saddlebags — the birth of the 'bagger", if you will. Retailing for a five-figure increase over their stripped down Electra Glide Standard, I wanted to know if this rare breed of Grand American Touring amounted to more than just some fancy paint and a numbered plaque.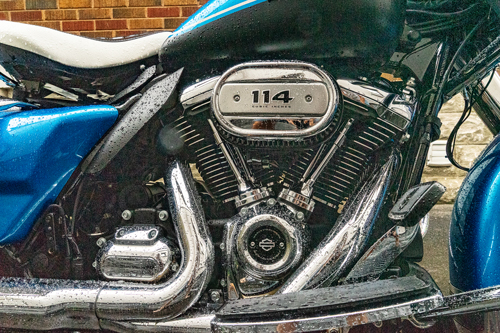 Powertrain
The engine alone confirms that the Electra Glide Revival isn't just a case of putting lipstick on a Hog. Equipped with Harley's full-fat, Milwaukee-Eight 114 engine, the Revival certainly isn't lacking in the power department. The 1,868cc, 45-degree, V-Twin generates 97 horsepower and 118 lbs-ft of torque and is mated to a 6-speed transmission.
That may not sound like a lot of grunt to motivate its 391kg of heft, but it's honestly no slouch. I've been lucky enough to experience this same engine in a number of H-D's applications over the years and it has never disappointed. Power, whether from a stop or on the roll, is just there and ready to go whether you've decided to downshift or not — the torque curve is omnipresent.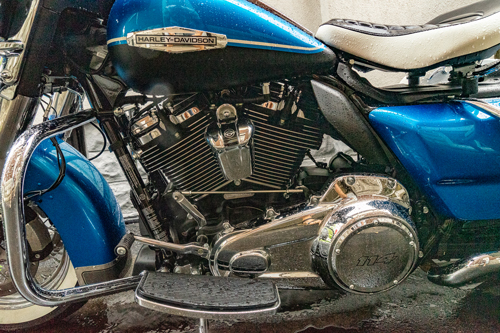 And then of course, there is the sound. There's overt mechanical brashness mixed with muffled subtlety that results in a concert that Harley remains better versed in than others. The signature "potato–potato" soundtrack, although hushed through OE pipes, is mated to an intake howl that matches the character of this bike perfectly.
Styling
When I first pulled the Revival into our driveway, my wife was quick to quip that it looked like a cop bike. And while I'll admit that the silhouette cast by that fairing and those bags along with the sprung solo seat do provide a whiff of Toronto's finest (since they do actually ride custom variants of the Electra Glides), we agreed to disagree.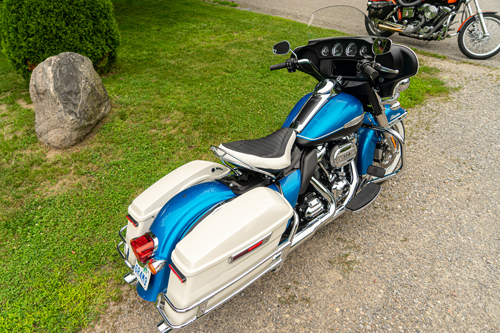 The Hi-Fi Blue lacquer has incredible depth that contrasts elegantly with the creamy Birch White. Accented by a tasteful mix of flat black along the belly of the fuel tank, a fully chromed drivetrain, shining bits of protection surrounding the panniers that match the seat's grab rail and those whitewall Dunlops, you get an aesthetic that's far sweeter than anything built to serve and protect. I'd even argue the package goes beyond its implied vintage roots to being a full blown classic. It's just pretty from any angle, which isn't usually the case for 390-kilo baggers.
Ergonomics
I've written it before and I'll do so again here: Harley-Davidson makes the best motorcycle seats in the business. I mean, take a peek at that sprung, solo-saddle on the Revival here. It's sculpted triangular shape, elevated perch and tufted and two-toned leather looks more like an exercise in form, rather than function. And yet, it cradles and supports your tush with "just right" amounts of cushion and firmness, spring and give. It's a fantastic spot to sit for hours on end.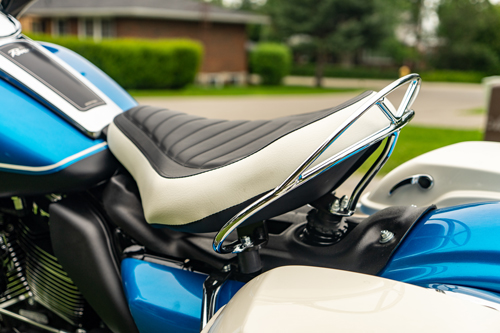 Really, my only complaint with the seating is that it's surprisingly tall at 785mm (just over 100mm taller than a Electra Glide Standard). That means that parking lot maneuvers can be tough as even my 813mm inseam found it near impossible to flat-foot this bike. This also means that when hustling through twisty bits of tarmac, the transition from left to right can feel a bit exaggerated as you're riding quite high. This steals a bit of confidence from the rider until you become accustomed to this quirk.
Stick to cruising though, and everything falls into place. The bars sit just below chest height, meaning there's a relaxed reach to them with a comfortable bend to your arms. The forward positioned floorboards are wide and long enough to allow for adjustments and provide a comfortable spot to work the shifter or the brake pedal. On a slightly elongated Saturday ride through cottage country, I arrived home feeling nearly as fresh as before I left.
Features
In addition to the beefier engine and all of the eye candy, Harley-Davidson has also imbued the Electra Glide Revival with the entirety of their Reflex Defensive Rider Systems (RDRS). That means that the Brembo brakes at both ends of this Harley are linked and governed by a six-axis IMU, so cornering affects their application to help protect you (and that stellar paint).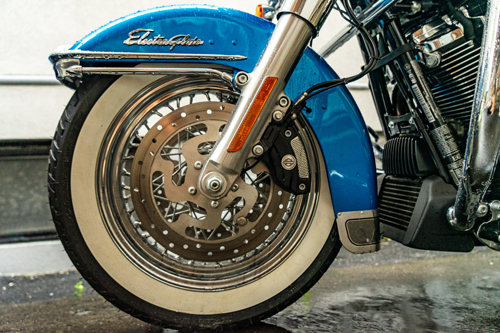 The same can be said for the traction control system as well and the electronic shift-assist that has been incorporated to eliminate wheel hop or lock-ups during abrupt downshifts. Traction control can be turned off, should you wish, and there is a "Rain" mode that can be accessed to help keep all of that torque at bay in damp conditions.
In addition to the safety system, the Revival also has Harley's Boom! Audio GTS infotainment system. This system includes a pair of fairing mounted speakers that will undoubtedly annoy all of those around you in the city and quickly lose their sonic battle to wind while at speed.
If you roll with Cupertino, know that Apple CarPlay is integrated. For those of us who don't, Harley's navigation system is included. Thankfully, its use is not dependent on pairing with an H-D app equipped phone, either.
The saddlebags will stow a day or two worth of gear without issue, although don't even think about stuffing your helmet into one — especially if it's a full-face — as they just won't fit.
Ride
I don't know that there is a bike on the market currently that has a similar riding position to the Electra Glide Revival. That elevated saddle, while extremely comfortable, does take some getting used to. Sharp, low speed turns or backing this beast out of a parking spot takes both effort and practice.
Once underway though, everything starts to make sense. That peach of an engine is barely breaking a sweat at highway speeds and the batwing fairing, although a touch low for my 1.8m frame, does a decent job of keeping the elements away.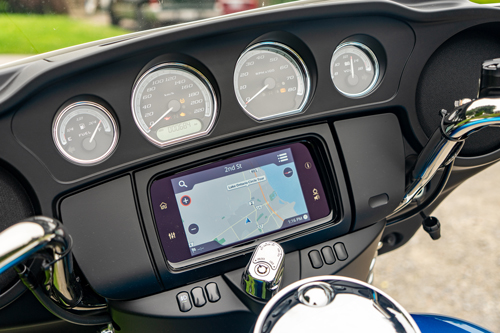 Clicking through the gears is met with something between a clunk and snick — it's authoritative and precise nonetheless The clutch does ask for a heavy pull, especially compared to other non-traditional H-Ds, but at this stage it genuinely feels a part of the old school Harley experience and I can't really fault it.
Braking is more than ample, with positive feedback from both pedal and lever while the suspension does a decent job of quelling nosedives. I'd prefer a bit more travel in the rear, as my arse was ejected more than a few times while hitting bumps at speed.
Lean angles are 31-degrees left and 32-degrees right (and those floorboards are hinged), so you can push this big bike further than you may think. Settle the Revival into a corner and it will hold its line with confidence. As mentioned above though, left to right transitions will feel a little odd at first, but once you get used to things it becomes almost second nature. If you were looking to two-wheel it to, and participate in, the Woodward Dream Cruise — from say Tucson — this is the bike you want.
Conclusion
The 2021 Harley-Davidson Electra Glide Revival is a new bike that's been built to look old. That surely isn't a new concept in the motorcycling world these days. Countless new scramblers, cafe racers, desert sleds and all manner of neo classic interpretations seem to hit showrooms every year. With the Revival though, there's something special going on and it's more than just that limited edition status and fancy paint.
The Revival is rolling proof that, even as The Motor Company repositions itself for potentially drastic change, some things — especially those that a great many believe they do best — never get old. Some things are just… classic. And that is exactly what the Electra Glide Revival is: a classic.
2021 Harley-Davidson Electra Glide Revival
Price: $35,299.00
Engine: 1,868cc, 45-degree, V-Twin
Transmission: 6-speed
Power/torque: 97 hp/118 lb-ft
Weight: 391kg (fuelled and ready)
Warranties: 12 months
Competitors: Harley-Davidson Electra Glide Standard, Harley-Davidson Street Glide Special, Honda Goldwing
Link: Harley-Davidson Canada