Elora, Ontario is the most road trippable town in Canada. I know this because there's a sign at the entrance to Victoria Park telling me so. The fine folks at Chevrolet paid for it. My dad and I rode out here – he on his near thirty-year old Harley-Davidson, me on the new 2020 Kawasaki Ninja 1000SX – simply because it was a spot on a map. A spot neither of us had been to in a while for a day on bikes neither of us had shared in a while.
When I was eighteen, some twenty-four years ago, my dad convinced mom it would be a good idea that he and I get our motorcycle licenses. It was a good call. Our riding partners, style and rides of choice have diverged since then, but we always manage to square away a few weekend time slots every summer to get out and put our knees in the breeze.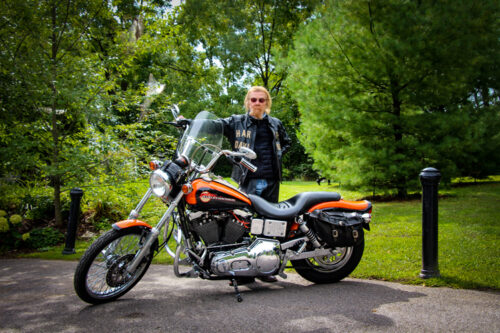 That breeze is a touch asthmatic as Dad's taking his typical, legal and leisurely approach to highway travel on the westbound 401. That pace causes some initial anxiety for me and endless frustrations for the hundreds of cars, trucks and buses zooming past us, both left and right. This used to anger me, how slow he went, but I've learned to adjust. Riding with dad has taught me that it's good to slow life down sometimes and adjust the throttle accordingly. The Ninja doesn't seem to mind, either. It's planted, comfortable and happy to have me set the cruise control barely into triple digits. Plus, it gives me time and ability to delve into the fancy TFT display and fiddle with its myriad of other features.
While not exactly an all-new effort for 2020, the latest 1,043cc powered Ninja has received subtle styling tweaks and, more importantly, been bestowed with Kawasaki's full suite of techno whizz-bangery. Accommodated by the move to a throttle-by-wire system, the sport-touring Ninja now offers the aforementioned cruise control, an IMU monitored ABS and traction control system (complete with lean-angle aware ABS) and the choice of four riding modes, including a user-programmable one. Rain, Road and Sport are the three factory modes available but toggling between any of them requires that the throttle be fully closed during selection. That means you either need to pull over and stop or roll off the throttle for the entirety of your decision making. This isn't the friendliest of ways to experiment, but I have no trouble making it happen in dad's V-Twin wake.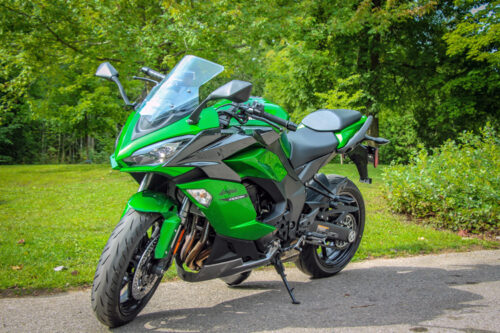 Kawasaki also decided to include KQS, their bi-directional quickshifter on the 1000SX and that's definitely a welcome bonus. Whether under hard acceleration and braking or a more meandering pace of travel, the KQS system responded perfectly and smoothly snagged the next desired cog. I won't say it's as "snick-snick" exacting as the application on the Z H2 I rode earlier but that's more to do with that Hyper-Naked's use of a dog ring transmission.
Ergonomically, the 1000SX has me canted forward but the elevated clip-ons sit high enough that I'm "at the ready" without feeling cramped. The seat has been upgraded with denser padding which felt a bit stiff but kept vibrations at bay and the distance to the rear-set footpegs is, again, slightly aggressive but not punishing. The flares in the tank lend themselves perfectly to my thighs too, so making adjustments to relieve hotspots during longer runs is easy to accomplish while also lending itself to a racer's tuck. Skipping out of town to meet Mr. Voth earlier in the week for a lunch discussion revealed the SX loves to run at ballistic speeds and isn't really phased by cross-winds.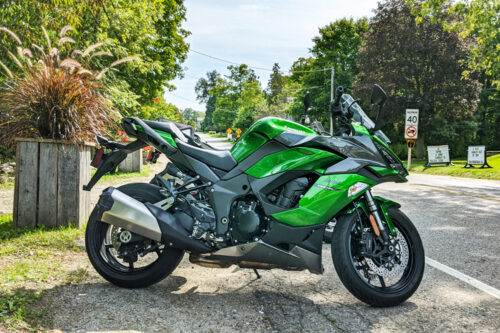 After our time in Elora, my dad and I made tracks towards the renowned Forks of the Credit road and bouncing between second and third gear through those twisties was an effortless delight. Compared to the track focused Ninja ZX-10R, the rake and trail on the 1000SX are only slightly more relaxed (25-degree, 107mm vs. 24-degree, 104mm respectively) and the wheelbase is only 15mm longer, so handling is sharp and focused. My dad and his Harley disappear from my mirrors while I indulge my desires to put this Kawi through its paces.
At quick-but-not-fast speeds through this route the feel from the front end inspires confidence. The fully adjustable, 41-mm Showa forks have been updated from last year to provide a more tranquil experience over broken asphalt and from where I'm perched, they're doing a great job. Before leaving home, I had dialed down the rear suspension's preload by two clicks to deliver a softer run on this tour and that doesn't seem to have unsettled anything (while providing the extra compliance I was after). There's little to no chassis flex through here meaning the bike feels absolutely planted. I'd love to flex its 140 hp muscle a little more on a track but the Fork's mix of tight hairpins and undulating sweepers are a pretty decent proving ground. And they're being inhaled by this Ninja. I have to rein myself in a bit around the half-way mark as I catch up to slower moving traffic. It's not all bad as I should wait up for pops, anyways.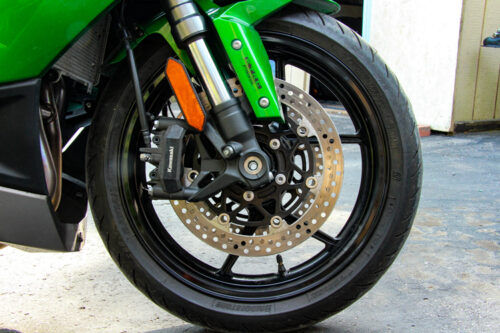 We pull into the Higher Ground Café to regroup, stretch legs and chat. There are dozens of other two-wheeled enthusiasts out today and even a Pagani burbles past. As amazing as that rare sight is, I'm shook when dad mentions he has never ridden through here before. Obviously, I've failed as a riding companion. I quickly offer up the option of retracing our tracks on the way home, but he says he'd rather not. I can tell from his expression that conditions may have been a little more technical than he was expecting — speed and lean-angles aren't exactly dad's thing (see paragraph 3 above) — but he agrees it's one hell of a riding road. There's no disappointment on my end. Truthfully, I'm just happy to be out and riding with him.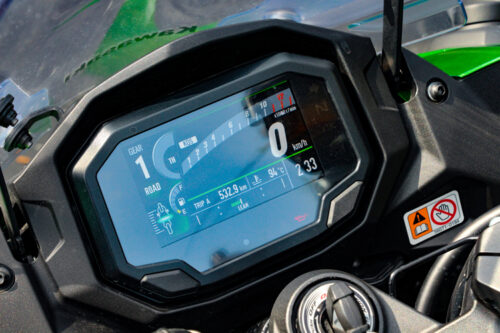 We wind our way back down into the throngs of the GTA and are welcomed by the typical bumper-to-bumper mega-city greeting. I take the lead and find a route around the worst of it. I'm sure dad is wondering where the hell I'm headed but he stays tight on my taillight and we're through things in no time. Back at my parent's house, we grab seats on the backyard deck and relive the day. Dad's always curious about what bike I'm riding and as I'm making a few notes on my phone, dad asks about this Ninja.
I read him the first word I typed on my phone: smooth.
And the 2020 Kawasaki Ninja 1000SX is smooth. Acceleration? Smooth. Throttle response? Smooth. That quickshifter? Smooth. Tip-in, mid-corner lean, suspension, braking, it's looks? All of them, smooth.
If your riding preferences tend towards the sporty side of things but aren't willing to sacrifice comfort for all-out performance, the Kawasaki Ninja 1000SX does it with a finesse that just can't be found at this price point.
Dad and I continue to chat as the sun starts to dip. We praise the Raptors, lament the Leafs, talk about Harley's woes and relive our day on the road. Few words are floated about either Elora, its beautiful Gorge or any of our other stops along the way. No matter how "road trippable" the destination, it's about the journey right? We laugh at that platitude and both agree to making best efforts to share a few more days and get out to a few more spots on the map.
2020 Kawasaki Ninja 1000SX
Price as Tested: $14,399+
Engine/transmission: 1,043cc, DOHC, Inline Four-Cylinder / 6-Speed
Horsepower: 104.5kw (142ps)
Torque: 111 Nm
Fuel (capacity): Premium (19 L)
Weight: 235kg
Competitors: KTM Super Duke GT, BMW R1250 RS, Ducati SuperSport S
Links:
Canadian Kawasaki Motors