The Honda CB650R is a styling masterclass in old-school cool and new-skool futurism. I mean, just look at it. Those are easily the most attractive OEM indicators to grace a motorcycle. And how about those waterfall headers? That sculpted tank and bronze accents. It's soft yet aggressive, edgy yet refined, cute yet cutthroat. C'est chic, ne c'est pas? C'est le nouveau-café, cherie!
Wait. Nouveau-café? Cherie?
Hmmm… Nuovo-caffè? Novo-café? Nuevo-café? Neu-kaffee?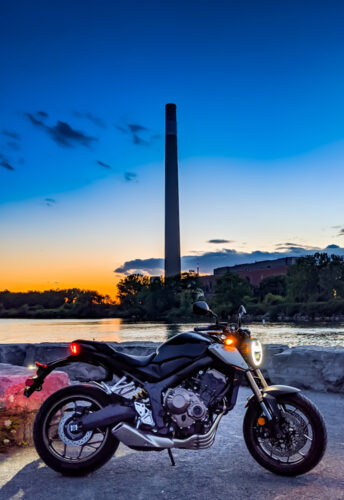 No. It's none of those things.
Honda branded their newly refreshed CB line of motorcycles "Neo-Sports Café" and while I appreciate why — it sounds soft yet aggressive, edgy yet refined, cute yet cutthroat (and makes for a hot hashtag) — I disagree with the branding. The CB650R is a middle-weight UJM, as in Universal Japanese Motorcycle. To a marketing department, that sounds as boring as broccoli. But for a rider, it shouldn't.
For the uninitiated, UJM is the term coined to describe standard motorcycles that were popping up everywhere and eating Harley-Davidson's lunch in North America throughout the seventies. Characterized by an essential ingredients list, these bikes had powerful, racing-derived inline four-cylinder engines, a unit-design 5-speed transmission, disc brake(s) up front, decent suspension and an upright riding position. They were comfortable, fast, could handle better than most other bikes on the market and didn't carry any stigmas of gang affiliation. Each of the Big Four (Honda, Kawasaki, Suzuki and Yamaha) eventually had their own contenders in this new niche but Honda's CB750 can be credited with carving it out and quickly becoming the icon of the group. Hundreds of thousands of Honda CBs were sold in North America (with many still running around today). The UJM became the standard when one speaks of "standard" motorcycles.
Kawasaki can be credited with reintroducing the world to the UJM a few years back via their sublime Z900 RS, but it's Honda that has re-imagined what the UJM should be for the 21st century. Take those iconic CB's from Honda's past, swap fillets for chamfers and run the bikes through an Akira-esque filter and you have the aesthetic standout that is Honda's new CB family. And the CB650R, the middleweight offering in that family of three, claims the sweet spot in terms of size, power and comfort.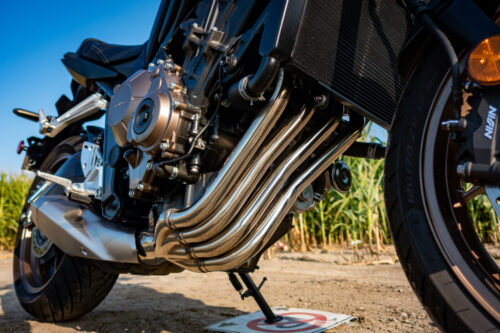 The engine is a silky-smooth liquid-cooled, 649cc, inline-four that loves to rev. It develops 70kW (94hp) of power at 12,000 rpm and 64Nm (47 lbs-ft) of torque at 8,500. If you're used to a twin-cylinder configuration, there is a noticeable lack of grunt down low, but I found I adjusted my riding style to wring things out pretty quickly. From the saddle, there is a perceptible buzz in the mid range, but I considered this to be a display of the bike's racy character, reminding me to stop short-shifting. Like I said, this engine loves to rev and rewards riders that indulge while managing to (mostly) stay on the cost effective side of the law. And it's that engine is truly what sets the CB650R apart from its competition. Where every other manufacturer in this middleweight arena relies on a twin-piston motor for motivation (Suzuki SV650, Kawasaki Z650, Yamaha MT-07), exercising Honda's high-revving inline-four is both refreshing and exhilarating.
Despite that transverse mounted motor, the CB650R has a slender profile and nicely sized set of bars. The combination makes it feel incredibly flickable. Manoeuvring around and through traffic is a breeze and made me wish more than a few times that lane-splitting and traffic filtration were smiled upon practices in this city. On extended highway runs, the lower ergonomics were a touch cramped for my 1.8m frame but I wouldn't say I suffered as the saddle provided enough room to move around and relieve joints and hot-spots. For riders that are less leggy than I (864mm inseam), the CB650R could comfortably serve up a long days' worth of riding.
Provided your feet don't melt that is… I was shocked by just how much heat that gorgeous set of pipes was throwing down low.  I guess there really is no art without suffering.
The front forks are a non-adjustable set of 41mm separate-function units (meaning one inverted tube handles damping while the other houses the spring) from Showa. I found them compliant enough to soak up minor road imperfections while remaining on the firm and sporty side. The rear mono-shock can be adjusted for pre-load with 7 settings on offer. I didn't feel the need to fiddle away from the factory settings for my 83kg of mass but if a pillion rider was in the cards, it's nice to know things can be stiffened to accommodate.
Stopping power is adequate thanks to the 2-channel ABS equipped, twin, four-pot calipers up front but the feel through the lever was a bit squishy and lacked the initial bite I expected. A different set of pads or an upgrade to braided lines would likely fix things. Regardless, once accustomed, I wasn't overly concerned about running out of space before coming to a halt.
With a curb weight of 201kg (443-lbs), the CB650R isn't exactly svelte. In fact, it's nearly 20kg heavier than the current category darling, Yamaha's MT-07. On paper that's a penalty but I didn't find it translated to rider feel, meaning it wears that extra 10% of heft well. If commuting ever becomes a thing we all do again, the CB650R would make for an excellent choice to indulge in free downtown parking without sacrificing any fun on the weekends.
Soichiro Honda once asked "Why should a man… spend his days seated behind a desk, twiddling his thumbs to pass the time?". The CB650R provides plenty of reasons to sheath those thumbs in leather and twist a grip. Like the UJMs of Honda's past, this re-imagined CB650R offers all of the essential ingredients that made good motorcycles great. It's comfortable, fast, handles well, has a unique (in its class) engine and comes in an attractively designed package. Whether you call it a "Neo-Sports Cafe" or not isn't going to change that although it may score you a few extra likes on the gram.
Price as Tested: $9,699.00+
Engine/transmission: 649cc, DOHC, Inline Four-Cylinder / 6-Speed
Horsepower: 70kw (94ps)
Torque: 64 Nm
Fuel (capacity): Premium (15.4 L)
Weight: 202kg
Competitors: Suzuki SV650, Kawasaki Z650, Yamaha MT-07
Links:
Honda Canada