2018 marked the one-hundred and fifteenth anniversary of Harley-Davidson. And while that longevity alone is much to celebrate, there are countless concerns surrounding The Motor Company. Sales numbers are sliding. In North America, Harley's patented formula for freedom is failing to attract younger riders. Couple that with the facts that their products are often viewed as too pricey for first-time riders and that many of the dyed-in-the-wool faithful are only buying T-shirts, not new bikes, and you've got a wound that needs stitched.
In an effort to ensure the Bar and Shield's continued relevance, change is in the works. Last year saw a full redesign of their entire Softail line, with nine new models. And soon, new territory will be explored. The Livewire, Harley's first all-electric motorcycle, just made its production debut at EICMA. There's a full-fledged ADV bike in the pipeline and an aggressively styled Streetfighter is poised to hit dealer floors in the coming years, too. But until that new-hotness arrives to stem the flow, we're left with much of the same… save one quirky but confusing Harley.
Long, low and mean, the Harley-Davidson FXDR 114 is an absolute brute-in-a-suit: a rolling contradiction of a power cruiser that boasts enough grunt to sublimate its ten-inch-wide rear tire while also tackling corners at lean angles that would trim the tassels from your leather jacket. You can tell at a glance the FXDR 114 was engineered with performance in mind. But does this particular recipe for performance deliver the flavour that riders are craving?
The short answer is no — corner carvers will curse the FXDR's clamshell ergonomics and traditional Harley riders will be disappointed by the lack of two-up possibilities as well as its compromised touring capabilities. The FXDR lacks of even the most basic of rider aids to exploit its potential. There are no rider modes or traction control. Hell, the levers aren't even adjustable — but the long answer is much more interesting. And it sheds light on why this bike is actually worthy of much praise.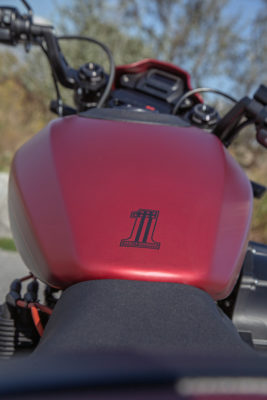 Built off the underpinnings from their Breakout model, the chassis of the FXDR is easily one of the best Harley has ever devised. As you may have guessed from its name, the FXDR 114 also makes use of Harley's top-tier 114 ci (1,868cc), Milwaukee-Eight V-Twin. The FXDR is the only Softail in the lineup to come standard with that motor and it's an absolute delight, delivering 162 Nm of twist at 3,500 rpm and sucking wind via an intake derived from Harley's NHRA division.
The swingarm on the FXDR is a completely bespoke unit. Designed to accommodate that massive 240-series rear rubber, the cast aluminum unit is also 10.2 lbs lighter than the equally wide steel unit from the Breakout. And here it's been mounted uniquely as well, to deliver more ground clearance both when riding straight or when trying to find the limits of its 33-degree lean angles.
Similar to the Fat Bob, that swingarm is sprung by a preload adjustable shock that can easily be tweaked from the saddle. Also similar to the Fat Bob, up front the FXDR wears a set of matched 300mm brake discs being clamped by 4-piston calipers and makes use of a set of inverted single cartridge forks that are capped with raised clip-ons. This creates a dash area that is clean and uncluttered, offering an unobstructed view of the small digital display.
The minimalist, almost alien looking LED headlight is capped by a an austere front shroud. The 16.7L sculpted aluminum tank is exclusive to the FXDR and it flows beautifully into the saddle and that equally unique tail piece, that was formed from composite materials. Study the lines on this bike for a minute and I'm sure you'll agree, regardless of colour choice, it is one attractive motorcycle. Without question the FXDR is Harley's best styling exercise to date.
Climb aboard the beast and you instantly become a part of that badassery. The throb from that monstrous V-Twin reverbs an addictive soundtrack and the ferocity of its acceleration will make you giggle with every twist of the throttle. In a straight line the FXDR inhales the world through that comically large intake and instantly, loudly, teleports you from A to B. Grab a mittful of front brake and the horizon falls into familiar focus smoothly and predictably. ABS comes standard both front and rear, though I never felt it kick in. There's minimal dive from the suspension and everything behaves as it should. At least until you decide to hunt a few apexes.
The 34-degree rake at the front end, combined with that massive rear wheel and clamshell ergonomics mean initiating a lean isn't exactly intuitive or confidence inspiring. To avoid becoming a collection of jam and dental records, you really have to muscle this bike around. The seat is shaped to cup your hind quarters, which means you can't exactly slide sideways to shift weight with ease. And with arms and feet all stretched and splayed, there's little leverage there either. Like trying to walk a lion on a leash, it can all feel a bit unnerving, that is – until it doesn't.
With adjustments made to my overall positioning and riding style, the FXDR started to fall into its own and its character began to make sense. I needed to be abrupt to achieve smoothness. Throwing my body into a corner as far as I could, quicker than I'm used to, revealed a really well dialed in chassis that would hold a line better than it should. And powering out of a corner with all of that glorious torque is downright silly. Once sussed, this bike is a hoot but that won't happen on one lengthy excursion.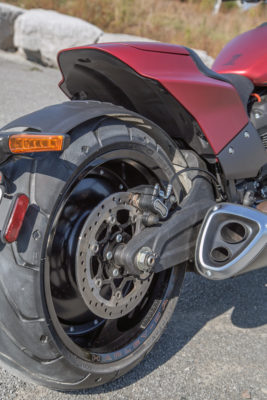 You see, it takes time, not miles, to come to terms with the Harley Davidson FXDR. Time, because it's a complicated version of a simple machine. Time because it doesn't exactly make sense the first or fifteenth time you ride it. Time, because too many miles strung together at once would be painful.
Consider the FXDR then, as the best and possibly last of a dying breed of Harley-Davidsons. A hat-tip to those halcyon days when "sex was safe and motorcycles were dangerous". A celebration of all that the Bar and Shield has stood for, for 115 years.
The world has changed and the writing is on the wall at H-D hq. The decks are already shuffling for future survival but in the interim they've delivered the FXDR 114: the id of today's Harley Davidson. A bike that happens when engineering doesn't have to answer to accounting. Its unmitigated, raw, flawed and beautiful. That's a rare occasion these days. A rare occasion that should be celebrated… even if it doesn't make total sense.
2019 Harley-Davidson FXDR 114
Price as tested: $26,949.00
Engine/transmission: 1,868cc, Milwaukee-Eight V-Twin/6-speed manual
Power/torque: 168 Nm of torque / ~ 90 hp (estimated)
Competitors: Ducati X-Diavel S, Ducati Diavel 1260 S
Related links:
Harley-Davidson