When Andrea Ferraresi and his team at Ducati set about re-designing the Diavel, the intent was to cement their motorcycle as a machine with an acute focus on both performance and style. A fresh mix of lessons learned from Ducati history, the 2019 Ducati Diavel 1260S combines elements from the Panigale superbike, the iconic Monster and the Streetfighter to deliver a wholly unique silhouette: the modern muscle bike.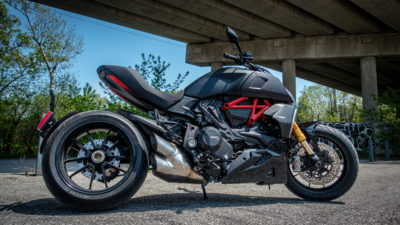 Standing in front of it, the Diavel 1260S is equal parts imposing and intriguing. I'm not sure if it's that my world has caught up to its original futuristic vibe or that the brute-in-a-suit aesthetic has just pummelled me into acceptance. Clad in flat black, it has a distinctly sinister vibe. As if a Ducati Monster Dark washed a handful of human growth hormones down with a bottle of nerve tonic: its beefy, bulky but somehow maintains a lithely attitude. It may buck tradition but the Diavel 1260S is a handsome bike. And I'm not the only person who thinks Ferraresi got things right. The Diavel 1260S recently took home a prestigious Best of the Best, Red Dot Design Award.
That clean sheet re-work is far from being only skin deep, too. Barely a handful of parts were carried over from the previous generation and you can feel that as soon as you swing a leg over. The peg position has migrated rearwards while the rake of the forks has been shortened by a degree. The sculpted saddle may look the same but it too has changed, to offer more room for riders to shift around and the taper into the new tank fits a bent knee and thigh perfectly.
Underpinning everything is an all-new tube-steel trellis frame that uses a stonking good 1262cc L-Twin as a stressed member — more on that motor in a minute. A revised cast aluminumIn single-sided swingarm holds the 245 series, 17-inch rear tire in place and, in "S" guise, Ohlins has been tapped to provide suspenders at both ends. The front 48mm forks are fully adjustable, as is the rear mono-shock and, based on the price jump up to the "S" model (+$1,100), I'd say it makes ticking the "S" box an easy decision.
On the road, out for a boulevard cruise, the Diavel 1260S exudes gentlemanly manners. Bumps, heaved or broken asphalt do little to upset rider balance or comfort. The Ohlins units do an incredible job of ironing out kinks that would typically cause teeth to chatter and clang inside your helmet. And when you light the wick, the chassis communicates imperfections without shouting about them, giving you the stability you need to attack an apex without fear of being jounced off line.
Of course much credit also goes to the electronic wizardry that Ducati has baked into the Diavel. A Bosch Cornering ABS module ensures that neither the twin 4-pot Brembo's up front nor the single 2-pot unit in the rear will overreact should you feel twitchy of right hand or boot. On top of this the Diavel 1260S also comes equipped with traction control, wheelie control, a quickshifter (up and down), three rider modes and Ducati Power Launch (DPL) control system that enables you to get off the line as quickly as possible without roasting rubber or clutch. It should also be noted that both traction control and ABS have three selectable levels of interference, all accessible via the controls on the left side of the handlebars.
During my week with the Diavel 1260S I toggled amongst all three rider modes (Sport, Touring, Urban) often. Touring and Sport very much felt the same for the street riding I was doing, both offering full power and varying levels of ABS and traction control. I will warn that one needs a deft hand to use these smoothly. An unfortunate side effect of ride-by-wire systems is their on/off responsiveness during minor and low speed throttle adjustments. The easiest way to come to grips with this was to clamp my pinky and ring finger around the bar end stabilizer in an attempt to mitigate that light-switch effect. For city riding, rainy days or areas where traffic is an issue, Urban mode is your best friend. Sure, it dulls overall output from the engine by a third but it also smoothes out throttle inputs to a level that feel almost as if the Diavel has an old-school mechanical connection to the fun maker below. Oh, and that fun maker is a thing of absolute beauty.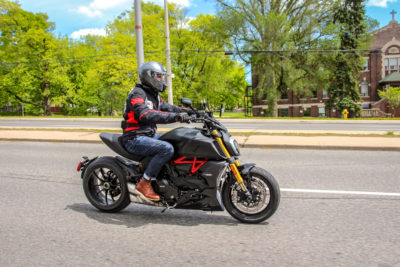 Displacing 1,262cc, the dual spark, DVT (Desmodromic Variable Timing), Testastretta engine powering the Diavel 1260 is simply epic. With 157 horsepower on tap and 129 Nm of torque, the Diavel turns open stretches of asphalt into event horizons. Grab a mitt full of throttle and the Diavel simply disappears, accelerating quicker than near anything on the road by a monumental amount. In fact, the Diavel 1260S is one the quickest motorcycles available today, capable of hitting 100 km/h from nought in a mere 2.4 seconds. I'm not sure I clocked anything that quick but with DPL engaged I held on tight with both hands, let my left foot tackle all of the cog swapping on its own and saw "throw away the keys" type speeds appear in the blink of a watering eye.
On the roll, at speed the Diavel's long 1.6m wheelbase is incredibly stable. That engine just begs you to ask it for more and the chassis is perfectly fine with the request. Surprisingly, even with near 10-inches of rubber width at the rear, when roads start to curl the Diavel is just as happy and planted. Initial turn in is far less laborious than you'd expect and holding a line, even up to a knee dragging 41-degrees from up right, feels entirely natural, albeit illogical for something loosely resembling a cruiser.
But that's because the Diavel 1260S is no cruiser. It's something else, entirely and entirely something else.
Take a dash of supersport bike, a dollop of muscle bike, a cup of cruiser, mix in some naked bike and a sprinkle of streetfighter. Place all ingredients into a blender and blitz 2-3 times — you want the mixture to be chunky, not pureed. People should be aware of what went into the finished product but no one ingredient should shine over the others. I'm sure this direction sounds prettier when spoken in Italian but the results are no less tasty. The Ducati Diavel 1260S defies convention and delivers a bike that is so much more than the sum of its parts.
2019 Ducati Diavel 1260S
Price as tested: $26,395.00
Engine/transmission: 1,262cc, DVT Testastretta L-Twin/6-speed w/ up/down quickshifer (DQS)
Power/torque: 157 hp / 129 Nm of torque
Competitors: Harley-Davidson FXDR 114, Harley-Davidson Fat Bob 114, Triumph Rocket III
Related links:
Ducati