Three days into my voyage with the 2018 Lincoln Navigator, I gave it a name.
It's something I rarely do, but the Reserve edition of this huge SUV prompted me to call it Magellan after the first European navigator to cross the Pacific Ocean.
Why? Consider that it explores uncharted Lincoln SUV waters, it is a land yacht, it hates crosswinds and tends to "porpoise" on undulating road surfaces.
Lincoln's new flagship runs quietly before the wind though and, freshly out of dry-dock with new hull and new features, it has fired a shot across the bow of Cadillac's Escalade. It's a warning shot that has Cadillac taking evasive action to maintain course with its customer base (look up Escalade deals). Other fleets like Lexus LX and Infiniti QX80 are looking at rougher seas too.
Outside, there's a new face replacing the odd-looking "winged" prow of the previous model. While the all-new version is still an imposing craft, it's considerably more refined with everything from headlights to tail lights in a more pleasing proportion.
Power is provided by a twin-turbo V6 engine which produces 450 horsepower and 500 ft-lb of torque, giving the test craft pretty reasonable performance with a 10-speed automatic smoothly handling shift duties. The normal shift lever you'd expect in a vehicle is replaced by a series of toggle switches at the base of the instrument panel centre stack.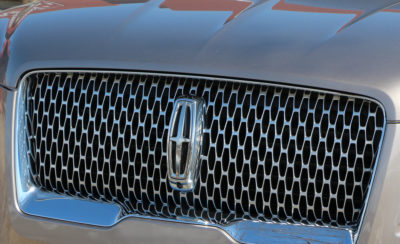 But it's the crew quarters that bring Navigator to a new level of comfort for long voyages. Quality of its furnishings has been upgraded from merely so-so to excellent with quality leather seating and leather/wood highlights and soft touch surfaces.
This Navigator can carry a crew of six (seven in a pinch) and while there is only one captain, the first mate and two crew members get heated, power-operated captain's chairs while up to three more crew members settle into power-reclining third-row seats.
There's an extra perk for the second-row perches: 10-inch Lincoln Play entertainment screens mounted on the backs of the front seats. It's a simple-to-use system that will go a long way toward preventing mutiny amongst younger crew on long voyages.
The test vehicle has a tiered cargo management system that keeps stuff from rolling around in back, a useful tool when there's groceries involved.
Besides heat for the bum, the captain gets power adjustment in enough configurations to ensure nearly any commander will be comfortable. There are 30 choices, including thigh extenders. I mucked around with these settings for two days before deciding on a position. Thankfully there's also a memory setting. (This is definitely one place in the owner's manual to peruse. There are others.)
Once settled in, I have a leather wrapped, heated, multi-function steering wheel with which to guide the craft which is surprisingly quick to respond to the tiller.
I get to choose Navigator's road behaviour with the "drive selector" button's six settings: Normal, Conserve, Excite, Slippery, Deep Conditions, Slow Climb and Deep Sand. The settings work through throttle, transmission, steering response, traction control and stability control and each setting has its own graphic on the dash.
Normal is way too soft (see porpoise). After playing around a bit, I chose Excite (Lincoln speak for sport) and left it there for the duration.
As you'd expect everything is power operated and there's every conceivable safety nanny aboard. Perhaps unexpectedly, Sync 3 infotainment system is easy to use and a whole lot less distracting.
Naturally, few Navigators will find themselves aground in harsh off-road situations, but they will make a decent trailer hauler meaning the Pro Trailer Back-up Assist is bound to be popular. It takes all the stress out of backing up a trailer while simultaneously depriving onlookers of the usual campground entertainment of watching the antics of less-accomplished parkers.
The long wheelbase version Navigator Reserve test vehicle had a starting price of $90,500, but options including $700 for Iced Mocha paint job, $2,350 for the entertainment system, $2,000 for heavy duty trailering package, $3,000 for tech package, $1,000 for the super-adjustable driver seat, $500 for the tiered cargo management system and $150 for all-weather mats brought the cost to $100,200. Add $2,000 for delivery then factor in taxes and this boat costs a lot.
Frankly, my first mate and I enjoyed our week in the Navigator provided by Ford of Canada. Except for the fuel cost. This is a thirsty beast. Unless of course you figure 14.9L/100 km city, 11.3 highway is economical. A mix of city and highway driving saw us average 13.8.L/100 km.
2018 Lincoln Navigator
Trim level: Reserve
Price before taxes: $102,200.00
Freight: $2,000.00
Configuration: front engine, 4WD
Engine/transmission: 3.5 L EcoBoost V6/ 10-speed automatic
Power/torque: 450 hp/510 lb-ft
Fuel economy ratings: 14.9 L/100 km city, 11.3 highway
Warranties: 3 years/ 60,000 km basic, 5 years/100,000 km powertrain
Competitors: Cadillac Escalade, Lexus LX, Infiniti QX80
Related links:
Lincoln Canada
Driving.ca