Some vehicles require little introduction because every driving enthusiast knows of them. Such is the case with Jaguar's svelte F-TYPE. But, not all would be up to speed on the 2018 F-TYPE SVR, so please allow me the opportunity to update Exhausted readers by quoting Jaguar press material.
"The (2018) F-TYPE SVR Coupe has been refined for sheer power, exhilaration and an outright top speed of 322 km/h…it's recalibrated 5.0 litre V8 575 hp engine makes F-TYPE SVR the most powerful production car Jaguar has ever unleashed. It will take you from 0-100km/h in just 3.7 seconds…"
What more needs to be said?
I could end this review after just over 100 words and you, the reader, would have a succinct but powerful impression of the new F-TYPE SVR; but of course, there's so much more to tell.
The F-TYPE SVR is a product of Jaguar's Special Vehicle Operations Division, headquartered in their new Technical Centre located in Warwickshire, England.
Here a team of 200-plus automotive specialists push limited runs of halo Jaguar and Land Rover products to groundbreaking levels of luxury and performance, combining power increases with state-of-the-art materials and advanced aerodynamic designs.
The F-TYPE SVR is a fine example of what the lads can achieve – not that the Supercharged F-TYPE was in need of a great deal. It's a pretty formidable car without the addition of an SVR badge and all that it entails.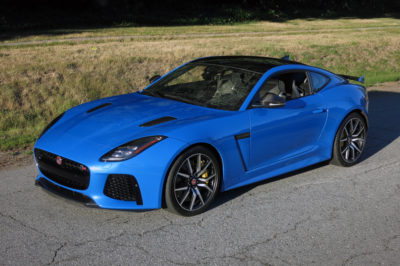 In addition to 575 horsepower, the SVR's potent powerhouse pulls with 516 lb-ft of torque. An eight-speed quick-shift automatic transmission manages gear changes before power is apportioned to all four wheels through Jaguar's Intelligent All-Wheel-Drive system.
My Ultra Blue tester featured carbon ceramic brakes, a $13,260 option. Jaguar describes these binders as "the most powerfully performing braking system ever fitted to a Jaguar road car." Also, on my tester's options list was a somewhat over-applied $5,100 carbon fibre trim package.
With its collection of expensive options, the tester's MSRP rose from $140,500 to somewhere north of $160,000 – the precise amount not particularly important when talking price-tags of this calibre.
Whether the SVR treatment will transcend time, adding to the F-TYPE's future collectability, is unknown. What is known though, is just how potent – yet delicate – this feline is at the same time.
Confused? Well that's understandable. Let me clear up the contradiction in that last statement.
The potency reference pertains to the coupe's outrageous capacity for acceleration and its track-ready handling dynamics. In its Dynamic Mode, the F-TYPE SVR is essentially a race-bred monster with four-wheel grip that at full tilt alters one's relationship with reality.
Acceleration off-the-line is ungodly fierce, imposing inertia on the body that is both wicked and un-car-like. All the while splitting nearby eardrums with a crackle-punctuated roar louder, I'm sure, than any other street-legal machine I've ever driven.
As the Jag eclipses 100km/h in just 3.7 seconds, it does so while remaining remarkably stable and predictable; apart from blinding acceleration accompanied by a staccato din, there's nothing alarming going on that would suggest an engineering weakness.
And when it's time to stop, the ceramic brake setup is capable of sucking flesh from bone. Again, no squirrelly baggage, just near-instant cessation of movement with no sacrifice in control.
The F-TYPE SVR's steering is direct, precise, and highly reactive in much the same way as that of a Porsche Boxster. The vehicle balances its quick-ratio setup with just the right amount of steering effort, which feels more communicative than today's typical electronic power-steering systems.
The F-TYPE SVR corners dead flat, even in its regular drive-mode. Activate its Dynamic Mode and the suspension tightens up even further, as does throttle-mapping and gear-changing. Reflexes that were sharp to begin with become hair-triggers, and therein lies the need for delicacy.
This car is so high-strung that an indelicate fool and his F-TYPE SVR are easily parted, and not in a good way.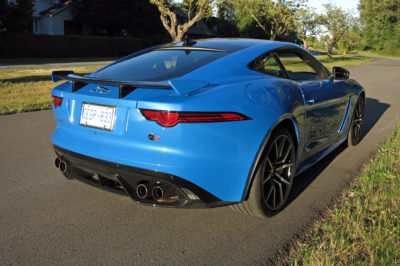 Regardless of drive mode, the throttle is highly sensitive and not as linear as I would prefer. I'm not timid when it comes to pouring on the juice but misjudge it and the gas pedal on the F-TYPE SVR can feel like a switch igniting dynamite.
The brake pedal can also feel equally trigger-happy. The optional ceramic binders are ultra-powerful but excessively touchy for casual driving, at least according to my size 10s. A look at the huge rotors front and back give a clue to their stopping power, which is immense.
With such dramatic reactions to minimal inputs, the Jaguar F-TYPE SVR is a beast to be respected and driven with a judicious delicate touch. It forces one to adapt to her expectations of driving skill, not the other way around.
Once that's understood, the F-TYPE SVR can be adequately tamed and its ferocity fully appreciated. But beware, she's the meanest cat in the house.
2018 Jaguar F-TYPE SVR Coupe
Price as tested (before taxes and options): $140,500.00
Configuration: AWD 2-door coupe with rear hatch
Engine/transmission (as tested): 5.0L supercharged V8 / 8-speed automatic
Power: 575 horsepower / 516 lb ft torque
Fuel-economy ratings (L/100km): 15.6L city / 13.3L highway
Warranty (basic): 4 years / 80,000 km
Competitors: Audi R8 V10, Mercedes-AMG GT S, Nissan GT-R, Porsche 911 Turbo S
Related links:
Jaguar Canada
Driving.ca