I am typically not the kind of person who is prone to driving sports cars in a colour as understated as Nardo Grey. Especially when it's something as passion-stirring as the 2018 Audi TT RS. If you are going to be seen in a car with 400 horsepower and sport-tuned exhaust, I believe you should be seen and heard with near reckless abandon.
But today, driving around the small-town streets and backroads of Niagara, I must say this essentially flat grey colour is working for me. So too is the 354 lb-ft of torque, 20" 7-spoke wheels in Anthracite and sport seats. I feel like I am all dressed up in a finely-tailored suit. I guess, for me on this day at least, grey is the new red!
In many ways, the TT RS is more Porsche than it is Audi; albeit the R8 and other RS models are also equal to anything coming from the hallowed halls of Stuttgart where Porsche's originate. But sit inside the RS version of the TT in particular, and it feels and drives much like the Ingolstadt-based, German automakers, slightly racier sibling. This is a very good thing indeed as quality time spent inside the cockpit is a worthy investment in fun!
A 2.5L turbocharged inline 5-cylinder gasoline direct injection (GDI) engine provides power for the 2018 Audi TT RS. Matched to a 7-speed S tronic automatic transmission with paddle-shifters, it accelerates from 0-100 km/h in just 3.7 seconds and reaches a restricted top speed of 250 km/h (optional 280 km/h).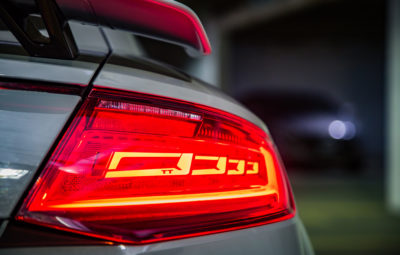 The recommended fuel is premium unleaded and while it may cost you a little more, it delivers reasonable fuel economy with a highway rating of 8.2 L/100 km, assuming you can keep your foot out of it and drive conservatively.
MacPherson strut front and four-link rear suspension works well on all road conditions. Audi quattro all-wheel drive is, of course, standard, so there are always four corners keeping you pointed in the right direction, even when a freak snow-storm charges in. This is one sports car you can actually drive 365 days a year.
Dual-circuit 4-wheel disc brakes with electronic stability control (ESC) and hydraulic brake assist bring the TT RS to a very rapid and controlled stop. With a gross vehicle weight of 1,880 kg, this is not a heavy coupe to start with. But even if it was, there is enough stopping power here to cover at least 40 cents in dimes with low-profile 20" Pirelli rubber. Optional red brake calipers make a statement, especially against the grey exterior.
Inside, the business of Audi's tireless pursuit of crafting the perfect driving environment is on full display. A flat-bottom multi-spoke leather-wrapped steering wheel is your connection point to the road ahead. It feels thick in my hands, as it uniquely combines the best of Alcantara on the sides and the richness of leather at the top and base.
The start/stop button to engage the engine is conveniently located on the steering wheel, though it does take a little getting used to as I found myself constantly reaching behind the wheel to engage the red button. Over time, it would become second nature.
Gauges can be adapted to your personal preference for sporty driving or easy navigation. White on black dials offer a complex amount of information in a driver-friendly environment. At night it takes on a whole new level of driving inspiration.
Front sport seats feature red diamond-quilted stitching with an embossed RS logo on the tapered head rest. The seats rest on a carbon fibre frame, so I am somewhat limited as to adjustment, but it grips in all the right places. The center console also highlights a combination of red accents, Alcantara, satin metal and the optional carbon fiber inlays ($900). It is the look of power and easy on the eyes.
The 2018 Audi TT RS is one of the best $80,000 sports cars on the market today. It's the perfect size for two people, plus 2 family pets or extra luggage if you want a seriously fun car to drive at near supercar speeds where it is safe to do so. My preference would still be to have it in red or black, but after a week of driving, Nardo Grey is growing on me. Whatever colour you choose, it is sure to put a smile on your face with every push of the red start button. Remember, it's on the steering wheel.
2018 Audi TT RS
Price as tested (before taxes): $81,445.00
Configuration: front engine/quattro all-wheel drive
Engine/transmission: 2.5L turbocharged 5-inline GDI/7-spd automatic
Power: 400 hp/354 lb-ft
Fuel-economy ratings (L/100km): 12.3L city / 8.2L highway
Warranty (basic): 4 years / 80,000 km
Competitors: BMW M4, Ford Mustang Shelby GT350, Lexus RC F, Porsche 718 GTS
Related links:
Audi Canada
MSN Canada