Logic would suggest fuel economy might be a compelling reason to stay with the mid-size Prius rather than move to the Prius V.
Reality might suggest otherwise.
OK, sure, the Prius V, still unchanged for 2016, was about a litre per 100 kilometres thirstier than the 2016 Prius, an all-new model that ended its stay with me at 4.4 litres per 100 kilometres.
But what that extra litre of gas per 100 kilometres buys you is significant: you get more cargo and passenger room; and who couldn't use more of either from time to time? You also get a vehicle with near step-in seating, as the V is a bit taller.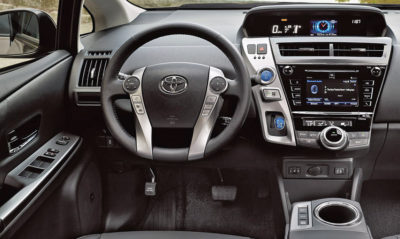 As well, if you're not a fan of the new Prius sedan's styling, it is quite polarizing; you get an arguably more attractive vehicle in the V.
Also working in the V's favour is this reality: buying a hybrid, still, is not about economy. It's part vanity, part eco-consciousness. You are saving emissions by saving fuel; less fuel in must mean fewer emissions out, but the concept of payback remains elusive.
In terms of cost of ownership, it's not just the fuel cost to consider, but also the acquisition cost, which remains high for most hybrids. Consider: the Prius V starts at $28,875, while the Yaris Hatchback is just a hair over $15,000. Thirteen grand is a lot to save in fuel.
Even comparing to Camry, you have to save about $4,000 in fuel, which happens after about 100,000 km. Considering payback used to be nearly 300,000 km, there's been some progress, but that's a lot of driving before the economics pan out.
All of which is one way of saying a Prius buyer is going to be unique. While a car guy might find it difficult to have 'fun' driving a Prius V, a Prius customer probably sees 'fun' in a different light. Even for me, there is a certain satisfaction that comes from seeing the fuel economy hit hitherto unheard of levels.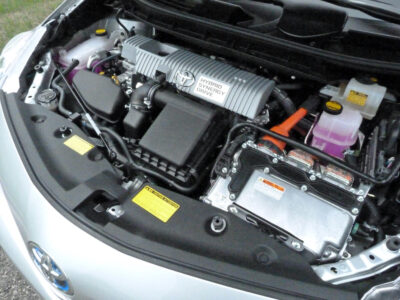 As someone who is admittedly a bit of a tech dork, with perhaps a fair bit more time building electronic circuits than a lot of folk, I can see how a geek would get off on the unique driving experience: centre-mount instrument panel, unique shift mechanism, available pure EV mode and nifty, animated graphics that show you what the powertrain is doing.
The Prius V isn't bad on the road. Sure, the acceleration isn't exactly exhilarating (though there is a 'power' mode for a bit more punch), but the weight of the batteries, located under the rear seat; makes this front-driver much more balanced than you'd expect. So it actually handles quite well, even if the electric power steering makes the steering feel like a video game. (In fairness, the proliferation of electric steering means the Prius is far from alone in this regard.)
But like vegans who trade convenience for a meat-free lifestyle or those who trade proximity for an off-the-grid existence, Prius in all its forms will appeal largely to those who revel in sacrifice for what they see as the greater good.
With the V, however, what you won't sacrifice is space. The thing most working for the V in terms of space is the fact it is purpose-built as a hybrid. In other words, it's not a retrofitted gas-only vehicle. Toyota designed in space for the batteries from the outset.
So the rear seats fold, and batteries don't infringe on the cargo area, letting the V's capacity approach that of the RAV-4 sport ute.
Rear seat legroom isn't limousine-worthy, but is not cramped, either.
Getting the most enjoyment out of the Prius family might require a slight attitude adjustment, but in terms of a family vehicle that it easy to drive, exceptionally fuel efficient and more cargo capacity than you might expect, it fits the bill.
2016 Toyota Prius V
MSRP: $28,875.00
Price as tested: $34,550.00
Engine: 1.8-litre four-cylinder Atkinson-cycle gas engine with electric motor
Power: 136 horsepower, net
Torque: not specified
Transmission: planetary gears continuously variable
Steering: electric rack and pinion with variable power assist
Suspension: independent MacPherson strut with stabilizer bar (front); torsion beam type with stabilizer bar (rear)
Brakes: four-wheel discs
Fuel economy (l/100km), city/highway/combined: 5.4/5.8/5.6
Fuel economy (l/100km), observed average: 5.6
Competition: Ford C-Max, Volkswagen Golf SportWagen
Related links:
Toyota Canada
Driving.ca