Gearheads of all stripes tend to enjoy a good dose of motorized excitement, no matter the surface on which they're driving. Track rats gravitate to lap days at paved courses, off-roaders head for rocky escarpments, and bikers – well, this author is not too sure about a biker's line of thinking. We'll let our man Matt Neundorf ably speak to all things on two wheels.
But what about those of us who take to the water like Brylcreem takes to Doug Ford's hair? Spending his formative years on the coast of a rock in the middle of the Atlantic Ocean, your author has more than a bit of salt water in his veins (which could explain the blood pressure, but a succession of corned fish dinners probably have more to do with that malady) and enjoys spending time on this country's harbours and bays. It doesn't take long before the need for speed rears its head on these surfaces but, trouble is, water tends to have a wobbly surface and isn't really suitable for driving. Enter the likes of performance watercraft.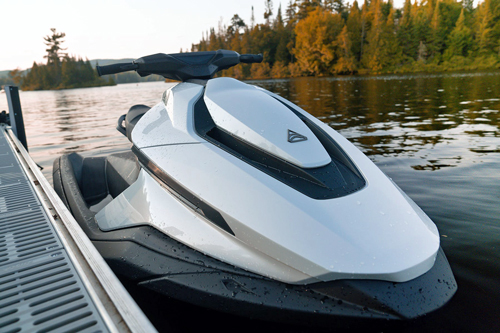 If this writer could beg his editor's pardon for some leeway with word count, this is not a new affliction in the Guy lineage. In a different era, one of our ancestors was the captain of a sea vessel which was part of a fleet that sailed yearly from Blighty to Newfoundland for the whaling industry. Captain Guy was apparently fond of caning his ship across the Atlantic, usually being the first to port thereby securing choice of the best local workers. He also apparently was known to challenge other captains to rum-fuelled speed races in St. John's harbour, a pastime which predictably led to damaged vessels and lots of swearing. Google the lyrics to a sea shanty called 'The Old Polina' if you don't believe me.
Anyway – back to having modern-day fun on the open water. Personal watercraft (PWC) are just the ticket for entertaining thrills, able to be handled by almost anyone with a modicum of situational awareness and the ability to grasp a set of handlebars. Taiga Motors, a Canadian company founded in 2015 and based in Quebec, recently introduced their take on the PWC; called the Orca Performance, it looks every inch the fun machine we've sampled from other brands but with one huge difference – the Orca is all-electric.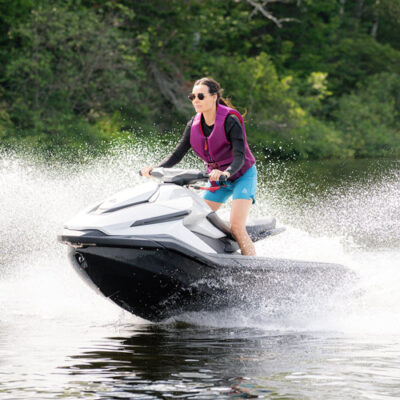 "It's really a leap in mass-market boating electrification," explained Samuel Bruneau, CEO, and co-founder of Taiga in an interview with Vicarious. In designing this rig, the Taiga team leveraged what they learned from success with their range of electric snowmobiles. "No fuel means no trips to the gas station, less maintenance, and it permits owners to be better stewards of the environment," he continued. Anyone who's tried to refuel a PWC or outboard engine using a jerry can knows exactly what the man is talking about.
If you've been behind the wheel of a road-going EV, you know electric motors can supply all their torque the instant a driver hit the go-pedal – a trait shared by the Orca. Twisting the accelerator is said to unleash 160 horsepower, putting this machine in league with brawny machines from established brands such as the likes of Sea-Doo. Its electric gubbins mean this is a machine which is all but unheard from the shoreline. In fact, when asked, Bruneau tells us that the lapping of water and rushing of wind are the main things riders hear whilst enjoying the Orca at speed.
Dimensionally, this is a 2-up rig sitting somewhere between the little Sea-Doo Spark and that brand's larger recreational offerings like the GTI line. A sheet molded composite hull keeps tabs on the 355kg overall weight and Taiga will gladly paint the thing in jaunty colours if you wish. Stability is aided by the 25-kWh battery which sits low, near the waterline, improving centre of gravity compared to other PWCs.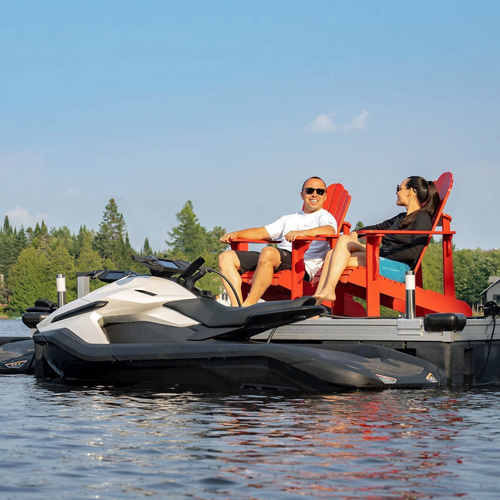 The batteries can provide up to two hours or about 45 kilometres of riding time, a measure directly proportional to the amount of weight and speed being hove at the thing. In other words, if you take a linebacker buddy with you on a top speed tear across the lake, don't expect two hours' riding time – but the range of a gasoline-fuelled PWC will be similarly impacted, it should be noted. Under sensible conditions, we think two hours is very reasonable and about as long as most casual riders will spend behind the handlebars of a PWC at any one time.
Plugging in to a standard household outlet in the late evening will result in a fully charged Orca Performance by morning, though anyone with access to a Level 2 type charger (such as a 240-volt outlet providing shore power at a dock) can be back on the go in 3.5 hours. Equipping the Orca Performance for Level 3 duty (40-minute recharge time) is possible at the unit's configuration stage and costs a might-as-well-get-it $650. "Most recreational facilities have weatherproof electrical outlets near the water or right at mooring points," permitting the Orca to be easily juiced up in preparation for another blast across the bay.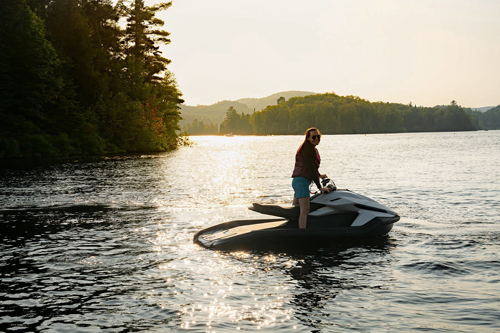 Bruneau says the Orca can handle salt water and freshwater environments alike, opening the target audience for this craft beyond those of us who have a cottage on a lake or pond. As a kicker, Bruneau explained to us that thanks to the Orca's sealed design and lack of traditional powertrain, owners don't really have to worry about winterizing the thing when Jack Frost rolls around. "Just safely store it on dry land," he tells us with a grin that can be heard through the phone. Readers who have suffered the ignominy of improperly putting up a summertime recreational toy will count this as a major selling point. In fact, Orca's auxiliary systems have extremely low parasitic drain so that the vehicle can be left unplugged for up to three years without draining the battery.
Pricing will check in at around $24,000 in Canada for the Orca Performance, and an Orca Sport with slightly fewer horsepower is in the wings with a targeted price point of about $4,000 less. With speed and ease-of-care credentials like these, it won't be surprising to soon see (but not hear) the Orca on waterways – complete with a grinning gearhead at the controls.