Open water is a fickle thing. Especially on a Jet Ski. Swells can appear out of nowhere and even moderate chop can push and shove you and your little fun-machine around like a speck of plastic destined for a dolphin's blowhole.
The key is, I'm told, to keep your eyes on the horizon and speed up when you think you should be slowing down. So, much like my life on two wheels; when in doubt, throttle out.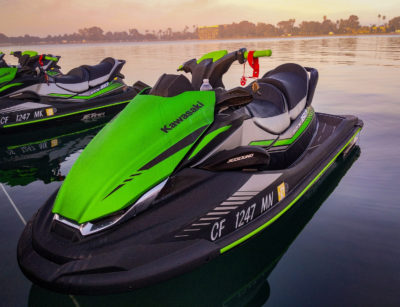 All new for 2020, the Kawasaki STX160 LX Jet Ski I'm perched upon is happy to oblige. The throttle-by-wire trigger operates smoothly and intuitively, calling the 1,498cc, 118kW (160 PS) inline four-cylinder motor into action. The tri-blade impeller whirs below, playing a game of suck-and-blow, to the tune of 433 kgf of thrust. That's enough squirt to have me skimming across the shores of Mission Beach at 50 mph, with ease.
It's a busy Saturday along Point Loma. Folks are fishing, sailing, sculling and cruising all around. The barrage of bumps caused by a combination of criss-crossing wakes and wind-blown capillary waves are delivering just enough amplitude to play connect-the-crests above pockets of air. From a crouched position, the STX160 LX lifts and lands like a champ. Even when seated, surprise drops aren't all that punishing. Everything above water, from the pistol-gripped bars to the elevated, three-person seats, has been redone in the name of rider comfort and I'd say Team Green has nailed all of the major points.
On the minor side, the STX160 LX delivers some tech perks, too. Thanks to the move to ride-by-wire technology, cruise control has been fitted up as well as a "no wake zone" 5 mph limiter button. Both are handy features, although adjusting controlled cruising speed can be a bit tough outside of glassy conditions. There's also one hell of a sound-system installed on this sled. Dubbed JetSound, the Bluetooth equipped head unit is easy to pair-up and control from the centre stack sitting below the padded bars. If dock-rockin' beats are your thing, the twin 60W speakers mounted below the mirrors will do just the trick. Sound quality is decent but as with any open-air ride, once you get up to certain speeds, the noise becomes polluted.
Rounding Point Loma with Viper's pad from Top Gun looking out over me and the Cabrillo State Marine Reserve I kill the tunes, chop the throttle, and coast to a stop. Looming in the distance, being tugged towards deeper waters is a massive Los Angeles-class nuclear-powered fast attack submarine. Subron 11 is based at Point Loma and it appears a crew is heading out on some sort of exercise. A collection of uniformed officers wave from the rear of its 110m spine, while our group of misfit Jet-Skiers give it the distance it deserves and try to take as many photos as we can without losing our phones to the drink.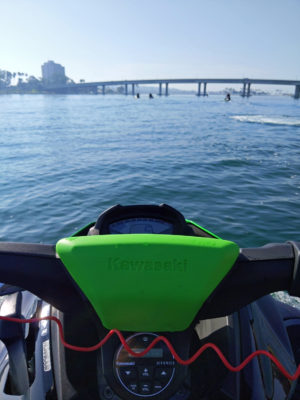 Passing through San Diego harbour and beneath the Coronado Bridge, we're flanked by dry-docked gunships, the USS Midway and the home of the infamous Navy Seal's BUD/S Grinder – home to HELL Week. Having just read David Goggins' account of his time(s) there, I can't help but feel a bit pudgy and soft, so I pin the throttle and start muscling the STX around.
The hull design on Kawasaki's STX line hasn't changed in a number of years but things don't seem to suffer at all. I'm by no means a PWC (personal watercraft) expert but even my ham-fisted requests are tackled obligingly. Even with the slightly raised seating position, the 383 kg of mass feels well centred and the STX can be flung around like a machine two-thirds its size.
Before finally docking for the day, our troops rally for some high-speed runs along the flat water in Mission Bay. Topping 60 mph, I lean left and drift around the Mission Bay Vortac. Lap after lap, I find my high-speed groove with this machine. It performed admirably through all of the chop in open water but here, on these glassy, cottage-lake-like waters, the STX feels confident, solid and eager to play.
Price: $16,499.00
Kawasaki Canada