Every panel. Every nut. Every bolt is new. In fact, everything about the 2019 Porsche Cayenne is new except for the name.
There's no doubting it's a Porsche. All the design hallmarks are still there, but the third generation of the SUV launched in 2003 is better looking, a little less aggressive and more refined inside and out. And there's a lot more available technical stuff to go with new engines. A lot of it is pretty subtle and a lot of it is under the skin, but it's all an improvement.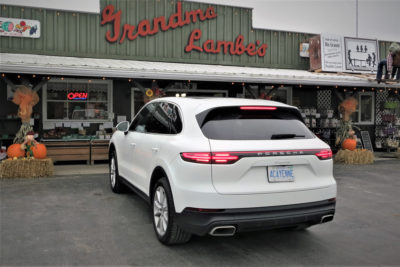 Beginning at the front, changes include larger air intakes at the front which are a hint of a more robust engine. Overall length is up by 63 mm to 4,918 mm (the wheelbase is unchanged) and the roof is 9 mm lower than the second-generation Cayenne.
Wheels are an inch larger while rear tires and wheels are wider than those up front.
Probably the most pronounced change is in the rear. Tail lights now have what the company calls a three-dimensional design with a side to side strip of LEDs.
If you use your SUV for more than mere conveyance, you'll be glad to note that cargo space has grown to 770 litres, up by 100.
But while that's a welcome change, the most notable change is a new 12.3-inch high definition touchscreen in the centre console with a range of digital functions that can be operated by voice command. Standard Porsche Connect Plus gives access to the Internet and on-line services including standard on-line navigation. Analogue controls handle main vehicle functions with other buttons appearing on the touch screen with the swipe of the hand.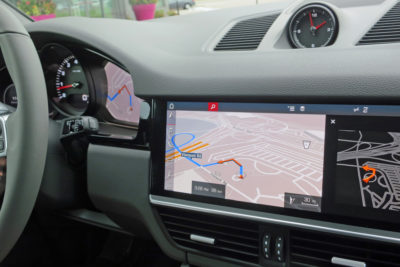 The driver gets a central analogue tachometer which is flanked two seven-inch HD displays providing driving information. The multi-function steering wheel accesses additional data. You can get night vision as an option along with lane change assist, lane keeping assist, park assist with sound view and adaptive cruise control.
Front seat heating is standard as is eight-way power adjustment. The test vehicles came with rear seat warmers (a $600 option). There's not a bad seat in the house. Well, almost. The centre perch in the rear seat is no throne by any means.
On arrival in Toronto, the first order of business was a quick lunch, product presentation and then to get the heck out of Dodge and onto the narrow Ontario roads. The weather fluctuated between fog, mist and rain, but other than muting the gorgeous colours of autumn leaves, that didn't dampen my enjoyment.
We were driving the base Cayenne (with only a couple of option packages). The S and Turbo models will be coming later in the year.
You don't have to get far out of that big block of concrete that is The Big Smoke before you discover small, well-kept towns on narrow, twisting paved backroads.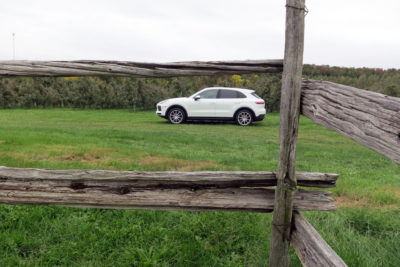 Cayenne lives up to the corporate desire to be the sports car of SUVs. Cornering is flat acceleration from the new 340 horsepower 3.0L turbo V6 is brisk as the 331 lb. ft. of torque comes on early and stays late while the eight-speed Tiptronic S transmission works seamlessly.
As we discovered in a coffee stop in the town of Creemore, that while a drive is for the senses, carrot cake is for the soul. At Grandma Lambe's orchard in the Blue Mountains area, newly-made cider and fresh-baked apple pie tickled the tastebuds before we headed on to our ultimate day one stop at the Westin Trillium House hotel near Collingwood. It would have been nice to stay longer and explore what the area has to offer, especially if the exploring was done in a new Cayenne.
Day two saw us all hightailing it back to Toronto to head back to our homes. I would rather have driven.
And it's a long drive from Toronto to Calgary.
My driving partner and I found ourselves referring to the Cayenne as "car" rather than SUV or even truck and agreed that was a testament to the car-like handling, car-like ride, car-like performance and car-like interior amenities.
Well done, Porsche.
2019 Porsche Cayenne
Trim levels: Base, Cayenne S, Cayenne Turbo
Price as driven before taxes: $87,680.00
Freight: $1,250.00
Configuration: front engine, AWD
Available engines: 3.0L V6 turbo.
Available transmissions: 8-spd. Automatic
Power/torque: 340 hp/331 lb-ft
Fuel economy ratings: TBD
Warranties: 4 years/80,000 km (comprehensive)
Competitors: Acura MDX, BMW X5, Cadillac XT5, Lexus RX