The adventure class of motorcycles is the SUV/CUV of the two wheeled world: everyone thinks they need one and every OEM has three or four options that will foot the bill. And it's within those options that we can hone and tailor just what our definition of adventure might be.
For some, heading out for days and days of tarmac – both twisty and straight – is the recipe for success. For others, if there's no dirt on the menu it isn't even worth an Instagram Story, let alone getting ATGATTed-up (All The Gear All The Time). And yet, most from both camps actually need something that will let them take a hybrid approach, mixing a little from column A and a little from column B.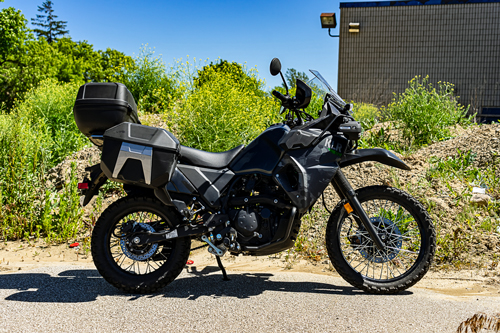 So the question remains, which bike is best? And, more importantly, is there really one that can do it all regardless of what adventure means to you?
The answer is both yes and no.
There is a bike out there – plenty actually – that can both shred the gnar and grind a peg with equal aplomb, racking up smiles and miles on any terrain with ease. But chances are, to get the right mix you'll part with many precious dollars to do so. Modern, premium, two-wheeled SUVs are just as heavy on the electro-wizzbangs as their four-wheeled counterparts and they carry MSRPs that are similarly inflated – especially these days.
So, if you're already prepared to spend upwards of say $25k on a one bike solution, let me save you five-large or more and offer up two bikes instead: the 2022 Kawasaki KLR 650 Adventure ($7,499+) and 2022 Kawasaki Versys 650 LT ($11,599+).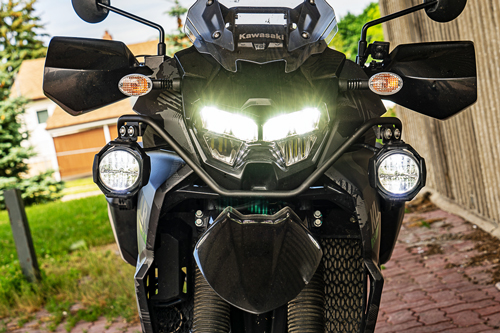 The Unkillable Dual Sport: KLR 650: If you've ever dreamed of taking a round-the-world type trip on a motorcycle, you've undoubtedly heard of the Kawasaki KLR 650. You've read of its exploits: that it's big, heavy, and slow but will tractor through just about anything; how it will continue to run on the sketchiest of fuels; and that it can be repaired by virtually anyone, anywhere and with just about anything. Yes, the KLR is legendary and, after a small hiatus, it's back and better than ever before.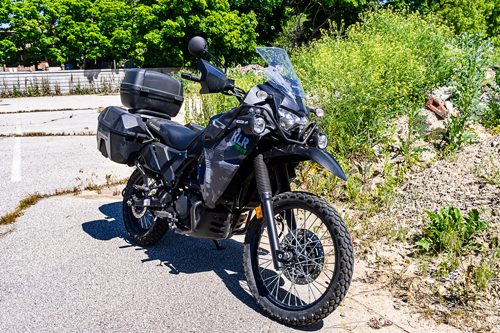 Now, I will caution that "better than ever before" is a relative term. The KLR 650 has and always will be a simple machine. This all-new version hasn't added any TFT screens, rider modes, IMUs or traction control. Hell, my tester doesn't even have ABS (although it is an option) and yes, they have even used electrical tape to consolidate some wiring. What you get is an honest, old school motorcycle with a big, thumping 652cc single that makes enough horsepower (around 40-ish) and a similarly adequate amount of torque (39 pound-feet) to do just about anything. That engine is now fuelled via injection and the lights are LED but the gearbox still only pack's five cogs and it still has a doohickie. Regardless, it will thump and thrum along as fast and as far as you ask it to go, down any 'road' you like, with nary a complaint.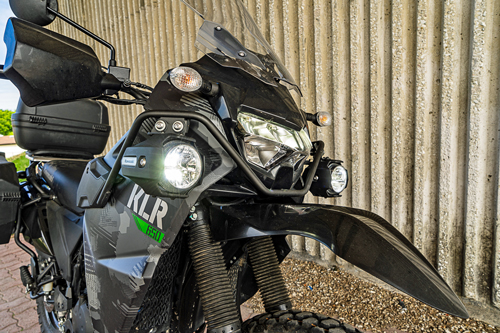 My tester was the top-tier Adventure model. That means it comes from the dealer floor with 21-litre panniers, auxiliary lighting, DC and USB charging ports and has a funky Cypher Camo Grey paint job. While there's nothing wrong with the included goodies – the panniers are key matched and decently waterproof, the fog lights are nice to have and the charging ports are pretty clutch too – I'd say save even more money; go for the base model and add the options you need most. The aftermarket overflows with KLR stuff and if rough and rugged journeys are your thing, soft luggage is always a better idea.
The first time I ever swung a leg over a KLR 650 it took me on a trip through Baja. I was relatively new to the world of adventure riding but the KLR was forgiving in all of the right ways. It was softly sprung to absorb hits, throttle response was measured and controllable and whether standing to plunk through a minefield of rocks or splitting lanes through border town traffic, the KLR was a comfortable mount. This one is no different and that is absolutely a compliment. Kawasaki didn't fix what wasn't broken, nor did they try to gild their legendary lily; it's the same old KLR, only better.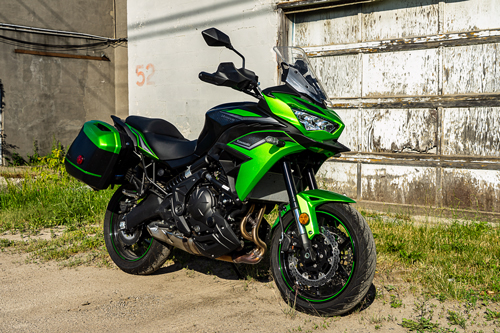 The All-Roads Warrior: Versys 650 LT: What the KLR has become for the adventure community, the Versys 650 is quickly achieving for sport touring riders: it is an extremely fun and functional mount that does everything competently for very little cash in return.
Redesigned for the 2022 model year, the Versys 650 LT wears a new set of plastics, receives a 4.3-inch TFT dash with Bluetooth connectivity, gets selectable traction control and has an adjustable windshield. The LT model, which is the only spec available for us Canucks, comes equipped with Kawasaki's colour-matched KQR luggage and a set of handguards too.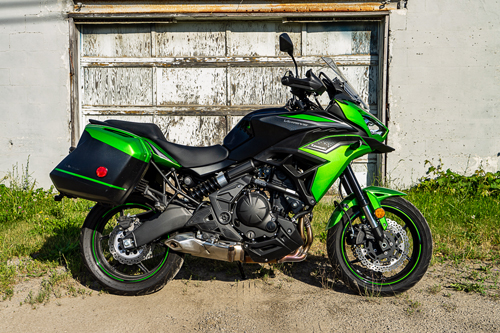 You can also option the middling Versys up by adding a colour-matched top-box, the same fog lights from the KLR, heated grips and DC and USB charging outlets. My tester model was the "base" LT with some truly fancy Candy Lime Green paint (a $200 surcharge), but even with every option added, the Versys 650 LT will ring in at under $14k. Adding farkles will ultimately be your decision to make, but I'd definitely recommend the heated grips as they can be a game changer on cold mornings or during bouts of crappy weather.
Riding the Versys 650 LT I'm immediately struck by just how "right" this bike is. It's neither neck-snappingly quick nor slow and underpowered. The 649cc parallel twin – which features prominently throughout Team Green's lineup – is a quick spinning and engaging motor. There are 67 horsepower at play here and enough torque (44.8 foot-pounds) to have copious amounts of fun and effortlessly pass semis on the highway while also being docile enough for urban constraints.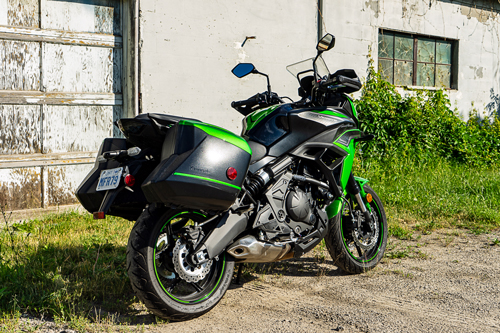 The front forks and rear shock are easily adjustable, so riders can tailor suspension feedback for more aggressive riding or to accommodate for passengers and luggage. Riding on 17-inch wheels, you'll be spoiled for choice in the tire aisle and will appreciate the Versys' quick handling characteristics.
The brakes are well suited for the machine, with a good initial bite and a decently progressive feel. The levers for both the clutch and front binders are adjustable and while moving the windshield takes two hands, at least you don't need tools.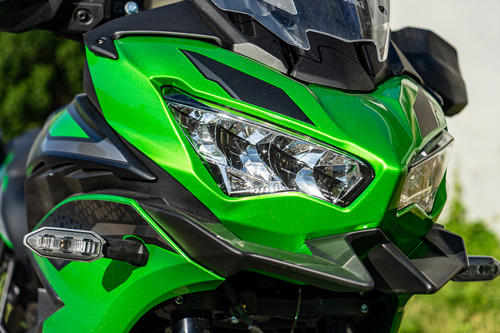 In my week with the Versys 650 LT I had it on winding B-roads, negotiated city traffic, bombed along the 401 and even hammered up and down a few dirt cottage roads, too. It was truly at home in all settings and, as such, so was I. It's the type of machine that will cause any rider to pause and contemplate why they would ever need anything more – especially if they also have a KLR 650 at home.
Now don't get me wrong, either the Versys 650 LT or the KLR 650 Adventure could easily be a rider's one bike solution. Both are rolling proof that you can (and probably should) do more with less and represent an incredible bargain in the motorcycling world. If you're new to the sport or looking to venture into new territory, either would make an excellent choice regardless of budget. But trust me when I say that having an extra arrow in your quiver is never a bad thing. You know what they say right? Variety is the spice of life.
2022 Kawasaki Versys 650 LT
Motorcycle Style: Adventure Sport Touring
Engine: 649cc, 4-stroke parallel-twin; Power: 67 hp; 44.8 lb-ft torque
Transmission: 6-speed manual
Pannier Capacity: 56 litres (28 litres each)
Weight: 228 kg (wet, including panniers)
Price: $11,599 (base, as tested)
Website: Canadian Kawasaki Motors Inc.
2022 Kawasaki KLR 650
Motorcycle Style: Dual Sport
Engine: 652cc, 4-stroke single; Power: 40 hp; 39 lb-ft torque
Transmission: 5-speed manual
Pannier Capacity: 42 litres (21 litres each)
Weight: 207 kg (wet)
Price: $7,499 (base) $10,368 (as tested incl. Heated grips and top case)
Website: Canadian Kawasaki Motors Inc.