As much as I loved the latest Supra when I first drove it, there was always something missing. Don't get ahead of yourself; it had nothing to do with the fact that so many bits were shared with the BMW Z4. We've seen it before; where was all the hand wringing when the Cadillac XLR started coming off the same line as the vaunted Chevrolet Corvette in Bowling Green, KY? What about Aston Martin going to Mercedes-AMG for their engines? What about when Toyota themselves, when deciding how to replace the cultish AE86 Corolla, went to Subaru and said, "show us what you got"? So no; I won't begrudge the Supra for its connection with the Z4.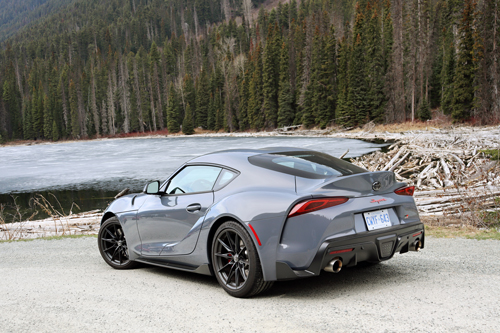 What I have less time for – much less, in fact – is the fact that until now, you couldn't get a manual transmission. That is a cross no sports car should bear and indeed, back when I first drove the GR Supra, it seemed like a pipe dream whose pipe was getting narrower day by EV-powered day. Well, fast forward three years and lo and behold, Toyota has gone to the drawing board, bought themselves a whack of #savethemanuals merch and decided to practice what they preach by offering a no-holds-barred three-pedal set-up. Hallelujah!
Exterior: First, though, we'll take a look at the styling because in addition to this particular GR Supra having an MT, it's also an A91 version and that means some things.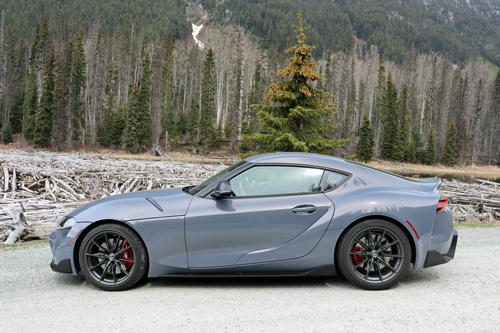 A91 spec adds red badging, Alcantara shift knob, red strut tower brace and my favourite feature of all: a tan interior with black inserts that looks absolutely gorgeous and is the best way to finish the Supra's interior.
Otherwise, the A91 – especially in the Cu Later grey paintjob seen here – is a stunner. The 19-inch 10-spoke alloys finished in a dark gunmetal are right on – especially when shrouding red brake calipers – and there are a bunch of neat little details like the red inserts behind the headlight lenses and contrast-colour wing mirrors, which do well to compliment the window surrounds, rear diffuser and vents on the front fenders.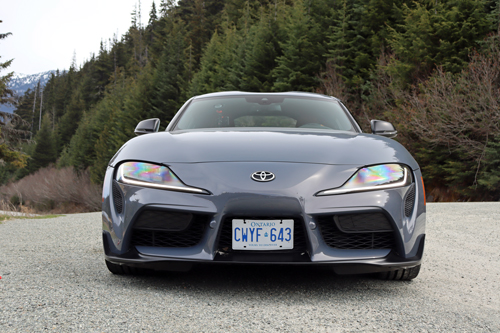 Interior: Sliding inside the Supra is not as challenging as it looks from the outside – even for a taller gent like myself – but once in, there's a little work to be done. The toughest thing is the visibility. Over-the-shoulder blind spots are omnipresent – which comes as no surprise, considering the tiny rear window – but it's the way the roof drops so far down to the side windows that was the most challenging for me. If you were to look at me sitting in the car I'd look like Batman, with only my chiseled chin and cheeks visible beneath a Toyota-designed cowl. Add the long hood and the very cab-rearward profile, and you really do have to start trusting your knowledge of the exterior dimensions of the car.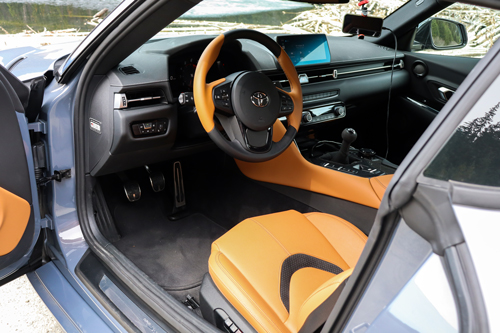 After that, of course, everything comes nicely together. The cabin is snug, so all the controls are well within reach and other than the visibility factor, the seating position is right on. The seats themselves, meanwhile, are comfortable yet supportive – a great mix of the two, which is important in a sports car.
Tech-wise, the connection with BMW is clear in that what you see in here is an iDrive system, make no bones about it. Not only that, it's not even the newest version of the system; we're pretty certain that may have been a bridge too far for BMW. So what you have is the same side-scrolling set-up – no modifiable tiles here – controlled by a single central joystick with no touchscreen backup. It's bit of a shame because forget iDrive; Toyota themselves has a very good infotainment system in their latest cars and it would have been nice to see it in this application. Maybe it could have added some cool go-fast stuff like a g-meter, power meter and so on. Alas, that's not to be so I did what I usually do: plugged in my iPhone to activate CarPlay, and hit the road.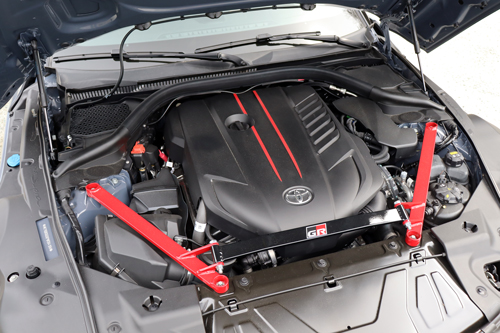 Powertrain: So yes, I repeat; for 2023, a proper six-speed manual transmission (with a clutch yes a clutch!) can be had on the Supra, as long as you opt for the I6-powered Supra 3.0 – in North America. In other markets, the manual is available only on the four-cylinder Supra 2.0. As much as the switch to A91 does add some very cool bits, power remains the same: 382 horsepower and 368 pound-feet of torque.
This not a case of "just give 'em what we got — they're just happy to get one" either, but a ZF unit developed in-house with Gazoo Racing (hence "GR") specifically for the Supra…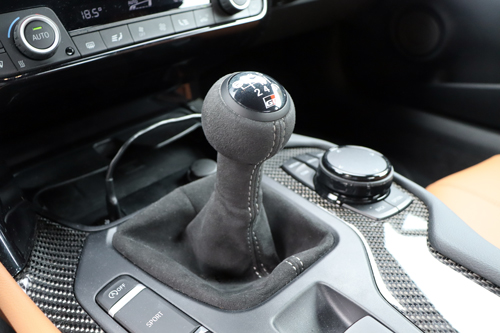 The Drive: …and it makes an absolute world of difference. The Transmission is a fantastically well-oiled affair with perfect clutch take-up, direct shift linkage and slots and a short-throw shifter. It is an absolute joy to row through this thing and it changes the drive drastically. Dual-clutch auto whizz-bangery and all that jazz may be quicker, but it doesn't have eyes that look ahead and can assess the turns coming up, or the quality of the road surface and so on. The driver does possess such an ability and their ability to tell the transmission what to do makes all the difference, and that includes operating the clutch to allow for just the right amount of wheelspin, revs and so on. There's even a little bit of modern tech in that the Supra features rev-matched downshifts if you so choose; the feature can be manipulated independent of the drive modes – that's good. The way you turn it on and off, however, is less intuitive in that you have to surf through the menus in order to do so; there's no single button that does the work.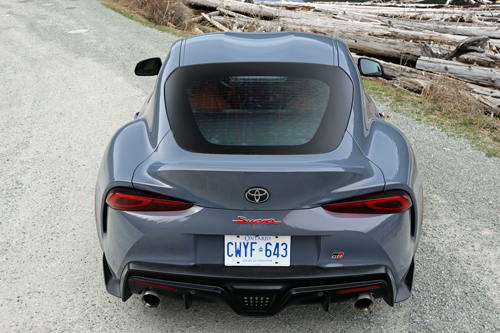 The steering is so direct and well-weighted that you hardly believe it's electrically assisted and the engine, though turbocharged, delivers a smooth power delivery that avoids the peakiness of these kinds of powertrains. So, you dip into the throttle and activate what feels like an elastic band is released, snapping you down the road with authority and a great sound through the twin-tailpipes.
You see, the Supra may be heavier than the GR 86 but its wheelbase is actually shorter. That, coupled with the wide track, sticky Michelin Pilot Super Sport rubber and with a stability system tuned to counter snap oversteer make for a car whose big presence belies its agility. It's enormous in this regard.
Conclusion: It's all about that stick shift, though, and how transformative it is. Before its arrival, the Supra was a good car but few cars I've driven before or since had me going "what if?" as much as this one did. It really tainted the experience – but no more. The MT is here now, and it's everything we manual aficionados hoped it could be.
And no. The Z4 will not be getting one.
2023 Toyota GR Supra A91
Price as tested: $70,630.70
Configuration: front engine, RWD
Engine: 3.0-litre turbocharged inline-6
Transmission: 6-speed manual
Power: 382 horsepower/368 lb-ft of torque
Combined fuel economy ratings: 10.9 L/100 km
Warranty: 5 years/100,000 km (powertrain), 3 years/60,000 km (basic)
Website: Toyota Canada