The Kia Soul has undergone a refresh for the 2023 model year, which includes a new design for the front grille, taillights, rear fascia and more. It also adds new safety features such as forward collision avoidance assist with pedestrian detection, lane departure warning, lane keep assist automatic high-beams and others.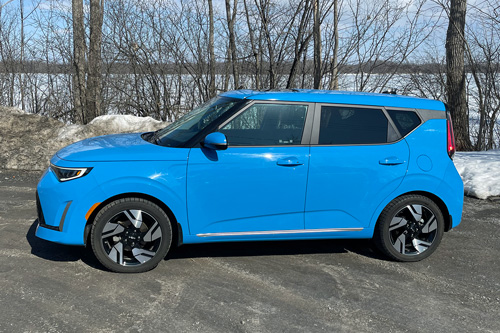 It is available in five trims, from LX all the way up to the GT-Line Limited we drove.
Pricing starts at just over $25,000, while the top trim we tested will cost you $31,645.
Powertrain: Do not expect to be blown away by the engine featured in the Soul GT-Line Limited. The 2.0-litre 4-cylinder engine has an output of 147 horsepower and 132 pound-feet of torque. In the city and highway, that was mostly okay, but a weekend trip into so more mountainous put the engine to the test and it was really working hard to climb what I would consider a modest incline.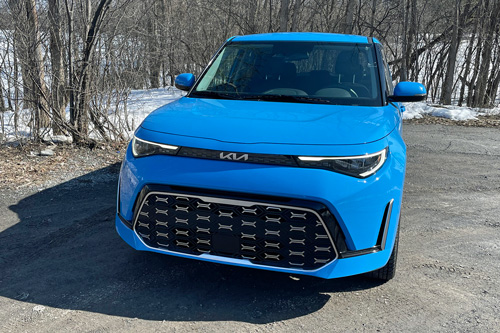 The Soul's engine is paired with an Intelligent Variable Transmission, which does a good job of moving power in my view.
I was pleased to see that my fuel consumption average came very close to matching what Kia claims for the Soul.
The estimated combined fuel efficiency is listed at 7.9 litres per 100 kilometres, while my average was a very respectable 8.1 L/100 km.
Exterior: Maybe it's because I watch too much Star Wars, but I couldn't help but get the impression the front design looks very much like the helmet of a Storm Trooper.
Whether you see that or not, it does nothing to take away from the fact that the Soul, at least in GT-Line Limited trim, has a very nice-looking front fascia.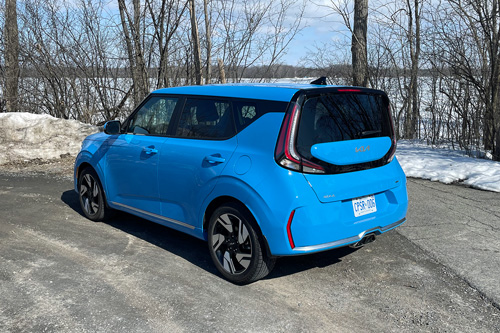 The grille is quite large and low, and the way it is designed in this trim makes it really stand out with a gloss black colour and chrome accents – especially against the Neptune Blue paint. The trim also receives sport front and rear bumpers.
Above the grille are a set of thin headlight assemblies and the new Kia logo.
The design is quite boxy, with a very square back end. And the Soul does feature a nice set of 18-inch alloy wheels on the trim.
Interior: The Soul cabin is on the snug side, but still comfortable. The GT-Line Limited features leather seating with red accent stitching and other red accents in the cabin. Those accents definitely help break up a sea of black. A sport steering wheel (D-shaped), as well as cooled front seats (also heated) and heated rear seats are included in this trim.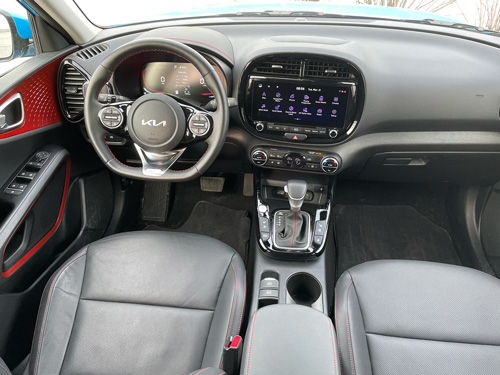 The layout in the dash features a mix of physical and digital controls, with the buttons and dials in neat rows that clearly define which are for the radio and which are for climate controls.
Seating is comfortable, although rear passengers do not get a lot of leg room. And cargo space is also not overly generous.
Some ambient mood lighting helps liven up the cabin at night.
Infotainment: The GT-Line Limited comes with an upgraded Harman Kardon premium audio system for those would appreciate good tunes.
The interface on the Kia system is one I have enjoyed previously and also did in the Soul. It is well laid out in clear menus that are easy to navigate and understand, all through a 10.25-inch screen.
The system is compatible with Apple CarPlay and Android Auto, and offers wireless charging capability.
Drive: The Soul will provide its owners with a relaxed driving experience. As mentioned above, the engine is fairly competent for city and even highway driving, but the engine does need to work quite hard it you venture outside the city and into hillier terrain.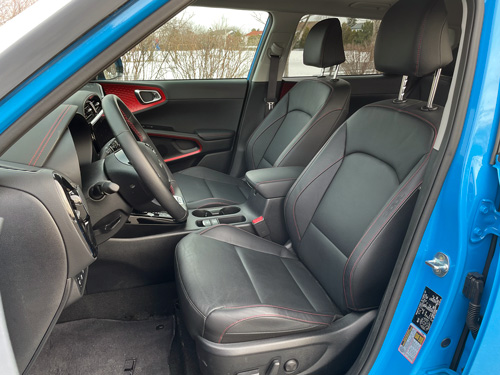 It comes with Smart Cruise Control, including lane-keeping assist, which makes highway cruising less tedious.
The drive mode selector does allow you to opt for a Sport mode, but temper your expectations of what that will do.
Overall, the drive feel is good and the ride comfortable. The cabin can get a bit noisy, but not to a point that is overly obtrusive.
Conclusion: The Soul has been around for a few years and while some people may never come around to its design, there's no denying that this is a solid offering from Kia that does appeal to a certain segment of consumers.
2023 Kia Soul GT-Line Limited
Price as tested: $31,645.00
Freight: $1,800.00
Configuration: Front engine/Front-wheel drive
Engine/transmission: 2.0-litre 4-cylinder/ Intelligent Variable Transmission
Power/torque: 147 horsepower/ 132 lb-ft of torque
Fuel (capacity): Regular (54.1 L)
Combined fuel economy ratings (L/100 km): 7.9 L/100 km
Observed fuel economy (L/100 km): 8.1 L/100 km
Warranties: 5-years/100,000 km (basic)
Competitors: Honda HR-V, Nissan Kicks, Subaru Crosstrek
Website: Kia Canada