While many OEMs are saying they're serious about electrification, it's the Koreans that are walking the walk more than anyone. The rumours of electrification coming to Hyundai's "N" brand are running rampant, the Genesis GV60 small crossover has a boost mode and now there's this: the Kia EV6 GT, an entire trim package aimed at those that want just a little more punch from their EV's powertrain.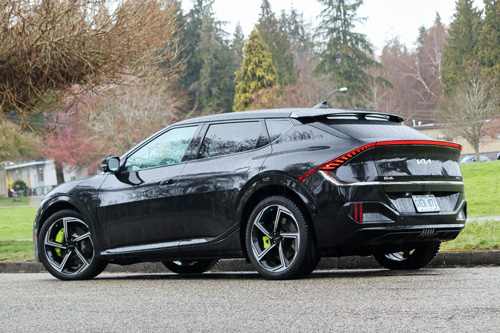 This particular EV6 makes 576 horsepower and 546 pound-feet of torque, sent to all four wheels through two EV motors; a 160 kW offering on the front axle, and a 270 kW rear motor plus a rear electronic limited-slip differential (eLSD). The motors are in turn powered by a 77.4 kWh battery that provides 332 km of range and can be taken from 10-80 per cent charge in just 18 minutes on a 350 kWh level III DC fast charger. So yeah – this is one serious Kia.
Exterior: While the powertrain tweaks over a standard EV6 are extensive, the styling tweaks are a little more subtle. The wheels have a unique design and they measure 21 inches, which is the largest found on any Kia, including the Telluride SUV. They're wrapped in Goodyer Eagle F1 rubber and shroud lime green-coloured brake calipers which, in turn, clamp larger brake rotors; the fronts measure 15", the rears 14.2", both up from 12.8" on other models.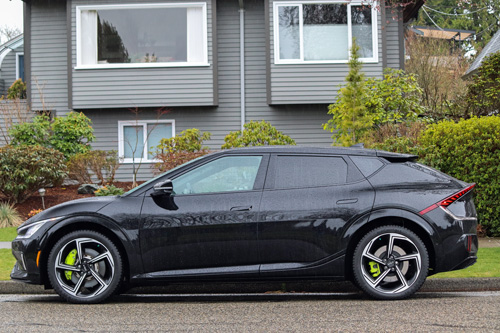 Overall, it is a good look and while the spoiler, front clip and rear facia remain unchanged from other EV6s (the GT does get a unique rear diffuser, however), the wheels look great and coupled with the bright brake calipers, help the GT look unique enough from other models but without going to quite the extremes Ford does with the Mustang Mach-E GT, for example.
The one thing I do wish they would have done is perhaps flared the fenders a little bit; because of the way they've shaped the headlights and front fascia, it looks like someone has grafted on the front-end of a vehicle that's wider overall.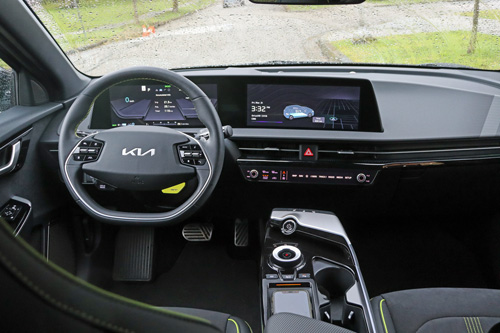 Interior: The green used on the brake calipers is mimicked by the contrasting seat and steering wheel stitching, the "GT" mode button on the wheel – more on this party piece in a minute — and some dash stencils. The gauge cluster will also glow said colour when the GT button is pressed. The main difference, of course, are the seats, which are specialized sports versions meant to grab occupants more firmly 'round the hips and ribs. Which they do, but not uncomfortably so. They don't dig into the outer thighs like seats of this variety so often do, even on the 190 km-plus test drive we undertook. The rear seats haven't changed but they, too, benefit from the new front seat design: since the front seatbacks are thinner, there's actually more rear legroom.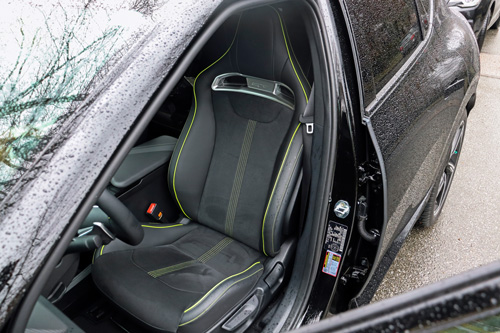 Of course, while on the highway you can take advantage of the GT's suite of driver aids; lane centering, adaptive cruise control, auto high beams, augmented-reality navigation and in-gauge blind-spot cameras are all here, so driver distraction becomes even less of an issue still.
Powertrain: Kia has provided the GT with four levels of brake regeneration (five if you include the "off" setting) adjustable by wheel-mounted paddles, the most aggressive of which is called "I-Pedal" and provides one-pedal driving. In this mode, I came to a number of intersections without ever having to touch the brake pedal as releasing the throttle is enough.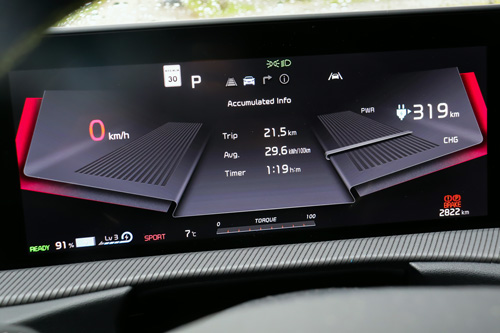 In addition to the regen modes, there are three drive modes that come with their own set of parameters: Eco, Normal and Sport. Even if you keep your pedal pressure constant, you will feel the car start to drag a little more as you move through the modes as they provide access to either 214 kW or 320 kW of power. We started with 336 km on the clock and after driving 193 km, we were left with 130 km of range, which is just a little less than what was originally predicted but only by about 15 km. For an insanely powerful EV, that's not bad at all.
Drive: On top of all that, we have two more little Easter eggs: the GT button and drift mode. The GT button provides access to two additional modes: GT and individual, which allows you to set aspects like the steering, throttle response and suspension to your heart's content.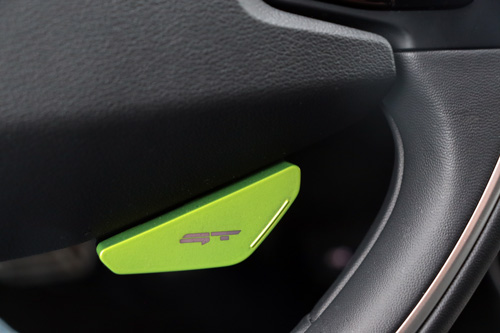 Drift mode is a bit of a different animal in that you don't access it by simply pressing a button. Sport mode must first be selected, the traction control switched off and both regen paddles pulled at the same time. It's complicated because in drift mode, up to 100 per cent of power can be sent rearwards and the computers manipulate the eLSD so much that it really is reserved for track mode only. So why do it? Well, according to Kia, the answer's simple: because they can.
For a vehicle that crests the 2,100 kg mark, the EV6 is searingly quick, to the tone of a claimed 3.4 seconds from 0-100 km/h.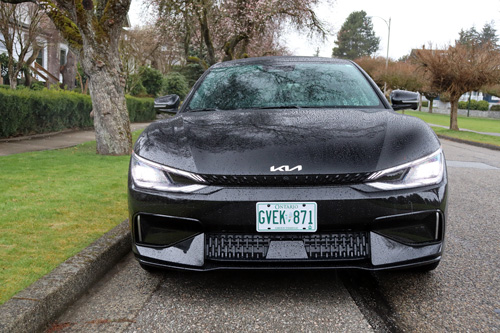 While the EV6 GT remains immensely fast through turns, you do start to feel that weight as the body leans through turns and the tires – as performance-oriented as they are – chirp, chirp and chirp some more. The weight is one thing, here, but for me, it was the steering not being quite communicative enough that caused me to be constantly adjusting, which upsets the balance and makes for less efficient progress.
The way the eLSD works to curb power distribution and reduce understeer makes it feel like you're working with rear-wheel steering, even though the EV6 GT doesn't have this feature. This can be very helpful when negotiating winding two-lane highways. Kia has even managed to remedy the mushy brake pedal feel so many EVs and hybrids have due to the regen qualities of their brakes.
Conclusion: There is a problem, though, and its two-faceted: the starting price of almost $75,000 and a similarly-sized vehicle with more luxury — the Cadillac Lyriq. The Caddy has more range, more room inside and costs less than does the EV6 GT by about five grand in RWD form. Canadian pricing for the AWD Lyriq has not yet been announced, but it's hard to imagine the Lyriq AWD will carry the $5,000 premium required to equal the GT's starting price.
Here's the thing, though: cool as the Lyriq is, the EV6 GT is a bit of a unicorn in that it's got so much power and some features that really strive to make it a proper driver's car. That's a rare thing in the EV world, and the fact that Kia is grabbing that bull by the horns here shows some real moxie, and buyers will appreciate that. It's cut from a slightly different cloth, this particular EV.
2023 Kia EV6 GT
Price as tested: $75,495.00
Configuration: dual engine, AWD
Engine: front 160 kW EV motor, rear 270 kW EV motor
Transmission: 1-speed automatic
Power: 576 horsepower/546 lb-ft of torque
Charge rate: up to 350 kW
Battery size: 77.4 kWh
Combined fuel economy ratings: 3.0 Le/100 km
Warranty: 5 years/100,000 km (basic), 8 years/160,000 km (battery)
Website: Kia Canada