If you've ever felt disoriented in a shopping mall (or a casino, if you're scoundrels like us) don't fret. Those environs are intentionally designed to perplex visitors. Called the Gruen Transfer, it is the feeling of disorientation and losing track of time when presented with an overwhelming amount of stimulus.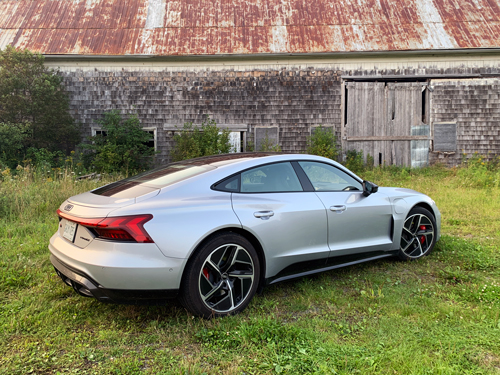 Or, you can skip the lesson in retail economics and hop behind the wheel of an Audi RS e-tron GT.
Thanks to a brace of electric motors belting out a maximum of 634 horsepower and 612 pound-feet of torque, this slinky beast from Ingolstadt can induce disorientation with the best of them. It starts with acceleration which presses passengers into their seats, as if an unseen deity decided to push on their chest. A rush of endorphins quickly follows, recognizable by anyone who has ridden in a rollercoaster at Canada's Wonderland, capped off with a string of expletives. Both of my lungs are on the same side now, if my doctor is reading this.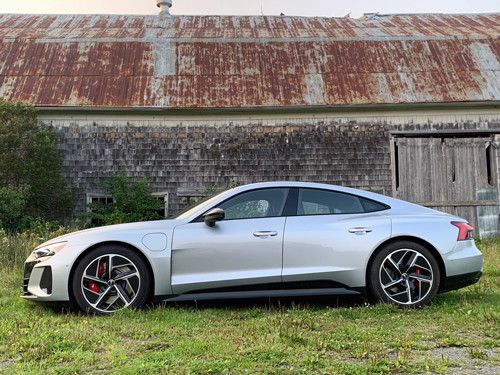 Official numbers from Audi peg a 0 – 100 km/h acceleration time of 3.3 seconds, though no shortage of outlets with timing gear have skimmed that number into the 2's on their way to a quarter-mile run of less than 11 seconds – this in a machine weighing the better part of 5,200 pounds. The battery stands at 93-kWh with a roughly 84-kWh usable capacity, good for an official range of 399 kilometres according to the eggheads at NRCan. This number aligns with the depletion experienced during our week behind the wheel, even considering the number of full-whack launches from a dead stop.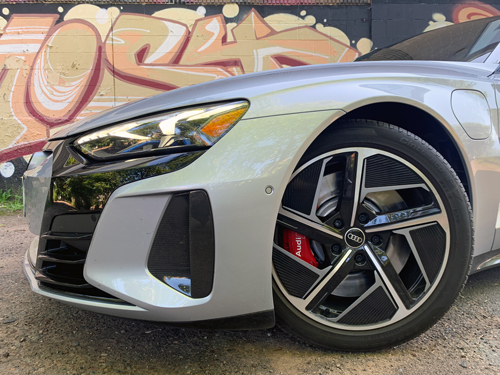 Charging at an appropriately stout Level 3 fast charger – rated at 200kW but belting out an indicated 91kW – inhaled about 20 percent battery capacity in roughly 15 minutes for a sum of approximately 7 dollars. That's about eighty kilometres of range for the price of 3.5L of gasoline at today's prices, meaning one would have to net 4.4 L/100km in a traditionally powered car to equal that measure in terms of dollars and cents at this particular charger.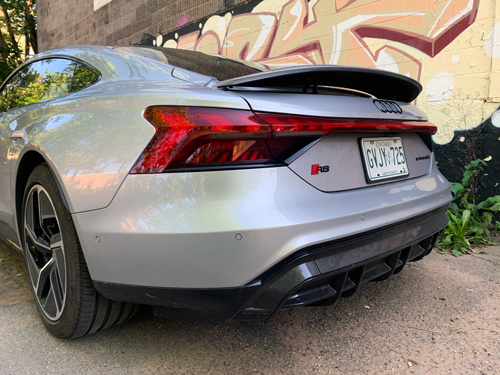 One oddity worth noting was an intentional lack of steering assist in any form when stationary, rendering the steering wheel virtually immobile while parked unless on a slick surface like an epoxy-covered garage floor. Sure, drivers are technically not supposed to crank the tiller when stopped – but most of us do, whether it's to straighten up the tires or out of sheer habit. This writer tends the latter in an EV to confirm the thing is turned on, despite a host of 'ready' indicators on the dashboard. Leave it to the Germans to sternly admonish me even in a stopped automobile.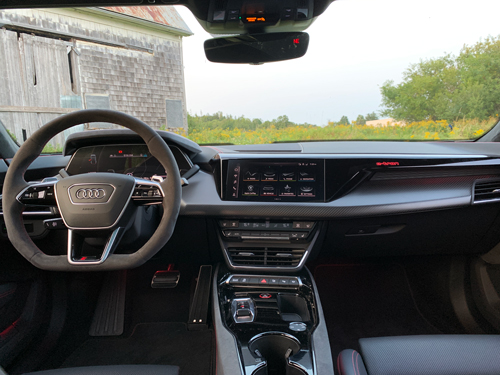 In terms of looks, the RS e-tron GT has a commanding in-person presence that's tough to translate through images. Suffice it to say while there is a growing cadre of all-electric German luxury sedans, this is the first one which prompted complete strangers to loiter in adjoining parking spaces and gush about the styling. Every stop took an extra ten minutes thanks to the attention, which was fine by this Type A but may bewilder introverts. The flanks of this car are flared like an old-school Coke bottle and has an, erm, aft section coveted by Sir Mix-a-Lot. Your author would have selected a louder colour like Vegas Yellow or Sepang Blue but, when asked at the valet stand "Which car is yours?", no one has ever regretted replying "My dear man, it's that big, silver Audi."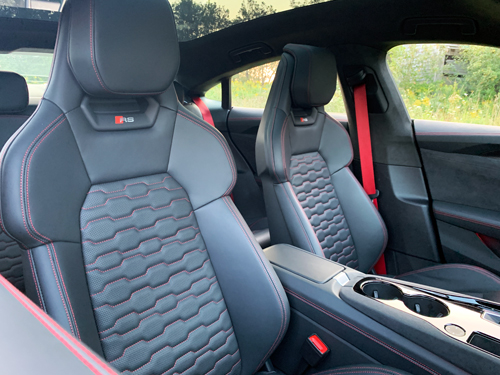 In keeping with the definition of Gruen Transfer, the RS e-tron GT is also very capable at causing drivers to lose track of time. Highway miles are devoured whole, like a teenager descending on a buffet after football practice, meaning a three hour stint behind the wheel can feel like 60 minutes in any other vehicle. The seats are thrones, providing the type of support one would expect from a vehicle capable of pulling Top Gun-style acceleration g-forces, though the less-of-limber may wish to requisition a slingshot to aid in exiting this low-slung beauty. Ditto for rear seat occupants who may find the hard backed front buckets unwelcoming to their kneecaps.
Carbon accents line the cabin, all beautifully hewn as one would expect in a machine of this stature. Alcantara touch points felt as expensive as they truly are, while the Audi MMI system was typically Germanic in terms of precision and responsiveness. Unlike inscrutable decisions by some competitors, the RS has an ample frunk which can easily swallow a weekend's worth of duffle bags; we simply stashed the car's Level 1 charging cord in that space. The trunk is wide and deep but rather short in terms of vertical measure from floor to parcel shelf.
Options like our car's RS Design package are pricey but not out of line with what's on offer from the likes of Porsche. The unfathomable decision by Daddy Government to slap a so-called luxury tax on most vehicles costing more than six figures pushes this models' 2024 base MSRP from $184,315 to roughly $220,000 – a number itself which may cause disorientation.
Gruen Transfer, huh? Maybe that's what GT stands for, after all.
2023 Audi RS e-tron GT
Price as tested: $222,150.00
Configuration: all-wheel drive
Engine: dual electric motors
Transmission: 2-speed automatic
Power: 631 horsepower / 612 lb-ft of torque
Charge rate: up to 270 kW
Battery size: 93 kWh
Combined fuel economy ratings: 2.8 Le/100 km
Website: Audi Canada