I could go ahead and explain what "GR86" means. To some, that's a strange name for a sport car. Typically, even in this day and age of alphanumeric brand names in the car world, sports cars tend to have proper nouns. You know them well: "Corvette". "Boxster". "Camaro." "Mustang" and so on. Even Toyota's own flag-bearing sportster has a name everybody recognizes: "Supra". So I could go on and break down the GR86's name but those that know, know and the rest all just see a low-slung, wide-hipped thing with a properly affordable price tag. Do we need to know more than that?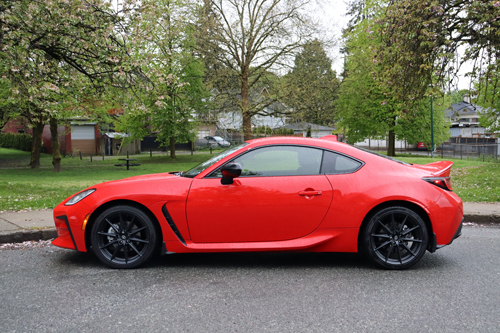 Exterior: For 2022, the 86 has been given a proper overhaul in the styling department. The headlights are more purposeful and less aftermarket, the front intake is all blacked out and massive and the wheels design is sharper, more upmarket. Even though it is longer than the old model, it maintains the same overall width but thanks to the design, it doesn't look it. I'm especially a fan of the black aero "fins" either side of the front bumper and the view from the rear, which includes massive twin tailpipes and new upswept rear spoiler. This car used to look more in-line with its entry-level (for a rear-wheel-drive sports car) price tag, but no more. This is a bad ass-looking thing that's full value.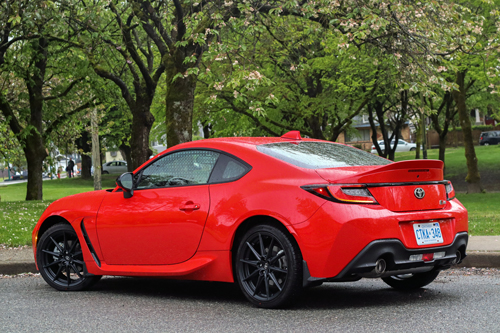 Interior: Inside, that upmarket vibe is maintained thanks to details like white contrast-colour stitching, new seat design (seats that are mounted lower, meaning a lower centre of gravity and better accommodation for taller occupants) and Alcantara suede inserts on the doors and side bolsters.
For those that are still into the more youthful, aftermarket vibe presented by the old car, there are aluminum pedals, toggle switches for your climate control system, a digital gauge cluster with a single, central gauge and mechanical handbrake for way cool drifts, bro.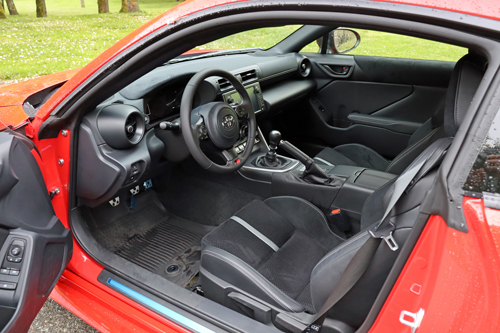 That's all well and good, but unfortunately the infotainment display also looks very aftermarket, as if it really was bought after the fact at Visions or something. It's surrounded by lots of plastic, the buttons either side of the display are tiny and the graphics are average. There is CarPlay, though, which is nice and the back-up camera is fine but needless to say, I was happy that I didn't have to use that screen for non music-related stuff such as climate control. That's handled by three bloody great big knobs just below the display, which is just right by me.
They have also added a proper armrest atop the transmission tunnel – it has a lid now, which it didn't previously – and that's great. It's just too bad said lid doubles as a cover for the cup holders that tends to get struck by an errant elbow that will cause it to open. There were a number of times during my test where I would go to rest my arm there only to realize – annoyingly – that it was feeling like the old car because, well, the door was open and there was nothing there save for a pair of cup holders.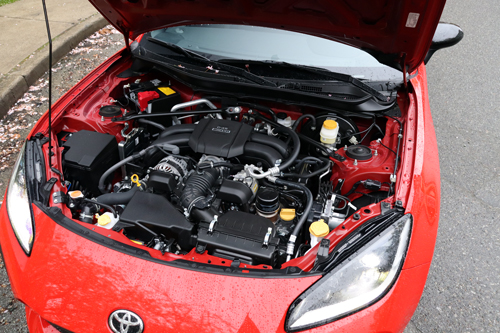 Powertrain: Power from the still-developed-by-Subaru 2.4-litre four-cylinder boxer engine is rated at 228 horsepower and 184 pound-feet of torque, up from 205 and 156, respectively, on the old model which had to make do with a 2.0L engine.
That's quite the power jump and since the weight of the new car is about the same, it can be felt as soon as you dip into the throttle. There is no turbo lag-induced delay as you stomp on it, just instantaneous response as the naturally-aspirated motor sends you spearing down the road with that trademark off-beat boxer burble.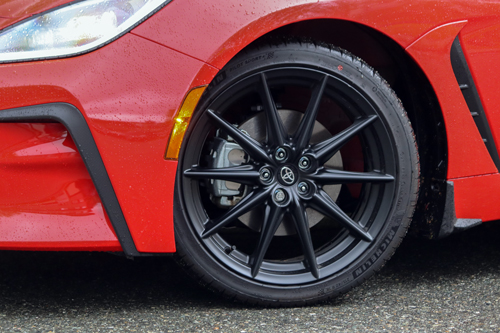 Yes; that still isn't a huge amount of power so you will find yourself rowing that transmission on the regular to squeeze the most out of it. That's not a big deal as the shift action is good (though, it must be said, not quite as good as that of the Mazda MX-5, a car that will be ever present whenever someone talks about the 86) and the clutch take-up is right on so who cares if you have to pop a few extra downshifts as you wheel through your favourite b-road? I know I don't. The more the merrier, when it comes to a car like this.
Drive: As nice as it is to have the extra power, the real highlight when it comes to the 86 is not just the handling, but the ride and handling.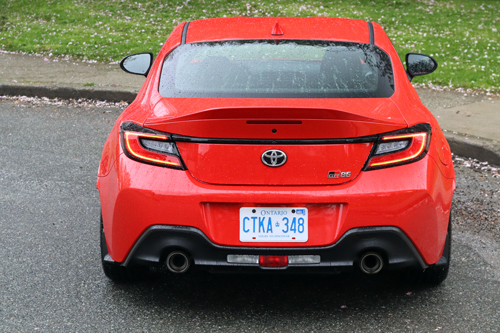 After all; you know a car like this is gong to handle well and thanks to a lower centre of gravity and the use of aluminum for the fenders and roof, it handles even better than previous. That means the added power doesn't have as much work to do to get things going and if you're willing to row those gears, you'll be able to hustle the 86 along with the same gumption and response as larger, more powerful cars. Repeated left-right-left transitions don't upset the chassis at all, and it stays so neutral through long sweepers that you get the sense it's reading your mind.
Of course, all of that is for naught if the chassis flexes and sounds all brittle as the bumps get more arduous – which, I must say, was something I did feel after driving the old car. There was just something about the materials used, coupled with tons of cowl shake that had me feeling I was in something close to what a knock-off car might feel like at worst, or at a bad aftermarket chassis tune job at best.
That is no longer the case. The GR86 now has so little body flex and so little vibration under duress that it almost feels luxurious, which is not something one would expect from an inexpensive sports car.
Conclusion: Those on-road manners, plus that power and the tweaked interior have done wonders for the 86. It's more approachable, but at the same time more fun-to-drive and committed. It's more advanced, but just as pure a driver as previous. That's all great, but for the first time in – well, ever, I think – I can safely say that the MX-5 is not the easy choice when it comes to affordable RWD sports cars. In fact, I'd go one further and say that the Toyota is the one I'd have, and that's saying something.
Who cares what "GR86" means? All anyone has to know is that it's fantastic.
2022 Toyota GR86
Price as tested: $34,745.00
Configuration: Front engine, RWD
Engine: 2.4L boxer-4
Transmission: 6-speed manual
Power: 228 horsepower/184 lb-ft of torque
Fuel: Regular
Combined fuel economy ratings: 7.8 L/100 km
Warranty: 3 years/60,000 km (basic)
Link: Toyota Canada