2022 Toyota GR Supra 2.0
Your author will be the first person to acknowledge he generally prefers to spec a vehicle with the largest engine available. Go ahead and plug a V8 into that compact car, my good man, or crank the wick on that electric motor until it resembles the power levels flowing from Reactor Number 4 just seconds prior to its destruction. If there's a choice of two mills, my reasoning has always held the one with a larger number on its casting block is the way to go.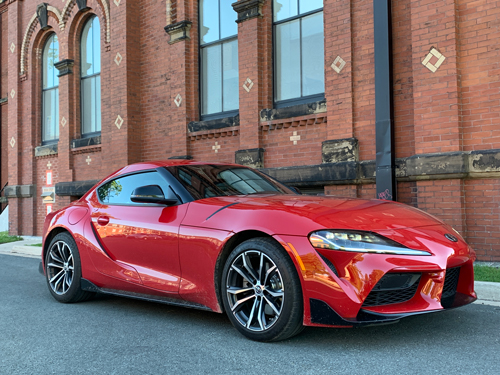 Until driving this four-banger Supra, that is.
Some dweebs on the internet will try and convince anyone who'll listen that a Supra with four cylinders is somehow not worthy of its badge, that a quad-pot Supra should be called a Celica – as if that's some sort of slur. What these ninnies conveniently forget is this four-banger makes the same displacement as some JDM variants of Supra across multiple generations. This time around, it benefits from a turbocharger and fettling from Ze Germans, resulting in 255 horsepower and 295 lb-ft of torque.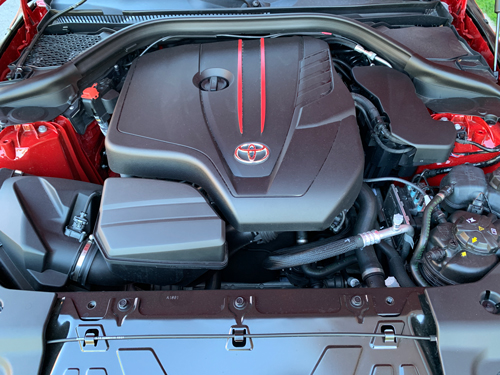 All that grunt shows up super early, at just 1,550 rpm, several hundred revs earlier than the six-cylinder car. That's a trait which, combined with the shedding of a couple hundred pounds compared to the 3.0L, makes the Supra 2.0 feel extremely sprightly – especially around town. The ZF-sourced 8-speed automatic is the sole transmission choice, infuriating purists but providing sweet shifts and an acceleration run to highway speeds from rest in a hair under five seconds. This is about one second slower than its brawnier brother.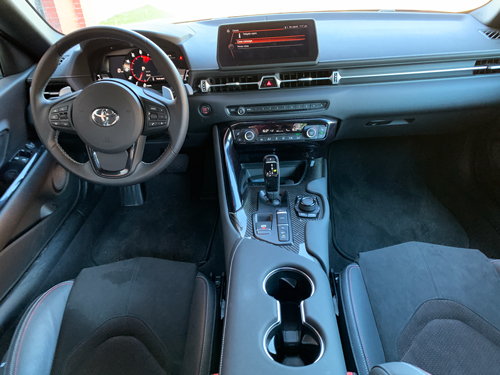 This long-limbed driver, measuring 6'6" in his size 13 stocking feet, was pleasantly surprised to not need a carbon fibre shoehorn to help himself fit into this car. The double-bubble roof may be intended to make space for racing helmets but ended up providing ample space for my noggin. The car's fast roofline does make sliding into the cabin a head-bonking affair if you're not paying attention, and the view astern will be familiar to anyone who served in pillbox infantry.
Let's get one thing clear: the Supra is a car which looks much better in person than it does in pictures. Those flared rear haunches which looked like goiters to this jaundiced eye suddenly worked when viewed in my driveway, as did the sculpted rear bumper that looks very busy in photos but evoked compliments in real life. The internet is right about one thing: driving a Supra with its windows down creates the sort of air buffeting generally reserved for those times you forget to completely close your helmet on a motorcycle at speed.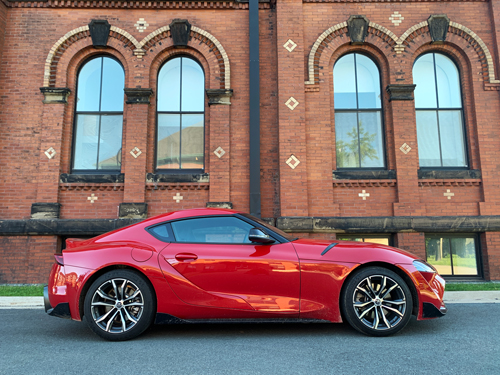 It is genuinely annoying, so roll up the windows and forget about it. Nevertheless, a lack of visual drama separating the 2.0L and 3.0L cars (save for mirror caps and exhaust finishes) assures owners that only the dorkiest of car geeks will spot the difference without popping its hood. This is good news for 2.0L owners, less so for those who've splashed out for the 3.0L.
Another issue along those lines? Price. Our 2.0L test car checked in at $59,090 which is certainly a heap o' beans but a solid ten grand adrift of the asking price for a six-cylinder Supra. That car is deeply impressive with its 382 horses and silken inline exhaust rip, but there are only a few experiences on this earth which can be valued at $10,000 per second – none of which can be printed here. I'll take the four banger and sock aside the difference for tires (and a membership at my local track).
2022 Toyota GR Supra 3.0
By Jeff Voth
Would I choose the GR Supra 3.0 over the Porsche 718 Cayman?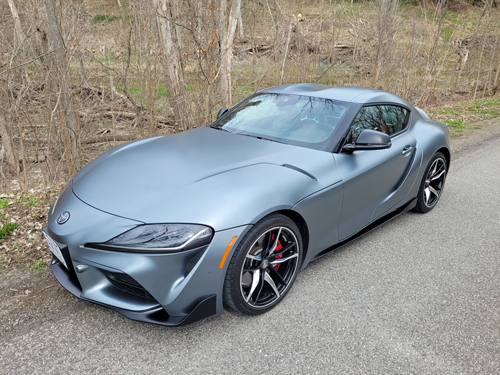 It was a question that crossed my mind while driving the Supra through some of Niagara's best backroads. What a crazy thought. How could I even consider such heresy? Then I took the bold step of repeating it out loud to two people I greatly respect and they confirmed I had indeed lost my mind. It wasn't the first time in my life that I had heard this, but as I took a step back from what I had just said to truly consider it, I thought maybe they are right, I am crazy for thinking it. Or, maybe I'm not.
Sharing its genesis with the BMW Z4, the 2022 Toyota Supra is available with two engine choices. My time was spent in the GR Supra 3.0 while you already know Matthew discovered the unique characteristics of the 2.0. Both offer solid bang for their respective engine sizes and are matched with an 8-speed automatic transmission with paddle-shifters. Cry foul all you want manual lovers; this is one automatic transmission with manual mode that will garner a whole lot more smiles than frowns.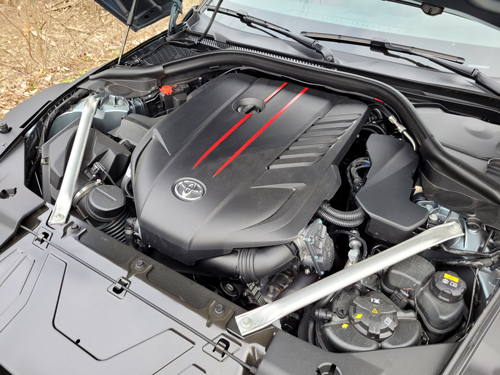 Power for the 3.0L twin-scroll single turbo 6-cylinder is listed at 382 horsepower and 385 pound-feet of torque. Engine performance builds in a linear fashion, it's always available and ready to respond. With a curb weight of 1,542 kg (3,400 lbs) it is heavier than the aforementioned Porsche 718 Cayman, but surprises by never feeling overly stout at speed or in a corner.
Brembo 4-piston ventilated disc brakes deliver exceptional stopping power and control in all situations, while the sport-calibrated electric power steering provides solid feedback and feels right. Mix in rear-wheel drive and you have all the makings of a near perfect driving experience no matter the road surface or weather conditions.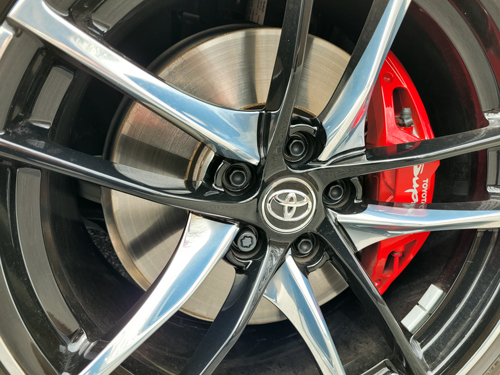 If there is one area that causes debate among sports coupe lovers, it is the outward appearance of the Supra. I completely agree with Matthew's assessment that while it looks appealing, though maybe a little gangly in photos, it is most attractive in person. And I bore witness to this on several occasions as people would give me a thumbs up sitting at a stoplight or standing on corner waiting to cross. In fact, I was surprised how many times it happened and in particular with the younger teenage crowd. Looks like Toyota has nailed it with the Supra.
Inside, there is very little to complain about. In fact, it was while sitting in the exceptional confines of the GR Supra 3.0 that I first considered the question of whether it was superior to the 718 Cayman. This is a car that becomes more comfortable the more time you spend behind the wheel.
The dash layout is simple and straightforward, designed to provide little distraction from the fun that awaits as you grab the leather-stitched steering wheel. Paddle-shifters are within easy grasp and switch between gears with the speed you expect from a serious sports car. The center console houses all of the typical options required, and in a style that BMW owners are certain to recognize. But again, there isn't too much clutter to divert your attention from the road.
Heated front seats with 14-way adjustment grip and grab as needed and there is enough back, hip and leg support for those longer cruises at speed. Headroom is no issue and there is even a reasonable amount of rear storage space for overnight bags or to use it as a daily driver.
Whether you choose the Supra 2.0 or 3.0 is a matter of personal choice and probably the size of your wallet. But either way, it's an exceptional sports car that deserves consideration even if you happen to be looking at a vehicle as refined and cherished as the Porsche 718 Cayman. Call me crazy, it's been done before, but maybe, just maybe, a comparison between the two is not as crazy as it seems.
2022 Toyota Supra GR 3.0
Price as tested: $72,021.70
Freight: $1,820.00
Configuration: Front engine/rear wheel drive
Engine/transmission: 3.0-litre 6-cylinder/ 8-speed automatic
Power/torque: 382 horsepower/ 385 lb-ft
Fuel (capacity): Premium Unleaded (62 L)
Warranties: 3-years/60,000 km (basic)
Competitors: BMW M4 Coupe, Porsche Cayman
Link: Toyota Canada