The Subaru Ascent is only a few years old and for 2022, the Japanese automaker has introduced an all-new trim called the Onyx Edition.
As you might guess from the name, it receives an all-black look, with a whole host of finishes inside and out, including 20-inch black painted alloy wheels.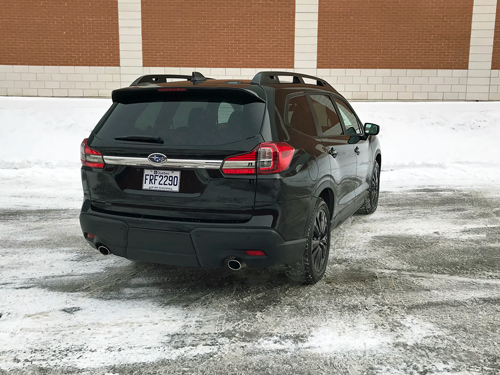 There are now seven trims available for the Ascent, with prices starting at $37,295 for the three-row SUV. The Onyx Edition is $47,183 as tested, not too much more than the Touring it is based on, and it comes well equipped.
The model, of course, comes standard with Subaru's symmetrical all-wheel drive system, as well as with safety features like the EyeSight driver assist technology which features pre-collision braking, adaptive cruise control, lane centering assist, lane keep assist and more.
Powertrain: The Ascent comes with only one engine choice, a 2.4-litre turbocharged Boxer engine. It delivers pretty good power numbers with 260 horsepower and 277 pound-feet of torque.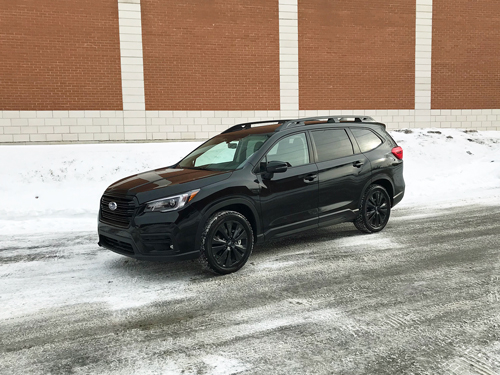 It is paired to a high-torque Lineartronic CVT, and this is where things get a little messy for me.
Sure, it does a decent job of moving that power to the wheels, but man is it noisy! Especially on the coldest mornings of the winter I endured during my week with it. My son joked that it almost sounded like a cat meowing!
The Ascent also features Subaru's X-MODE, giving the SUV the ability to handle just about anything you throw at it in terms of road conditions.
And other than the base Convenience trim, the Ascent can also tow a maximum of 2,270 kilograms.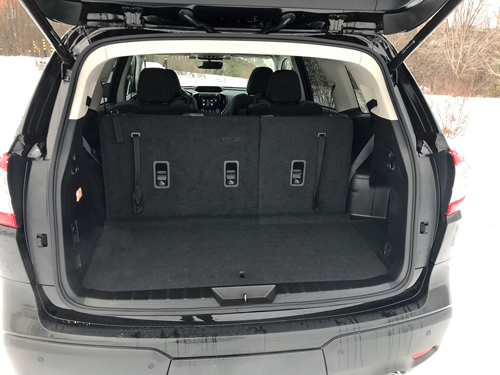 Exterior: You won't find a spot of chrome on this bad boy. On the Onyx, that is all replaced by black accents.
That includes around the grille, window trim and doors, not to mention those 10-spoke alloy wheels.
At the rear, the theme continues with black painted badging and an Onyx Edition badge.
Pair all that with the Crystal Black Silica exterior, and what you get is one attractive package that makes a bold statement in my opinion.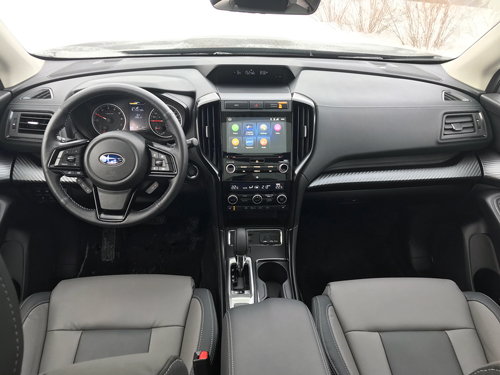 Interior: There are a few more unique interior touches on the Onyx Edition, including glossy black accents in the dashboard and instrument panel.
Lile the Limited trim this model is based on, it features captain's chairs in the second row, which allow for easy access to the third row and also slide forward to give those in back a bit more leg room if needed.
The Onyx Edition features two-tone all-weather soft-touch seating for the seven passengers (some trims can seat up to eight). The front seats are heated, as is the leather-wrapped steering wheel.
The seating and light headliner break up what would otherwise be a dark cabin, which is also helped along by the large moonroof.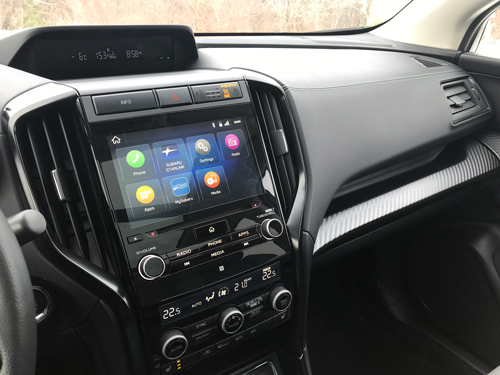 As is common for Subaru, there are two information screens on the centre stack, which the top one showing time, temperature, and fuel economy. Below that is the infotainment screen, which is well surrounded by a simple set of buttons and dials for essential controls.
Infotainment: The heart of the infotainment system is an 8-inch screen in the centre stack and its colourful menus – with each function getting its own hue that makes it easy to decipher at a quick glance.
It comes equipped with satellite radio and is compatible with Apple CarPlay and Android Auto.
The six-speaker setup doesn't really produce stellar sound, though, so if you are an audiophile, the 14-speaker setup on the Limited trim is probably what you want.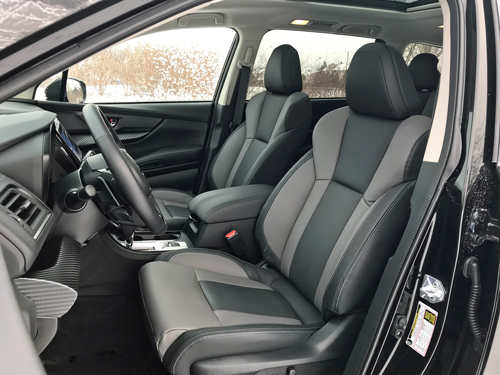 I had no issues with the interface, finding response times to be good and the menus clear.
Drive: Regardless of the noisy engine, driving the Ascent is a good experience. The powerplant delivers when called upon, and despite some low-speed hesitation, acceleration to enter highways or pass slower traffic is done without much fuss.
Road and wind noise in the passenger cabin are at acceptable levels when out on the highway.
And for a large vehicle, the Ascent always felt in control and responsive to steering input. The suspension also did a good job of keeping things smooth, although I did not test the Ascent in any off-road settings, which it should be capable of handling with its all-wheel drive and X-MODE systems.
Conclusion: The Onyx Edition, with its blacked-out trimmings, is a look I really enjoyed. While not flashy like some, it still manages to stand out in its own way.
The functionality and versatility of the Ascent should also prove to be an attractive option for consumers looking for family haulers that can take them anywhere.
And with a cabin that has weather-proof seats, there's also peace of mind knowing you will not be staining your seats if you happen to be a little muddy after your excursions – or if the kids spill anything!
2022 Subaru Ascent Onyx
Price as tested: $47,183.00
Freight: $1,875.00
Configuration: Front engine/All-wheel drive
Engine/transmission:2.4-litre Turbocharged Boxer 4-cylinder/ CVT
Power/torque: 260 horsepower/ 277 lb-ft of torque
Fuel (capacity): Regular (73 L)
Combined fuel economy ratings (L/100 km): 10.5 L/100 km
Observed fuel economy (L/100 km): 14.5 L/100 km
Warranties: 3-years/60,000 km (basic)
Competitors: Chevrolet Traverse, Ford Explorer, Honda Pilot, Kia Telluride
Links: Subaru Canada