***Editor's Note: For this review to make sense, we recommended you channel the voice of Michael Caine for narration***
It is impossible to look at the bug-eyed face and bulldog stance of a Mini Cooper and not smile. It's cute. It's charming. It's cheeky. Chop off its top and wrap it in neon, and its power to inspire yobbish behaviour and a cockney lilt increases five-fold.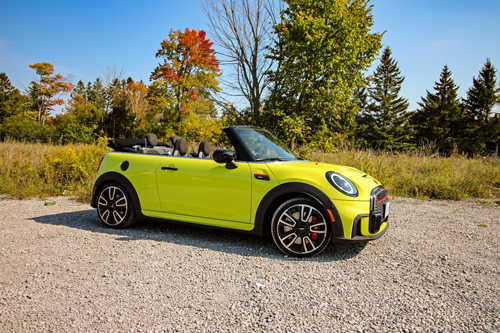 This particular plucky-Brit is the refreshed, 2022 John Cooper Works edition. That means it gets the Cooper line's punchiest turbo engine, sport-tuned suspension and some proper aggro-looking styling pieces like a rear diffuser. Tack on the optional "Premiere+ Pack" and it rides on bespoke 18-inch wheels and gets an extra sprinkling of posh bits on the inside, too.
Fiddling with the infotainment system via the new 8.8-inch touchscreen (to pair me dog and bone, of course) before setting off, my mince-pies peep a setting for something called the "Openometer" — essentially a stopwatch, it logs accumulated time when the roof is stowed. With the autumnal equinox firmly in our rearview but summer's temps still clinging on, I figure it'd be daft not to keep the canvas stowed for my week of faffing around. Challenge accepted.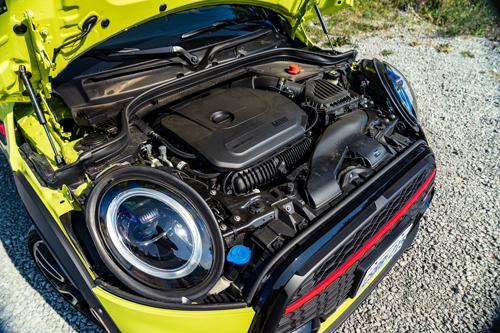 Powertrain: If things like an Openometer or its eye-searing paint don't clue you in to the JCW's purpose, hearing its turbocharged, 2.0 L, inline four-cylinder engine bark during a shift certainly will, as this thing is a lark. There are 228 horsepower on tap and 231 pound-feet of torque and, thanks to that turbo, the JCW has plenty of punch all through the rev range.
The only transmission available in the convertible model is an eight-speed automatic. I'll admit I wasn't exactly chuffed about hopping into a JCW with only one pedal for each of me plates-of-meat, but the dynamics of the packaging are actually quite sorted. If you're familiar with BMW's use of this ZF-sourced swapper, you'll already know it does a great job of keeping things engaging without human interference and it's no different here.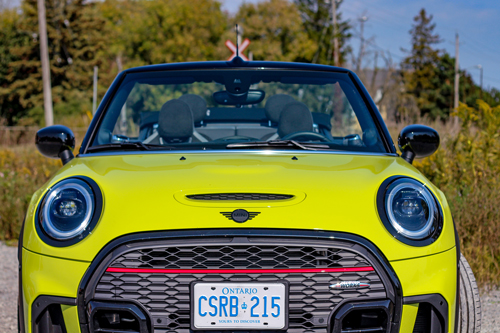 Should you wish, there are paddles behind the tiller but, as much as this car loves to point n' squirt, true three-pedal-aficionados would likely be looking for the tighter handling coupe anyways.
Fuel economy over my week with the JCW averaged 8.3 l/100km. That rivals what I get with my motorcycle and, much like when I'm riding, I wasn't exactly tootling around.
Exterior: The shape of the Mini is iconic, immutable and instantly recognizable. This time around, the grill has been tweaked and in JCW guise there are larger cooling ducts and it wears a bright red accent line. Sure, with the top down it does have a bathtub wearing a mullet vibe, but it doesn't cost the car any of its cheek.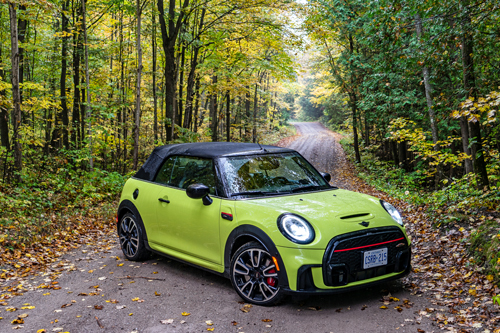 My tester wore a Zesty Yellow whistle-and-flute that further punctuates it's playful nature. Personally, I would have dubbed the colour BLimey, but that sort of whimsy is probably a bridge too far for Mini's Bavarian stewards.
Interior: Inside the tiny tub, the JCW is chock-a-block with high quality, retro touches. The chromed toggles have carried over yet again, and they're still a thing worthy of praise. The fattest one, above the rearview, is most important as it keeps the Openometer running. Knobs and buttons are present and accounted for too, controlling HVAC, seat heaters and audio volume.
From the well bolstered leather seat, the pill-shaped digital dash offers a unique look and functions quite well. You'll quickly spot its shape echoed throughout the interior at the Harman Kardon speakers and vents. Again, the playfulness of the Mini design is as defining inside as its equally playful driving characteristics.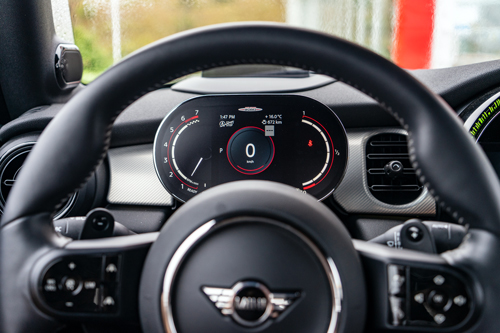 The steering wheel is BMW-esque with a thick and chunky feel and the aluminum pedals are much better than most.
The back seats are a bit of a dog's dinner though, providing more of a shelf for small parcel bags than actual bipedal humans. Given the size of the boot — which is mini with a small "m" — that extra stowage will be appreciated for any shopping trips needing more than a few bits n' bobs.
Infotainment: Mounted within the characteristic circle sitting centre stage, the main infotainment screen is clear and easy to read. I'm a fan of how well it integrates visually into the JCW's dash but manipulations can be a bit naff.
As is the case in most systems, there are just so many options that can be played with. That creates an unending rabbit hole of menus and submenus that are distracting. The iDrive controller, nicked from the overlords, certainly helps with the picking and choosing but a less is more approach would be better appreciated.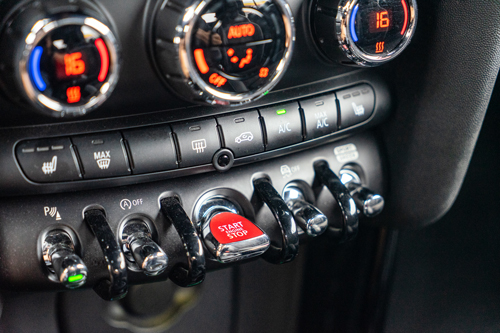 The Drive: Right, no porkie-pies. This Mini is a right, wee ripper. With my titfer sorted to keep my Fred Astaire in check, the top dropped and the currant bun shinin', it's hard to argue the sheer joys of pokin' 'round in this BLimey jam jar.
Toggle up into Sport and the JCW is up for a good old kick and prance. The dash turns an angry red. The steering tightens. The exhaust snorts louder with each blipped shift and throttle response and suspension sharpens. Sure, the lack of structure above me lump-of-lead can make things a bit dodgy through a bumpy corner but the tiny footprint of the JCW is rightly composed.
Of course, that composition at speed can make for a bit of a jarring ride as tight suspenders will cause the JCW to skitter a bit. Personally, it didn't prove to be worth whining about as I'm not looking for soft and supple in a car like this, but others might find it to be a bit of a spanner in the works.
Longer drivers on Ontario's flat n' straight highways are comfy and composed. You will have to watch the speedo though as it is all-too-easy to start stunt racing in this thing.
Conclusions: The 2022 Mini John Cooper Works Convertible is a proper plaything that also works decent as a car. Hop in for the morning commute or fire it up to see a man about a dog: you'll have a cracking time behind the wheel.
With Mini poised to become all-electric in the very near future, boisterous and tossable cars with an appreciable soundtrack will be hard to suss. This one's aces, and the Openometer makes up for the lack of a third pedal.
2022 Mini John Cooper Works Convertible
Base MSRP: $43,640.00
As tested: $56,530.00
Configuration: Front-engine/Front-wheel drive
Engine/Transmission: 2.0-litre turbocharged inline-4 / 8-speed automatic
Power/Torque: 228 hp / 231 lb-ft
Cargo capacity: 161 litres
Fuel economy: (litres/100 kilometres): 8.3 observed
Alternatives: Golf R, Mercedes AMG A35 Hatch, Subaru BRZ, Toyota GR-86,
Link: Mini Canada