To understand the 2022 Lexus IS 500 F Sport, all one needs to do is pop its bulging hood. Where a typical Lexus presents an engine bay full of branded plastic cladding – the motoring public need not view the nasty mechanicals! – the IS 500 F Sport provides a void. A glorious, rectangular void that is carved into the centre of its carbon fibre cap providing a view of its eight winding intake runners.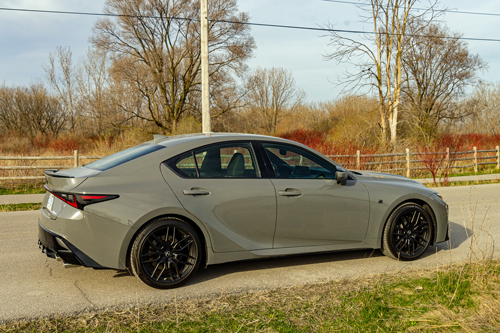 Despite being powered by the same motor, Lexus' LC 500 doesn't get the same hat-tip to hot-rodding treatment. And while the RC F (also powered by the same motor) does, it tarts up the process by anodizing those runners in blue. It's a feature that matches the aggro nature of the RC F and, in my humble opinion, is a bit much.
But here, on the IS 500 F Sport, the casted texture of the natural aluminium finish is raw. A feature just showy enough to let you know something special is going on, but without the need to get all shouty about it. It's a subtle flex, to be sure. And so is the IS 500 F Sport.
Powertrain: The 90-degree, 4968.5 cc V8 powering the IS 500 sucks air through those raw and raunchy runners to feed an octet of pistons that pound up to a 7,300 rpm redline. A tick before the tach needle bounces, there are 472 horsepower being developed and peak torque hits at 4,800 rpm, so this is an engine that needs exercise.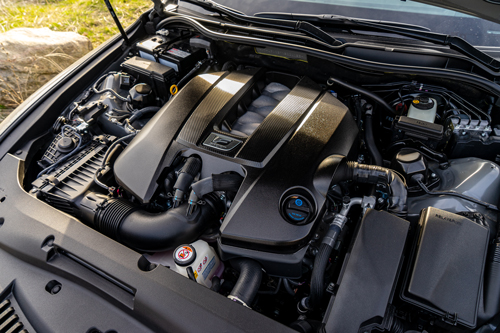 The cylinder heads were developed and built in partnership with Yamaha. Normally, a tidbit like this doesn't seem all that important but in this case, trust that it is. You see, not only did the Tuning Fork brand's motor division weigh in to help optimize things for the variable valve timing, but so did their musical instrument department, who fine-tuned the sound that the V8 broadcasts through the quad pipes. The result is a euphonious and nostalgic soundtrack guaranteed to get a driver's blood pumping.
That engine is mated to an eight-speed, Sport Direct Shift automatic transmission that feeds power to rear wheels via a Torsen limited slip differential. Acceleration isn't as lightning fast as you may initially want (it's still no slouch) but this isn't a torque monster wanting to hustle from light to light. The tune and response of the engine get more rewarding as the revs climb, so keeping it on boil while screaming across a landscape is where this IS truly comes into its own.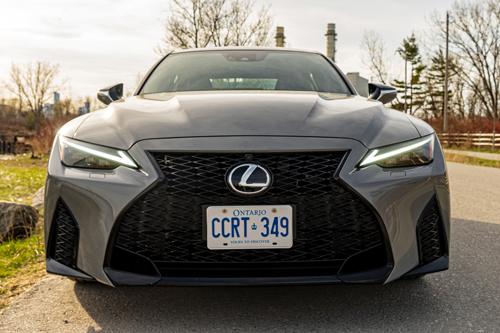 Of course keeping it lit means you probably won't see the estimated 11.9 l/100km fuel economy numbers. I know I certainly didn't… but I feel like it was money well spent.
Exterior: The lines on this thing run hither, thither and everywhither. None seem to coincide at anything approaching a traditionally beautiful angle and the reference point for some exists on some other ethereal plane.
And yet… It all kinda works, right?
The silhouette of the 2022 Lexus IS 500 F Sport is unique among IS' in that some accommodations were made to squeeze in that V8. The aforementioned bulging hood does so approximately 50mm taller than a lesser IS. The front bumper and fenders have grown a bit too, but nothing looks out of place.
The Incognito grey paint my tester came with is a unique colour reserved for the Launch Edition package ($4,750). It is definitely easy on the eyes and works well against the black trim delivering a sophisticated and on-trend look. But, despite its name, I wouldn't call the IS 500 F Sport incognito or a sleeper. That angular bodywork, burly hood and the rumble burbling from its double-stacked exhaust don't let it fly under the radar of casual observance.
Interior: The Launch Edition also gets an equally stormy colourway on the inside. The two-tone, black and grey mix of leather, suede and Grey Ash create a cabin that is quite subdued, almost to the point of being boring. Especially when you consider that non Launch Edition IS' can be jazzed up in either eye-popping Circuit Red or even White (Satin) leather.
Regardless, fit and finish are excellent. The heated and cooled seats are as comfy as they are supportive and every texture is pleasing to the touch.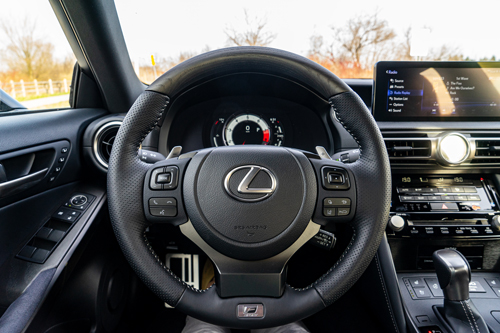 The dash may be one of my favourites. It features a large, centre mounted analog tach that is flanked by just the essentials – fuel, coolant and oil temperature. Should you wish for a little more, tap a button on the steering wheel and that tach does the electric slide to your right, presenting a few more pixels for less critical data.
If you're anything like me and enjoy a good button or two to control things in your car, the IS is a playground of haptic management. There are buttons and knobs for everything and they are everywhere. This is especially appreciated since the Lexus trackpad isn't great to use – especially while driving. Movements of the cursor across the screen are erratic and feedback from the pad is more alarming than informative causing eyes to dart from where they should be to both the screen and the pad itself.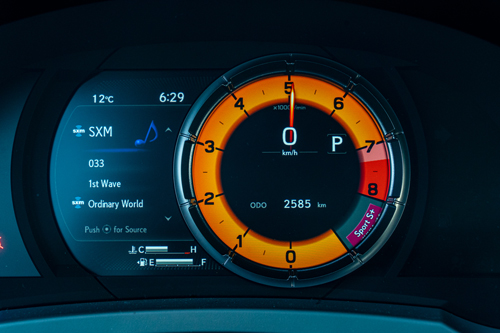 Infotainment: Trackpad woes notwithstanding, the Mark Levinson sound system is symphonic. There are 17-speakers at play here and regardless of whether you run audio through CarPlay, Android Auto, satellite, radio or even the equipped CD player (!!!) the playback is balanced and clear with just enough bass across the mids and lows.
If you give up on the trackpad and feel a little too nu-skool for buttons, the large screen is touch enabled and responsive. It will be a bit of a reach for some, but as mentioned there are multiple ways to get what you want.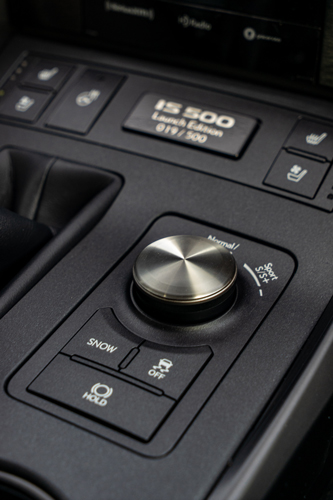 Drive: The Lexus IS 500 F Sport is very much about the drive. All of those subtle flexes – the styling, the exhaust note, the suspension, that engine – combine to deliver one of the most enjoyable driving experiences I've had all year.
This isn't a high-strung scalpel nor a wofty tourer but it can, at times, feel like both of those things or either. As mentioned above, acceleration is ample – 100 km/h takes 4.4 seconds – but the rewards are found when this car is flogged.
There are multiple modes on offer (ECO/Normal/Sport/Sport+ and custom) where the engine, transmission, steering, suspension and even the air conditioning are tweaked to deliver varying performance characteristics. Those differences though, aren't easily perceived as the IS just seems to do what you want it to with barely any drama. The chassis tuning is firm when under load but still provides a smooth and relaxed ride. Steering feel is actually quite good and there is ample feedback in the brake pedal.
Conclusions: Us automotive enthusiasts lament a lot these days. Everything that's newly released and continues to internally-combust threatens to be the last of its kind. Sure, there are still plenty of bonkers supercars out there and others in the works, but the time-honoured tradition of the fast sedan is one that has become increasingly rare – especially one powered by a naturally aspirated V8 engine. The Lexus IS 500 F Sport then, is quite special and unique indeed. It's a subtle flex that not only reminds just how great a sedan is but also how good one can be.
2022 Lexus IS 500 F Sport (Launch Edition)
Price as tested: $77,650.00 (CAD)
Configuration: Front engine, rear-wheel-drive
Motor/Transmission: 5.0-litre V8 / 8-speed automatic
Power/Torque: 472 hp, Torque: 395 lb/ft
Cargo Capacity: 306 litres
Fuel Economy: 11.9 L/100 km combined
Alternatives: Acura TLX Type S, BMW M340i, Infiniti Q50, Mercedes-Benz C43 AMG
Link: Lexus Canada