Plug-in hybrid electric vehicles are becoming more and more common with each passing year, and for 2022 Kia has introduced a PHEV version of its popular Sorento SUV.
This vehicle will be able to drive about 51 kilometres on electric power alone, which isn't an overly impressive number but will at least help mitigate some of the need to stop at the pump often.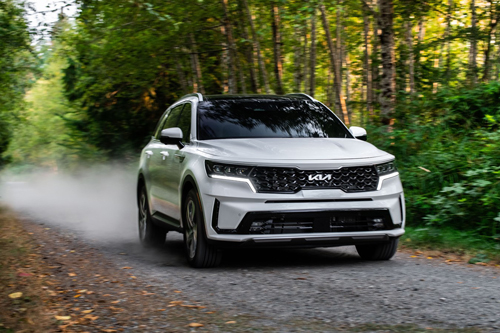 Available in five trims, we tested the top-of-the-line SX which includes things like air-cooled front seats, a Bose premium sound system, heads-up display, a really nice digital gauge cluster and parking collision avoidance assist when in reverse, on top of a lengthy list of standard features.
The Sorento starts at $36,660, while our tester tops out at $55,360. However, depending on where you live in Canada, you will benefit from some form of government rebate either from the federal or provincial levels, or both.
Powertrain: Under the hood is a pretty good hybrid setup that pairs a 1.6-litre turbo 4-cylinder engine with a Permanent Magnet Synchronous Motor and a six-speed automatic transmission. When in EV mode, the Sorento PHEV has a range of about 51 kilometres, and when battery power is too low, or your power demand is too great, the switch to the hybrid mode is seamless.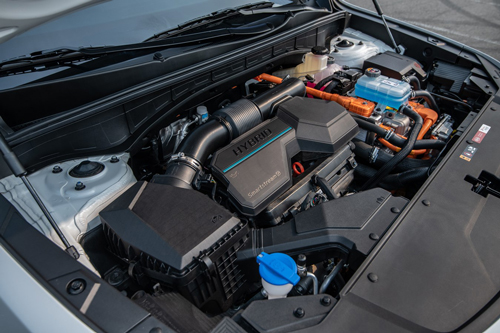 The system has an output of 227 horsepower and 258 pound-feet of torque, decent numbers for a vehicle this size. The torque specifically helps with rapid acceleration in EV mode, but even when operating as a hybrid, power delivery was smooth.
Combined fuel economy is rated at 6.9 litres per 100 km, and I came pretty close to that with a result of 7.6 L/100 km.
In terms of the battery, even using the supplied cable and plugging it into a normal exterior home plug, a full charge was easily achieved overnight. So, for those considering this type of vehicle over a full EV, that could be a consideration as you avoid the need for installing a Level 2 charger if you don't want to have one.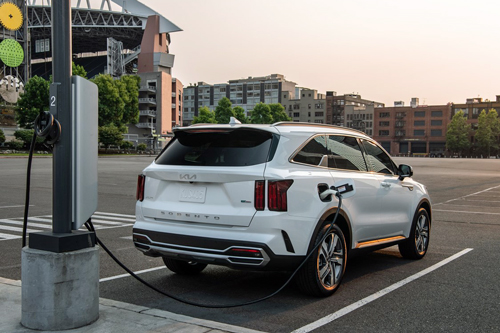 Exterior: The Sorento might just be one of the best-looking three-row SUVs on the market in my opinion.
The front-end features a wide grille with Kia's new logo, blending seamlessly into sleek headlights. The two-tier fascia also features a bright black lower grille that stands out in contrast to the Snow White Pearl (a $250 option) paint on our tester.
There's a nicely sculpted hood, a striking silhouette, and an attractive set of 19-inch machined-finish alloy wheels.
At the back, the design is just as appealing, with vertical split taillights, chrome exhausts and the word Sorento spelled out across the lower lip of the powered liftgate.
Interior: I was very impressed with the cabin of the Sorento PHEV, starting with the leather seating and trim work throughout the cabin.
I was very impressed with the cabin of the Sorento PHEV, starting with the Navy Blue leather seating and trims throughout the cabin. This was a nice change from the sea of black or grey interiors we often see, and the two-tone treatment of the dash and door panels just gave the cabin a luxurious feel to it.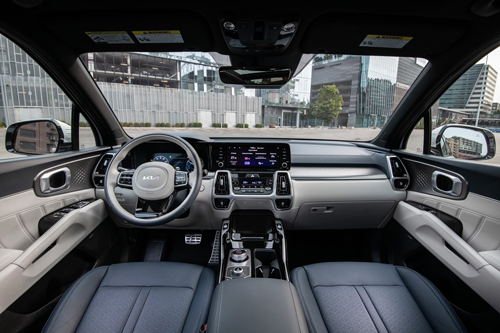 With a few textured metal trims in the dash and doors – which are nicely lit at night – the whole setup is very elegant.
You get heated and cooled front seats, a heated steering wheel and heated captain's chairs in the second row of this seven-seater.
The driver also gets the benefit of a 12.3-inch digital gauge cluster, with crisp displays of information, but with the added feature of a camera view of blind spots when you activate the turn signal in either direction. Now that is smart.
For even more convenience, the driver also gets a head-up display.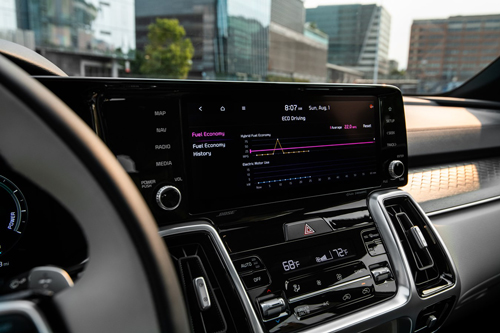 The well executed cabin is comfortable, quiet, very well designed and laid out.
Infotainment: At 10.25-inches, the infotainment screen is a good size and delivers a crisp display. I especially liked the way the radio station channels were displayed, mimicking old-school lightbulbs with the numbers of the stations inside.
The interface was quite good, although I did find that I sometimes had to press the buttons on either side of the screen twice before it would switch menus as requested.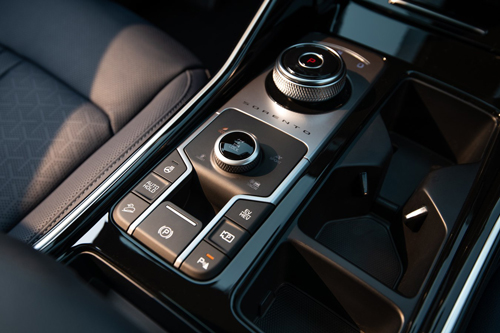 Other than that, the system was excellent and also allows you to keep track of your EV range and battery capacity, as well as charging functionality through easy menus.
It is compatible with Apple CarPlay and Android Auto, and features navigation and wireless charging.
The SX also comes with a Bose sound system and LED ambient mood lighting for the cabin.
Drive: I was very pleased with the drivability of the Sorento, whether as an EV or hybrid.
It delivers a smooth, quiet overall ride – although a few creaks could be heard over some of the roughest bumps I hit during my week with it.
Depending on road conditions or how you are feeling behind the wheel that day, you can adjust the Sorento's drive settings via a dial that sits behind the rotary shifter – which took some getting used to but is functional once that is done.
Among some of the choices, the driver can select Snow for wintery days (and that came in handy during my week with the Sorento), or Sport should the tarmac be dry and you want to have a little more fun.
Conclusion: For anyone out there who needs the space of a three-row SUV but is looking at the price of gasoline these days and dreading their bills down the road, the Sorento PHEV should definitely be on your list of vehicles you should consider.
It looks great, the SX interior is top notch, and it drives and handles really well. The all-wheel drive system and snow settings were put through some serious paces during my week with the Sorento, and it did not disappoint at all.
Where it might lack is in terms of cargo space behind that third row when all seats are in use, but it is not unique in that shortcoming in this segment.
2022 Kia Sorento PHEV SX
Price as tested: $55,360.00
Freight: $1,850.00
Configuration: Front engine/All-wheel drive
Engine/transmission: 1.6-litre turbo 4-cylinder and a Permanent Magnet Synchronous Motor/ 6-speed automatic
Power/torque: 227 horsepower/ 258 lb-ft of torque
Fuel (capacity): Regular (67 L)
Combined fuel economy ratings (L/100 km): 6.9 L/100 km
Observed fuel economy (L/100 km): 7.6 L/100 km
Electric Driving Range : 51 km
Warranties: 5-years/100,000 km (basic)
Competitors: Ford Explorer Hybrid, Toyota Highlander Hybrid
Website: Kia Canada