Kawasaki's modern Z900 may be fifty-years removed from the original but many of the underlying features that made the original Zed such a hit remain. No, the Zed no longer finds itself perched atop the high-speed leaderboard, but it's got plenty of punch and the engine is silky smooth and predictable. The ergonomics are naked-bike aggressive but comfy enough for touring duties and the suspension isn't teeth chattering at all. The Z900 is a competent all-rounder then. And slathered in its 50th anniversary livery, it promises to stand out at your local bike night. So, review done then right?
Well, not so fast…
Styling: Modern Japanese naked bikes tend towards the insectoid realm when it comes to their design language and Kawasaki's Sugomi styling is no different. Take one part Hasbro-era Transformers, mix with 1.5 parts Michael Bay-era Transformers, add a dash of Go-Bots and a sprinkle of Gundam and you're getting pretty close.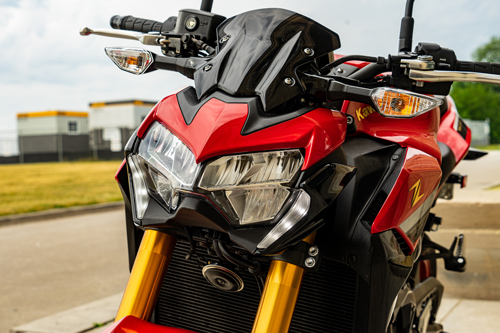 The 50th Anniversary Special Edition comes painted in Firecracker Red. The livery is drawn from Kawi's history books – it graced the once fastest-in-its-class Z1100 GP from that Hasbro era – and it does pack a premium look and feel. The accents come in shades of silver and dark blue while the commemorative script, badging and fork tubes are all gold. As a package, the Z900 50th looks tightly wrapped and lustrous enough to warrant the $500 upcharge
Powertrain: While labelled a 900, this Zed is actually packing 948 cc's of displacement. The silky, smooth inline-four has been around for a while in the Team Green garage but it's vintage doesn't really matter. There is still more than enough power – 125 horsepower – and enough grunt – 72 pound-feet of torque – to best most middleweights.
Power delivery is tuned for a bigger hit of torque down low (compared to its Ninja brethren), so ambling around town doesn't feel like trying to walk a Jack Russell with ADD. That doesn't mean it won't wind out though. Give it full twist and that four-pot will scream to its 11,000 rpm redline.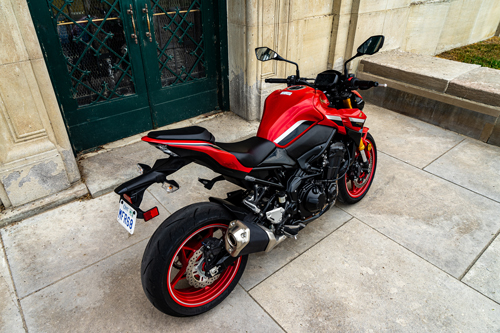 The six-speed transmission feels pretty faultless. Shifting up or down has good, positive feedback and I didn't experience any false neutrals throughout my week. The gearing is set decently too, so you're not needing to keep things on boil when cruising at legal highway speeds but you are in a meaty part of the powerband should you need to blow by slower moving traffic. Drop a gear and you can disappear even quicker. If there were a quickshifter available, you could vanish quicker still.
Suspension/Brakes: Both those gold forks up front and the back-link shock are adjustable for damping and preload. In factory settings, they were compliant enough to handle the GTA's mostly bombed-out pavement with my 84kg carcass aboard with only an expected amount of rattling going on.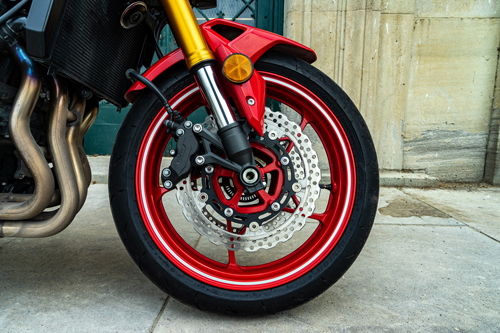 Dial up the wick and more abrupt weight transfers do tend to be exaggerated. I wouldn't go so far as to say it feels undersprung, but if you have canyons in your backyard or were thinking about using the Zed for an occasional track day, I'd likely steer you towards the upgraded SE model, with its stiffer Ohlins suspenders and bitier Brembo brakes.
Now, that's not to say there is anything wrong with the standard kit, should you just want a mount for regularly scheduled duty. I'm just a little surprised that, for their commemorative edition, Kawasaki didn't give their SE model the fancy red dress.
Infotainment/Technology: The full-colour TFT screen is the same unit that was plugged into the Versys 650 LT we tested earlier and indeed the same unit found on nearly all of Kawi's motos at present. This is no slight as the display is rich, easy to read even under direct sun and delivers the goods in terms of info needed. Other OEMs should take note of just how well laid out things are here – sometimes more is just clutter.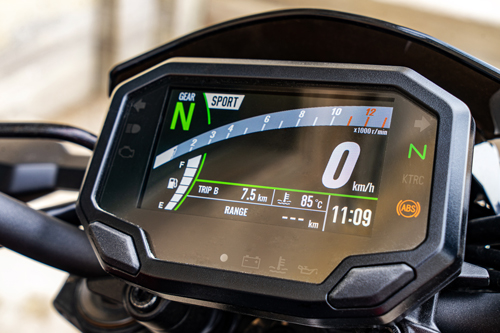 That screen can be paired to your phone via Bluetooth and Kawasaki's Rideology App will let you track all sorts of metrics as well as keep a riding log. When you only have a machine for a week at a time, you don't tend to glean too much from these things but I do like the ease of which you can tweak the bike's performance (customising rider modes) from your phone and, for owners, tracking the maintenance log is pretty sweet too.
As mentioned above, there are rider modes baked into this Zed (Rain, Street, Sport and Rider) as well as traction control and ABS braking is standard. Sadly, the safety suite is not filtered through an inertial measurement unit (IMU), so none of the sensors acquiesce to lean angle.
Ride: Outside of regular commuter duties, I enlisted the help of this 50-year homage to Zed to explore a 665-kilometre chunk of south western Ontario. One of the main features of naked bikes – and a large reason as to why they're much more popular than fully-faired supersports these days – is that they're usually fairly comfy. The ergonomics are more upright thanks to bars instead of clip-ons, but they still deliver an aggressive-enough stance that you can go full attack in the twisty bits.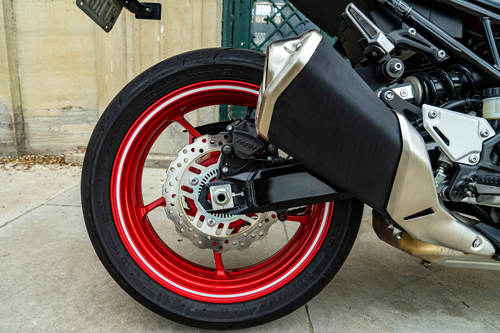 On the highway the Zed was a relatively peaceful mount. It was neither taxed nor taxing. The lack of wind protection wasn't nearly as punishing as I find it on even more upright modern classics and that lovely lump of an engine was just purring along.
Ditching the 400-series route for the tighter, two-lane stuff is always going to make a bike (any bike) feel more at home and this Zed is no different. Handling is nimble and the Dunlop Roadsport2's were grippy enough to push a bit without worry. Long sweeping corners are hard to come by in this part of the world but with the few I found the Zed rewarded nicely.
After many hours of mixed riding conditions with the Zed, my only complaints were that I did feel a bit cramped – the rearset pegs are stationed relatively high – and the special 50th Anniversary seat lost its plushness fairly quickly. If you're a smidge shorter in stature (183 cm and less) that first bit may not apply but for longer-legged galloots, adding an AirHawk or something similar for a long day touring takes nothing but a coupla bucks and ten minutes time to solve both issues.
Conclusion: Kawasaki's Z900 50th Anniversary Edition is a good bike for a rider looking to move from the supersport world to something more comfortable or even for a rider moving from something more sedate to a quicker whip. It's not going to light the world on fire in terms of outright power or performance, but there is easily enough there to keep the majority of riders happy. It's not nearly as specialized or sophisticated as the European contingent, but it makes for an excellent gateway into that sort of territory without burning through your entire savings at the onset.
I still wish that Kawasaki had used the Z900 SE as the base for this bike as the upper shelf components would do even more to set it apart from the crowd. It would also go a long way for Kawasaki to invest an extra helping of current-gen technology (IMU based TC and ABS) into the Zed to make it both safer and more competitive in its class. With a base price of $10,999 I'm sure that riders would happily throw down an extra $500 for that extra bit of tech. Regardless, the Zed is still a competent all-rounder that's worth a second look.
2022 Kawasaki Z900 50th Anniversary Edition
Price as tested: $11,499.00
Motorcycle Style: Naked Sport Bike
Engine/transmission: 948cc, 4-cylinder/6-speed manual
Power/torque: 125 hp/76 lbs-ft torque
Weight: 212 kg (wet)
Website: Canadian Kawasaki Motors Inc.