With gas prices hovering at all-time highs, large V8-powered SUVs are probably not at the top of most people's shopping lists if they are in the market for a new vehicle.
After a week with one such model, I can understand why some might hesitate, regardless of how good the vehicle is.
That was the case with the 2022 Infiniti QX80 we tested recently, which featured a sorely-needed updated interior for this model.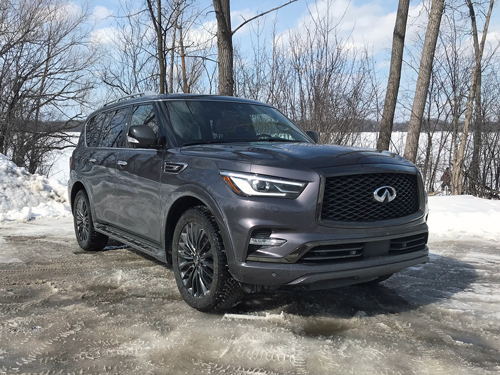 Offered in four trims, the QX80 can seat either seven or eight, and has a starting price of $84,905. Our tester was a seven-seat ProACTIVE 4WD version with a starting price of $89,695.
It is a very well-equipped vehicle that includes things like an adaptive front lighting system with auto-levelling headlights, smart rear view mirror, intelligent cruise control, lane departure prevention and more.
Powertrain: The QX80 is not short on power thanks to the 5.6-litre V8 engine under the large hood. It delivers 400 horsepower and 413 pound-feet of torque, and it is paired with a 7-speed automatic transmission with adaptive shift control (ASC) and manual shift mode with downshift rev-matching. All-wheel drive is also standard on this large SUV.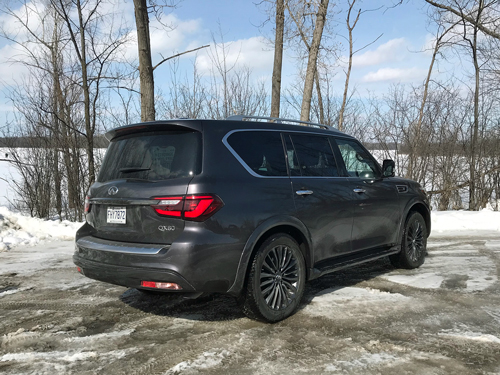 And as powerful as the engine is, there is still a lot of weight to get moving, so do not challenge anyone to a drag race with the QX80. However, once you get moving, the engine's potency is evident and welcome.
While powerful, the engine comes with a price – a pretty big one these days – at the pump. With a recommendation to use premium fuel and a 98-litre tank, every fill up could be painful.
And with an estimated combined fuel efficiency of 15.3 litres per 100 kilometres, you will be making frequent trips to the gas station. Making matters worse was my average of 19.1 L/100 km.
Exterior: The QX80 is hard to miss – mostly because it stands head and shoulders above most other vehicles in a parking lot.
This is a large vehicle and has a very boxy styling, especially when viewed from the side and rear.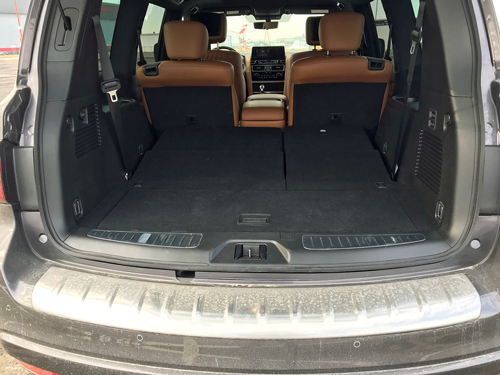 It is also quite high off the ground, so the addition of a side rail to aid entering and exiting the vehicle is a sage decision.
The tester has large 22-inch dark finish cast aluminum-alloy wheels that complete the exterior appearance and complement the anthracite grey metallic paint colour, which is a $750 extra.
Interior: For 2022, the interior of the QX80 received a host of upgrades and changes, which are an enhancement over previous versions but still leaves room for improvement.
The centre stack is fairly clean, with a clear division between controls for the radio (only a few buttons and dials) and climate systems. Additional controls for the radio can be done via a dial in the centre console.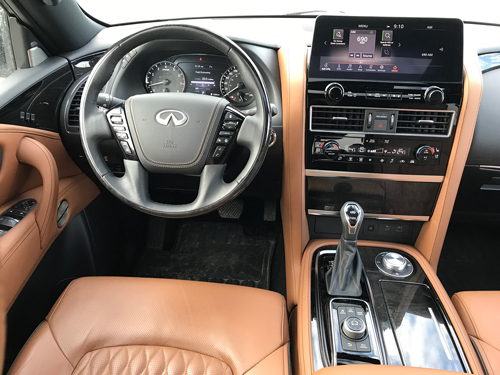 Below the controls for the HVAC is a wireless charging pad, but if you didn't know it was hidden behind a door, you might miss it. A nice new addition, however.
I enjoyed the Saddle Brown leather quilted seats for the seven passengers, which includes two captain's chairs in the second row. Those occupants also benefit from screens mounted in the headrest of the front seats for entertainment.
Front seats are heated and cooled, and the QX80 also features a heated steering wheel.
The cabin highlights charcoal burl trim accents in the dash, centre console and more.
Infotainment: A focal point of the redesigned cabin is the singular 12.3-inch infotainment screen that protrudes from the top of the centre stack. It has a bit of a tilt on it, which helps eliminate glare.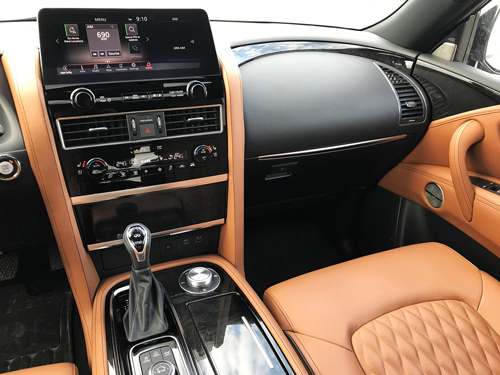 It's a very clear and colourful screen, and the system is compatible with Apple CarPlay (wireless) and Android Auto (wired). It also features GPS navigation as standard.
Also included is a 17-speaker Bose premium audio system and Wi-Fi hotspot (requires subscription).
The operating system and interface work quite well, with very little lag to responses, and clear menus.
Drive: The ride in the QX80 is comfortable and smooth, which you would expect from a large, luxurious SUV. The cabin is also kept very quiet from exterior noises.
However, this is not a very dynamic or nimble performer on the road. It rumbles along like the large goliath it is. That said, the driving position and height of the vehicle give the driver excellent lines of sight out on the road. And having a clear 360-degree camera comes in very handy when parking the QX80.
And for those who need it, the QX80 has a maximum towing capacity of 3,855-kilogram (8,500-pounds). It also has drive modes that are selectable through a dial in the centre console.
Conclusion: The 2022 Infiniti QX80 AWD 7-passenger is a solid vehicle that delivers excellent versatility and the refreshed cabin certainly is an improvement. However, that large V8 drinks gas at an alarming rate and with no end in sight to surging fuel prices, it could have many consumers considering other options when it comes to carrying the whole crew.
2022 Infiniti QX80 AWD 7-passenger
Price as tested: $92,540.00
Freight: $2,095.00
Configuration: Front engine/All-wheel drive
Engine/transmission: 5.6-litre V8/ 7-speed automatic
Power/torque: 400 horsepower/ 413 lb-ft of torque
Fuel (capacity): Premium (98 L)
Combined fuel economy ratings (L/100 km): 15.3 L/100 km
Observed fuel economy (L/100 km): 19.1 L/100 km
Warranties: 4-years/100,000 km (basic)
Competitors: Cadillac Escalade, GMC Yukon, Lincoln Navigator, Mercedes-Benz GLS Class
Link: Infiniti Canada