Genesis is playing in the big leagues. That much is abundantly clear after a recent test of the 2022 GV70 midsize SUV from the Korean luxury brand.
Introduced in 2021, this is a stylish, comfortable, and powerful SUV – even with the smaller engine in our tester.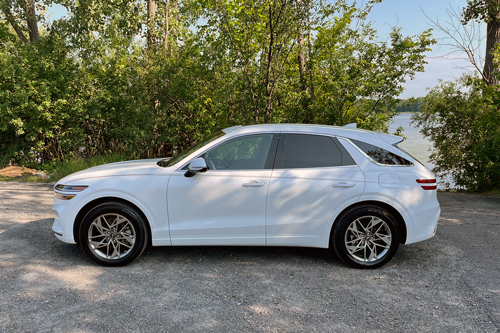 It is up against a long list of competitors that have been around longer and may be more recognizable, but make no mistake, this Genesis is worthy of your attention and has garnered a host of awards around the world, including right here in Canada.
The GV70 comes in five trims, with the 2.5T Advanced AWD base model featuring an all-in starting price of $56,500.
Our tester was one step up from that, the 2.5T Advanced Plus AWD and has a price of $60,500. The top trim for the model, with the larger engine and other features, tops out at $76,500.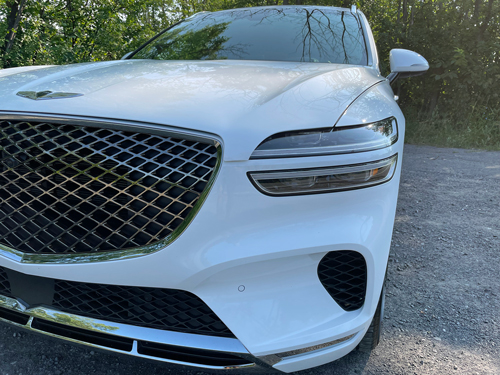 But even in our tester, you get a vehicle that is well equipped with things like a head-up display, heated and ventilated front seats, 19-inch alloy wheels, panoramic sunroof, 18-speaker audio system and more.
Powertrain: In Canada, there are two engines on the GV70, as mentioned.
There is a larger 3.5-litre turbo V6, which no doubt can take the driving performance up another level thanks to its 380 horsepower.
However, our tester was fitted with 2.5L turbo four-cylinder which has nothing to be shy about in terms of what it delivers.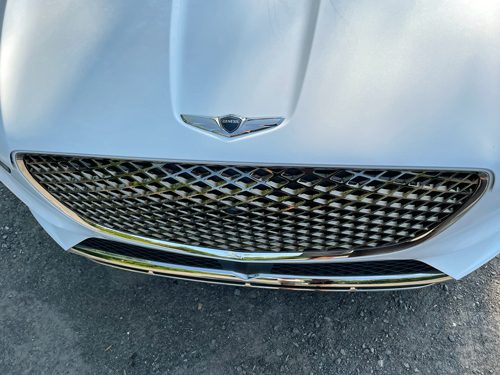 With an output of 300 horsepower and 311 pound-feet of torque, there is still plenty of punch from this powerplant. Even in comfort mode, I found that acceleration was excellent. Sport mode takes things up a notch – including the speedometer, where the needle looks like Kylo Ren's lightsaber!
Paired to an 8-speed automatic, the powertrain setup is near flawless. I will take issue with the rotary dial to engage the gears in the centre console. It is placed right behind another rotary control for the infotainment system, and I found myself using the wrong ones at times. Placement is key, and this one misses the mark in my view.
Fuel economy ratings for the GV70 2.5L engine come in at a combined 9.7 litres (premium) per 100 kilometres. I unfortunately missed that mark by quite a bit, returning a 11.5 L/100 km average.
Exterior: There is very little to dislike about the GV70s styling. It's eye-catching from almost every angle, including the large Crest front grille and a distinctive two-lined headlight and taillight assembly.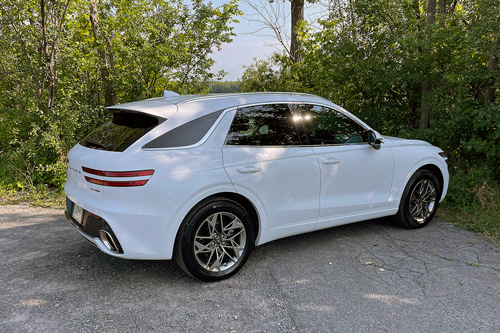 The sleek design features a nice accent line along the body that flows from the headlights and draws the eye to the silhouette and the rear of the SUV, where the taillights draw you in. At the back, you have a very cleanly designed rear end, with some nice touches like a matrix bumper inlay, as well as vertical exhausts.
Capping off the look is a set of stylish 19-inch alloy wheels.
 Interior: The interior is just as nice, and perhaps more so.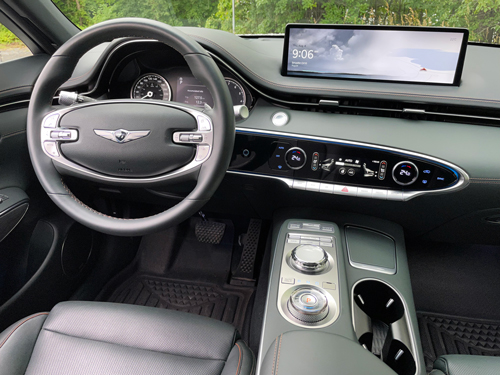 It is a very comfortable – and well insulated – cabin, features excellent materials and quality workmanship.
The steering wheel is a bit unique in how it is designed, but I liked it.
Our tester was fitted with the Ocean wave with Pine Grove Leather option for the materials. It features accent stitching on the seats, with that colour matching the seatbelts to break up the look a bit.
The layout and design of the controls are very sleek and while I am generally not a fan of touchscreens for all the ventilation controls, the setup in the GV70 is as close to mimicking physical buttons as you can get. Kudos earned here. I also enjoyed the digital gauge cluster and HUD that gives you easy access to critical information. The digital gauge cluster also displays video from side mounted cameras so you can see if any vehicles or objects are in your blind spots.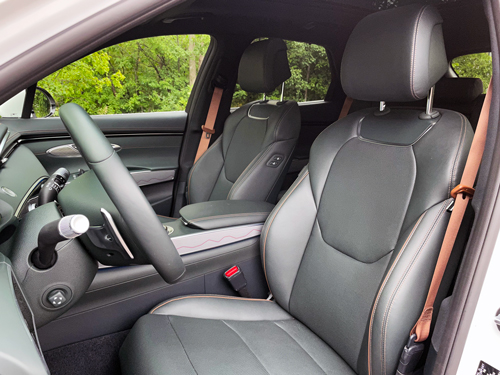 There is a large touchscreen atop the dash, nestled above some neatly disguised air vents, complete the stylish cabin.
The seats are very supportive and comfortable, up front as in the back, which offers lots of legroom. Rear passengers also have their own ventilation controls. Cargo space is very generous in the back, and the area includes a 110-volt power outlet for versatility.
Infotainment: The GV70 has an impressive setup for the infotainment, starting with a 14.5-inch screen that is standard across all trims. The screen itself offers great resolution, and its tactile response is very good.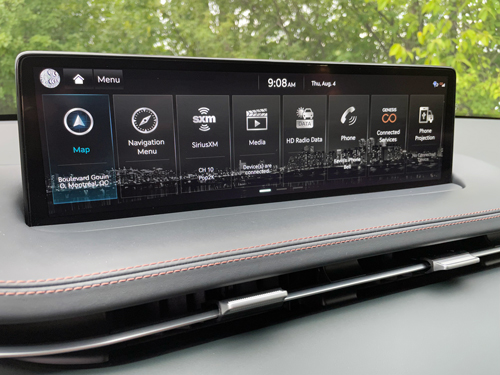 The system can be controlled either via the touchscreen or you can access menus through physical buttons and the rotary controller. You can have multiple pieces of information on the screen at one time, making this very functional.
Perhaps my one pet peeve is that despite the price, you do not have wireless CarPlay or device charging, features I recently had on a much less expensive tester from the same family.
Drive: The GV70 is just a treat to drive. Power delivery is excellent under gentle or hard acceleration and there is little turbo lag to speak of. As mentioned, even in comfort mode, the GV70 is plenty of fun to drive.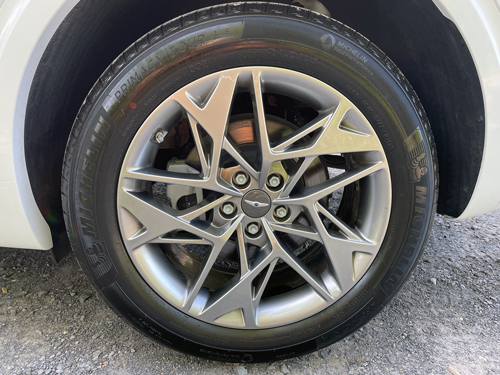 Steering and handling are both well balance, and the GV70 delivers a very smooth ride.
Perhaps one of the coolest features I discovered while driving the GV70 on the highway is how the cruise control system and all its features work. While engaged, the system actively monitors its surroundings, which is not new, but if you want to change lanes, simply activate your turn signal and the GV70 will automatically glide into the next lane with no other input needed. Cool!
Conclusion: It is safe to say that Genesis has done things right for their midsize luxury SUV. From the styling – inside and out – to the driving performance and dynamics, it strikes a fine balance and delivers a solid result.
Other than a few minor quibbles that really take little away from the GV70, there isn't much to complain about.
It is in a very tough segment based on its competitors, but they better watch out for this vehicle in their rear-view mirror – it is closer than they think!
2022 Genesis GV70 2.5T Advanced Plus AWD
Price as tested: $60,990.00
Configuration: Front engine/All-wheel drive
Engine/transmission: 2.5-litre 4-cylinder turbo/ 8-speed automatic
Power/torque: 300 horsepower/ 311 lb-ft of torque
Fuel (capacity): Premium (79 L)
Combined fuel economy ratings (L/100 km): 9.7 L/100 km
Observed fuel economy (L/100 km): 11.5 L/100 km
Warranties: 5-years/100,000 km (basic)
Competitors: Audi Q5, Acura RDX, BMW X3, Mercedes-Benz GLC Class, Lexus RX350, Lincoln Nautilus, Porsche Macan, Volvo XC60
Link: Genesis Canada