While it was first revealed at the Los Angeles Auto Show only 10 months ago, the 2021 Toyota RAV4 Prime remains one of the most anticipated arrivals for the 2021 model year. So much so, that demand is already exceeding production, according to Toyota.
"We forecasted demand based on the whole equation (including customer and dealer interest)", said Cyril Dimitris, Vice President of Sales and Marketing at Toyota. "But demand has so far exceeded those estimates." And this thing only just went on sale – and only in Quebec – in August! Indeed, dealers were taking deposits on the RAV4 Prime before price or availability was known. That's how hot these are.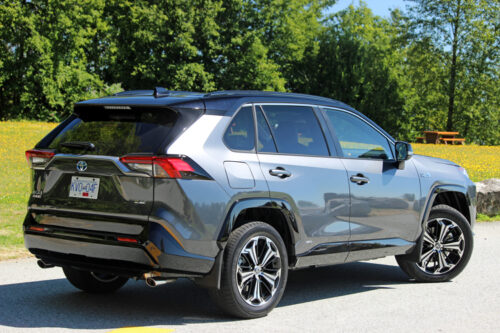 It should come as no surprise; the Prime, as its name suggests, is a plug-in hybrid electric vehicle (PHEV) developed by a manufacturer seasoned in the art of the hybrid and who recently cut their teeth on a PHEV version of the Prius, so you know they can take it to the next level.
There are a few stylistic changes – new wheels, special Supersonic Red colour, different grille and vertical LED foglamps — but in the Prime, that next level is really achieved by its performance. It gets a Natural Resources Canada (NRCan)-certified 68 kilometres of all-electric range, which is nice, but what I think is even more special is that this little people-moving crossover makes 302 horsepower thanks to two electric motors (a 134 kW unit on the front axle, and a 40 kW example on the rear) and a 2.5-litre four-cylinder gas engine. That's a heck of a lot of oomph for a compact family hauler like this.
Of course, you only really feel that push as you set off; as is the case with so many PHEVs and battery-electric vehicles (BEVs), once you're at speed, they tend to run out of any more motive force. Just the nature of the beast when it comes to the way these powertrains are engineered.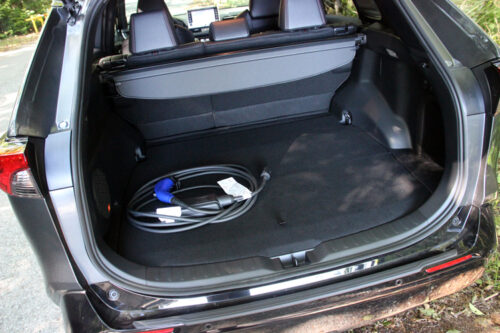 Speaking of BEVs: the RAV4 Prime, it its most basic state once you press the start/stop button, starts out as a full-EV. If you have the juice (it takes about 2.5 hours to charge from 0-80% on a 240V level II charger, and you'll want to leave it overnight on a 120V trickle charge) and you aren't using one of the drive modes we'll be addressing in just a minute, you're in EV mode and you'll never leave EV mode until you crest 135 km/h as that's as fast as the Prime allows you to cruise on full-electric. Not sure how many RAV4 Prime owners are going to be testing those limits, but that's where they've been pegged.
So, then, for 68 km (or more, depending on the kind of driving you're doing and how much EV regeneration you're able to achieve through braking and coasting), you're essentially in an EV CUV.
Unless you've thought ahead and realize that maybe you don't want to be in full-EV just now. Allow me to explain.
Say you're taking a day trip to the mountains. Since this is a PHEV and perfectly adequate as a road-trip companion (unlike BEVs, which don't offer the safety net of a gas engine), it's likely something many Prime owners will regularly be doing.
You know that getting to said mountains involves some highway driving, and you also know that as you return to town, there's a good chance you'll get caught in some traffic because it's a Sunday in August and everyone's coming home from weekend travels. What you may also know is that a gas engine is at its most efficient out on the highway and that an EV motor is at its most efficient when in stop-and-go traffic. That's because when stopped, the only EV juice you're using is to power the accessories and climate system.
So, what's the most productive way to do this? How can you ensure that you have some EV power left for when you're sitting in traffic?
What Toyota's done with the RAV4 Prime is built in two powertrain modes – EV/HV and HV/EV Charge Hold – to help make the most efficient use of the powertrain.
EV/HV essentially tells the system that you will be attempting some manoeuvres that will stress the powertrain, and that it's going to need some help so as to not blow through all of your charge. It will then activate the gas engine – just like in a more traditional hybrid – to help climb that hill, or make that pass at freeway speeds. Unless you press and hold the EV/HV button mounted to the left of the gearlever, the gas motor will not come on. Not if you're climbing a hill, not if you're accelerating on to the freeway.
HV/EV Charge Hold, meanwhile, tells the gas engine to work double time in that it will be both powering the wheels, and charging the 18.1 kWh lithium-ion battery pack so you'll have the EV juice you'll need for sitting in traffic later on; during my test on hilly mountain roads, I saw one km of range returned for every km driven, and I saw 65 km of range when driving on battery. That battery size, meanwhile, is up from 1.6 kW h in the Hybrid – which is why you get all that range.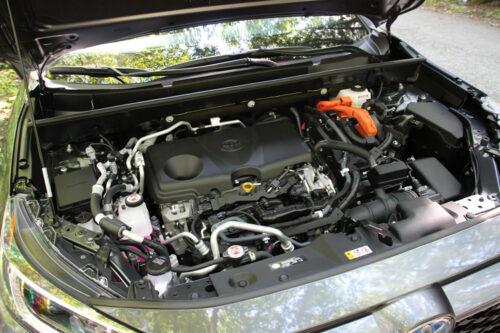 Said battery pack, meanwhile, is mounted into the RAV4's floor, below the seats. Which, as it happens, means no passenger space is lost during the switch from RAV4 Hybrid to RAV4 Prime. You do lose a little bit of cargo room, however, but thanks to fold-flat rear seats, you still get up to 1,790 litres of space for storing your wares.
The larger battery sitting in the Prime's floor also means a lower centre of gravity than you'll get in the RAV4 Hybrid. That means less body roll, so more occupant comfort and as a result, the Prime keeps intact all the things that make the RAV4 such a big seller in Canada. Yes, there is some occasional crashiness over larger bumps but that's a nitpick and the overall ride quality is good, as is the handling.
Less easier to forgive, however, is how the Prime handles itself when there's no charge and the gas motor is on its own. To be blunt: it's just so darn loud, and coupled with a continuously variable automatic transmission – these are often noisy – it's a bit of a shock to the system and it sounds like it's trying really, really hard. Which it is, because it's no larger or more powerful than what's found in the hybrid but has to haul around the added weight of the larger battery.
If you're smart with the drive systems, though, that should never be a worry as you hopefully won't have to drive in full gas mode too often.
Which, really, is why the RAV4 Prime is so good. It works precisely as advertised and it's an incredibly appealing package – and we haven't even talked about pricing yet.
The RAV4 Prime is available in two trims – SE and XSE. The SE starts at $44,990 which is an important number. Why? Well, in Canada, if you're buying a BEV or PHEV that costs less than $45,000 before taxes, you're entitled to a $5,000 dollar federal rebate. In Quebec, meanwhile, where deliveries have already started, you get an additional $8,000 from the province for a total of $13,000 off. That means the RAV4 Prime, in addition to all the fuel savings, can cost less than a Hybrid after the rebates. The provincial incentives in British Columbia aren't quite as generous — $1,500 is what you get from the province – but $6,500 off still means you can get a Prime for less than 40 grand.
Which is nice, but if you listen to what Toyota says, a vehicle like this has to be about more than incentives.
"Government incentives to generate demand for these vehicles is not sustainable," says Dimitris. "The way we're going to achieve the green ambitions we have (the goal to have 40% of their Canadian sales to be electrified vehicles by 2025), people have to feel good about the value proposition."
The gas savings alone fit that bill, and when you factor in the fact that you lose very little interior room to the Hybrid, the great tech on-board (that includes a digital rear-view mirror and nine-inch infotainment display, both RAV4 firsts) and that punchy powertrain, well, let's just say that the incentives are the icing on the cake. This is a very good, well-engineered and properly-packaged vehicle and it will be a joy to own.
The rub, of course, is whether or not Toyota can get battery production up to the standard they need to meet the demand for the Prime, as according to Toyota, that is the main limiting factor for RAV4 Prime availability. Do that, and you will be seeing a great many of these on Canadian roads.
2021 Toyota RAV4 Prime
Price as tested: $56,990.00 (XSE with Technology Package)
Freight: $1,840.00
Configuration: Front engine/front EV motor/rear EV motor/all-wheel drive
Engine/transmission: 2.5L four-cylinder/134 kW EV motor/40 kW EV motor, CVT
Power/torque: 302 horsepower/ 165 ft-lb of torque
Fuel: Regular
Combined fuel economy ratings (Le/100 km): 2.5 Le/100 km
EV Powertrain Warranty: ten years or 240,000 km
Competitors: Ford Escape Hybrid
Links:
Toyota Canada