The 2021 Porsche Panamera is under pressure from it sibling the electric Taycan Turbo as both offer four-doors and seating for four (+). First introduced at the Auto Shanghai International auto show in 2009, it remains true to its roots as a stylish alternative to competitive luxury sedans from the likes of Bentley, Mercedes-Benz, BMW, Audi and more.
As the world continues its slow but steadily advancing march towards an electrified future, the Panamera suddenly finds the landscape a little more crowded from within. Enter the GTS model for 2021. It's a reminder that Porsche is first and foremost a performance vehicle company and adding the GTS moniker lends an air of exclusivity that perfectly suits the Panamera. What awaits when you open the door is a drive experience worthy of the Porsche name and an interior that has few rivals when it comes to function and luxury.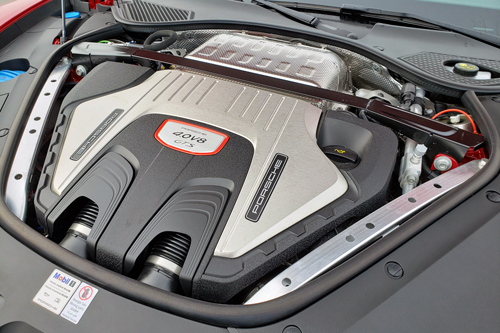 Powertrain: At the heart of the Panamera GTS beats the well established 4.0L twin-turbocharged DOHC 32-valve V8 gasoline-powered engine matched to an 8-speed PDK automatic transmission. If this sounds familiar, it should as this engine is spread throughout the Porsche family in various iterations of power and performance.
In the case of the Panamera GTS, it delivers a stout 473 horsepower at 6,500 rpm and 457 pound-feet of torque at 1,800-4,000 rpm. This results in 0-100 km/h in 3.9 seconds and a top speed of 300 km/h. Equipped with all-wheel drive, the Panamera is not only quick on dry roads, but equally adept in the rain as I found out during my week long test drive of mostly wet weather.
Braking power is exemplary, especially given the somewhat stout nature of this sports sedan. Weighing in at 2,020 kg (4,453 lbs) the Panamera GTS is not a lightweight. Red six-piston aluminum calipers in the front and 4-piston in the back bring it to a quick and stress free stop in very rapid time.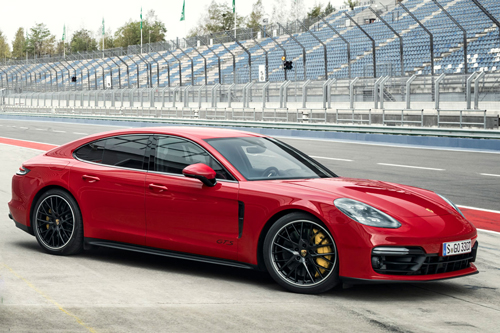 Adaptive air suspension, Porsche Stability Management and 4D Chassis Control also work their magic to keep things pointed in the right direction. Add to this the optional Rear Axle Steering ($1,880) and Porsche Torque Vectoring Plus (PTV+ $5,710) and you have the makings of a large sedan feeling much lighter and more agile on its feet than you might expect were it not a Porsche.
Exterior: The refined exterior of the Panamera GTS offers a unique take on a luxury sport sedan when compared to some of its rivals including the Audi S8 or Mercedes-Benz S-Class. While those cars are in their own way beautiful and exclusive, they are shaped to look like a 4-door sedan. Of course, the Panamera GTS does have four doors, but its curved rear decklid and aggressive side profile leave no doubt its roots are firmly planted in the Porsche family tree.
The Panamera is long at 5,053 mm (16.57 ft) and it uses every millimetre to its advantage. Fully galvanized steel in combination with hybrid aluminum create a sculptured automotive masterwork that will have people stopping you and asking questions. The GTS designation adds gloss black paint to the window trim and side air outlets and 'GTS' logos are prominent on both front doors.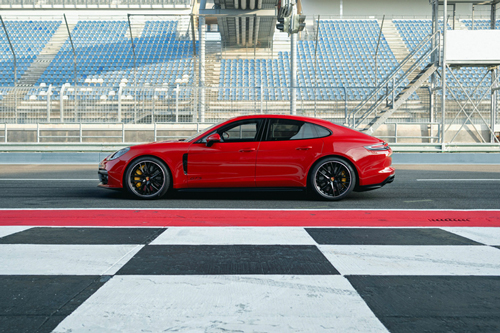 Even the Porsche logo on the rear decklid is painted gloss black. It's subtle, but the intention is sporty and it works. On the practical side, the Panamera features continuously adjusting door hinges to keep everything aligned and our test vehicle offered soft close doors as part of the Premium Package ($5,820).
Interior: Open the doors, take a seat behind the wheel and the experience is amped up to the next level. Leather and Alcantara seating feels supportive and comfortable. This is not your typical sports car seating, but rather a combination of what you expect from a world-class sports sedan and luxury car wrapped into one. The thick, GT sport steering wheel is also wrapped in Alcantara as well as the roof liner. Red stitching matches the Carmine Red exterior paint colour of our tester for added excitement.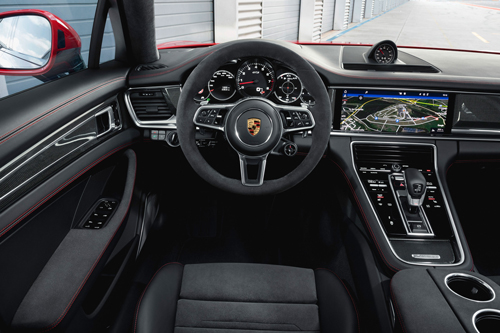 The gauge pod features Porsche's classic five round dial setup with the tachometer holding centerstage. It's white on black colour scheme is easy to understand at a quick glance. The center console houses the gear lever as well as HVAC and systems control, heated seats, driver assistance settings, dual cupholders and storage. Smaller door pouch storage is located beneath the armrest, but it is more decorative than functional unless you need a place to put your wallet or keys. Rear seating is more than adequate in both height and legroom and our test vehicle was equipped with the optional 2+1 seating ($1.150).
Infotainment: At the center of the dash resides the 12.3 inch Porsche Communication Management (PCM) touchscreen hub. It works like a smartphone or tablet, with easy touch gestures that allow you to keep your eyes on the road and not focus too much on the interface. Accessible features include navigation, mobile phone, audio and the driving characteristics of Panamera GTS. It is crystal clear both day and night and doesn't require a huge learning curve to use effectively.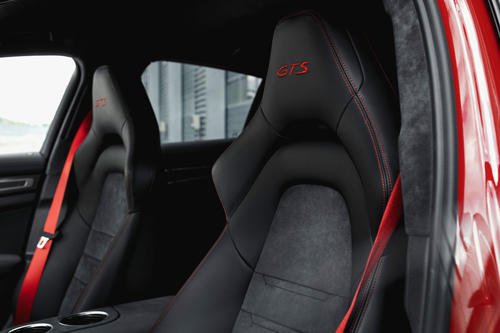 Drive: With a sport sedan of this length, I expected the Panamera GTS to drive like a bigger car than what it actually does. There is no mistaking it for 911, but it is surprisingly agile and requires little thought for the added length when taking corners at speed or maneuvering in tight spaces. Switching between Sport and Sport+ allows for a more dynamic driving experience and improves the sound resonating through the gloss black quad exhaust tips.
The 2021 Porsche Panamera GTS is not for everyone, it is geared towards those who need room for 4 but really want to drive a gasoline-powered sports sedan that makes a bold statement. With the advent of the Taycan and all of its iterations coming down the road, it will be interesting to see how Porsche positions the Panamera in the future. For now, it delivers a classic Porsche driving experience that you and 3+1 passengers are certain to enjoy.
2021 Porsche Panamera GTS
Price as tested: $176,360.00 CDN
Configuration: front-engine, all-wheel drive
Engine: 4.0L 8-cylinder
Transmission: 8-spd PDK
Power/torque: 473 hp/457 lb-ft
Fuel economy ratings: 14.0 L/100 km combined
Warranties: 4 years/80,000 km
Competitors: Audi S8, Bentley Flying Spur, BMW M8 Gran Coupe, Mercedes-Benz S-Class
Link: Porsche Canada