A Nissan Sentra that's fun to drive and looks great. That's a statement that probably would not have been possible only a short while ago, but that has all changed after my experience during a week with the 2021 Nissan Sentra SR.
The "sportier" version of the compact sedan certainly dresses the part and presents consumers with an affordable vehicle that is now a viable competitor in its class – something that may not have always been the case despite the fact that millions of Sentras have been sold in its eight generations.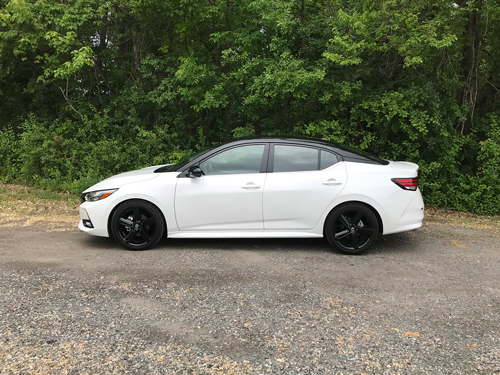 Part of that is the driving performance, which starts with a new platform and suspension setup, as well as active ride control, something Nissan calls Intelligent Trace Control and vehicle dynamics control.
The SR tested is the second highest trim (only SR Premium is higher) and with freight fees added in, totals only $25,633, which is not too much more than a base S trim.
Powertrain: The Sentra has only one engine regardless of which trim you select.
The sedan is powered by a 2.0-litre 4-cylinder engine which, while not overly powerful, is quite competent. Rated at 149 horsepower and 146 ft-lb of torque, it was paired on our tester with a six-speed manual transmission (a CVT is available) and I found the transmission to be excellent. Of note that the manual gearbox is only available on the S or SR trims.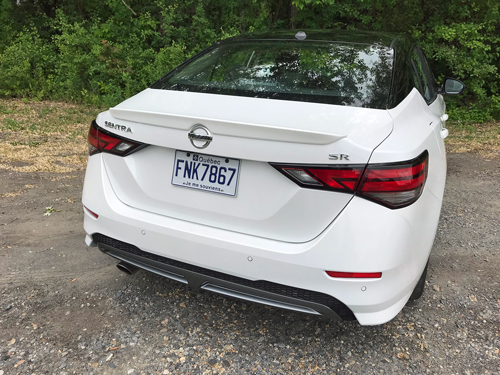 The Sentra SR has an estimated combined fuel consumption of 8.1 L/100 km, which is admirable, but I did no better than 10.5 L/100 km.
Exterior: While I personally think the Sentra looks sharp in the Electric Blue colour available, I also very much appreciated the two-tone white/black split of our tester.
The Sentra, redesigned for 2020, is a very nice-looking compact sedan on its own, but the SR trim gets a few extras that make it pop.
That starts with unique 18-inch alloy wheels, LED headlights and fog lights, a rear spoiler, dark chrome V Motion Grille, lower body side sill extensions and chrome exhaust finishers.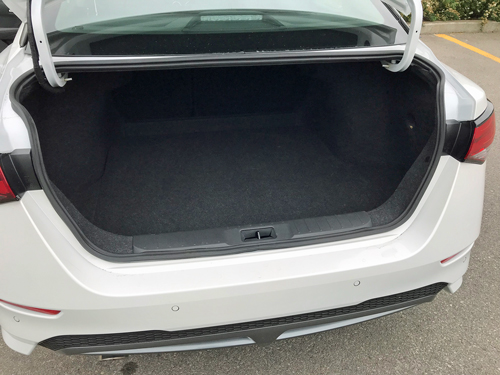 The whole package is stylish and actually more upscale looking than you would expect from a Sentra, and that is really good thinking by Nissan.
Interior: I was very pleased with the cabin of the Sentra, which is really a tremendous improvement from what it used to be.
It's modern, spacious, features nice materials – especially the orange accent trim in the SR – and I especially liked the three circular designs for the air vents in the centre stack. That just makes it look a bit more upscale, just like the exterior.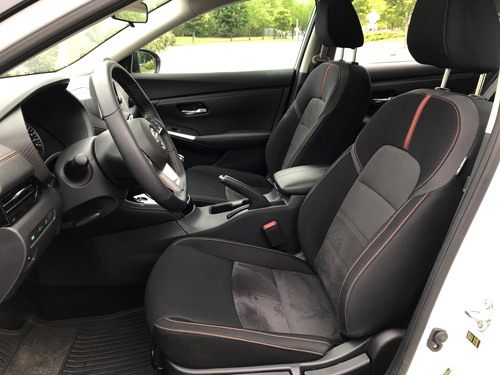 The Sentra also features Zero Gravity Seats which are very comfortable, and the cabin is well insulated from road and wind noise, improving driving enjoyment.
Additional features include heated steering wheel and front seats, and a power sliding moonroof.
I was also pleasantly surprised with the roominess for rear passengers, as they never felt overly cramped despite the Sentra being a compact sedan.
Infotainment: The Sentra features an 8-inch NissanConnect touchscreen display which protrudes from the top of the centre stack, a design more and more automakers are using these days.
The screen itself has a good resolution and the system is easy to operate and understand.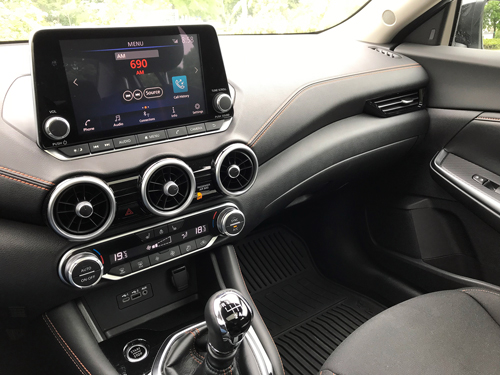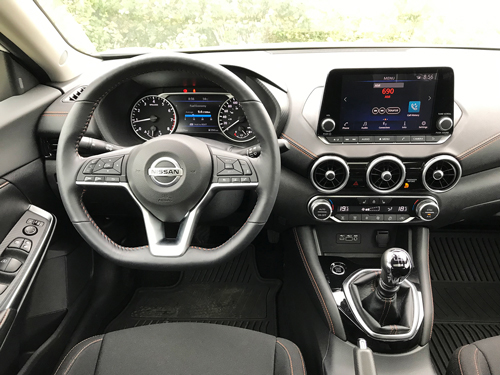 It incorporates all the modern features you want, such as wireless Apple CarPlay and Android Auto, satellite radio, and navigation.
It's a good, no-fuss system that I enjoyed.
Drive: The Sentra will not blow you away with the power it has available, but it is a perfectly capable performer for its class. Factor in that it comes with a manual transmission, and that makes the drive even more enjoyable thanks to how easy it is to slip through the gears almost effortlessly.
Overall, the Sentra SR delivers a good on-road experience, from acceleration, steering response, and handling. All are on point for a vehicle in this class and certainly make the Sentra an appealing everyday driver.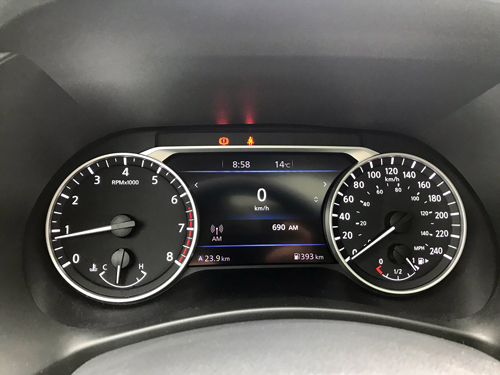 Conclusion: Having had many drives in my friend's old Sentra during my university days some 20 years ago, it's refreshing to see how far the model has come.
The latest design is really elegant and attractive, and it offers a very good passenger compartment that is packed with the latest features.
Add to that the fact it's at a very affordable price point and the Sentra has certainly climbed the ladder in terms of vehicles to consider in its class.
2021 Nissan Sentra SR
Price as tested: $25,633.00
Freight: $1,785.00
Configuration: Front engine/Front-wheel drive
Engine/transmission: 2.0-litre 4-cylinder/ 6-speed manual
Power/torque: 149 horsepower/ 146 ft-lb of torque
Fuel (capacity): Regular (47 L)
Combined fuel economy ratings (L/100 km): 8.1 L/100 km
Observed fuel economy (L/100 km): 10.5 L/100 km
Warranties: 3-years/60,000 km (basic)
Competitors: Honda Civic, Hyundai Elantra, Mazda 3, Volkswagen Jetta
Link: Nissan Canada