When GMC unveiled its latest generation of the full-size Yukon, not only did they redesign the vehicle and offer an exclusive interior for the upscale Denali version, they also introduced a diesel engine for the first time.
The available 3.0-litre inline-six-cylinder Duramax turbo-diesel engine what we tested this time around with the 2021 Yukon Denali 4WD, while new to the Yukon, builds on GMC's prowess with these engines already in use in the Sierra and Canyon models.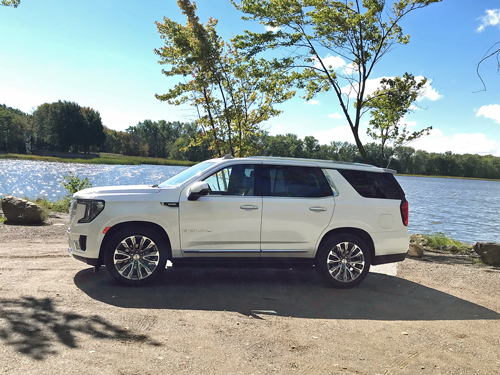 One thing I noted right away is that there is very little price difference between a gasoline-powered Yukon and our diesel tester, which has a base price of $82,523 before all the extras are added on.
At $10,525, the Denali Ultimate Package lives up to its name. It adds items such as an in-vehicle trailering app, active response 4WD, inclination sensor, trailer side blind zone alert, a rear seat media system, electronic limited-slip differential, power-sliding centre console, advanced security package, ProGrade trailering system, rear camera mirror, enhanced automatic emergency braking, 22-inch bright machined aluminum wheels with premium paint, power-retractable assist steps with LED perimeter lighting, adaptive cruise control, a panoramic power sunroof and more.
Some of the other add-ons that push the final price to $94,578 include $1,195 for the White Frost Tricoat paint and $60 for a trailer tire pressure monitor.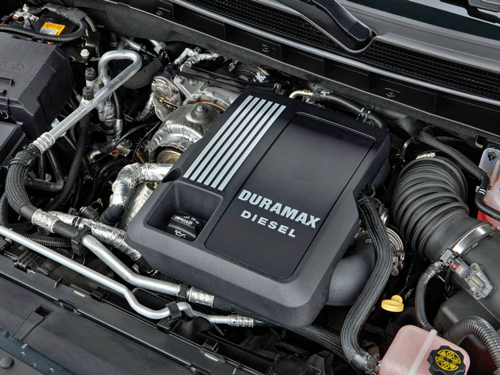 Powertrain: A little bit more on that diesel engine.
It is rated at 277 horsepower, which doesn't seem like a lot, but the fact it has 460 pound-feet of torque more than makes up for that. That gives this diesel-powered Yukon plenty of pull off the line when you are looking for quick acceleration. Things do settle down a bit as you move up through the gears though as a result of the lower horsepower numbers (for comparison, the 6.2-litre EcoTec V8 produces 420 horsepower and 460 lb-ft of torque).
It is paired with a 10-speed automatic transmission that feels quite good under a variety of conditions. I still can't quite get used to the button setup for selecting your gear, however.
Fuel economy is also where this diesel shines, with an estimated average of 10.6 litres per 100 kilometres. I came in at 11.7 L/100 km which seems like a disappointment until I compare it to my 23.2 L/100 km average in the V8 powered Yukon.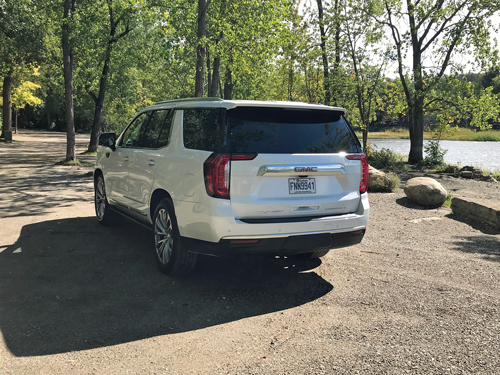 Exterior: Other than the Duramax logo, there's very little to differentiate this version of the Yukon from its stablemates.
And in the white paint, there's certainly something limo-esque about it.
The focus of the front end is the Galvano chrome grille which is absolutely massive, but also really nice looking.
On either side are large LED headlight assemblies that include GMC's C-shaped front lighting signature, which make quite an impression when combined.
It's also pretty hard to miss the 22-inch optional wheels with a two-tone design to them. And the optional power-retractable side steps are both a blessing and a curse – especially if you forget they are there when leaning in to get something off the seat. I did, however, really like the LED perimeter lighting and the GMC logo that also gets splashed onto the ground.
Interior: The Yukon's cabin is, not surprisingly, rather spacious but also comfortable and opulent – especially in the Denali trim.
That is because these versions of the Yukon receive a different interior treatment than the rest of the lineup, which includes a new instrument panel, authentic wood trim, and seats that include leather that is cut and stitched by hand in a unique Denali pattern.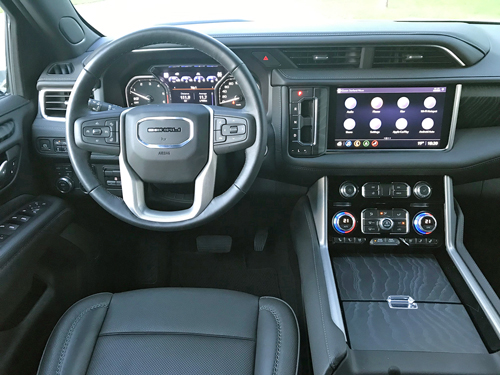 Second and third row occupants have plenty of leg room and the cabin is high enough for my 8-year-old to stand straight up and walk around.
It also features 12.6-inch entertainment screens for second row passengers.
With its size, cargo space is never an issue on the Yukon, even with the three rows in use. Folding the second-row flat can be done via a powered system, that can also raise the seats back into place. With that row down, cargo space is cavernous.
One feature I learned to appreciate on the Yukon Denali is the rear-view camera in place of the traditional mirror (which you can opt to use if you prefer). It took me a day or so to get used to the camera, but I found it especially rewarding while driving in a rainstorm for how clearly I was able to see behind me. I did notice, however, that objects appear much closer than they actually were with this system.
Infotainment: The system's 10.2-inch screen is housed neatly in the centre stack and while you can opt for touch-screen commands, users can still utilize some old-fashioned dials and buttons directly below it.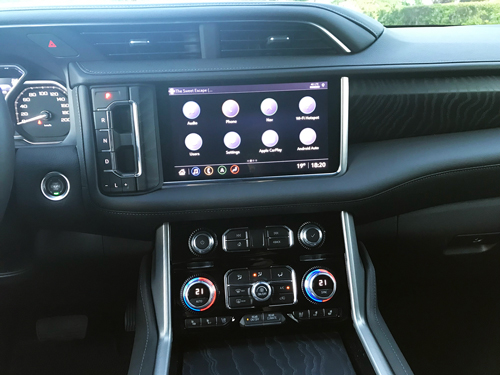 The system itself is well executed and has clear menus and a good response time.
It comes with GPS navigation, satellite radio, Wi-Fi hotspot, as well as wireless Apple CarPlay and Android Auto – a feature I really think should be more commonplace.
The Denali also has a very nice-sounding Bose 14-speaker surround sound system, which fills the cabin with sweet tunes.
Drive: To go along with the limo-esque look, the Yukon Denali also offers a ride that will be appreciated by those being driven around.
It delivers a smooth and comfortable ride, and even with the louder nature of the diesel engine, the cabin never gets too noisy.
The engine delivers plenty of pulling power to get the Yukon moving off the line, but even when pushed hard, never really seems fussed about the work. Overall, I was impressed by the performance of the diesel, which is not very surprising given GMC's good track record with this type of powertrain.
Conclusion: This is certainly a pricey vehicle, but given the number I see out on the road, it is one that is also apparently quite popular.
The Denali features make the Yukon even more attractive, and the addition of a diesel engine with very little price increase is the way I would probably go if I was purchasing a Yukon.
2021 GMC Yukon 4WD Denali Diesel
Price as tested: $94,578.00
Freight: $1,950.00
Configuration: Front engine/Four-wheel drive
Engine/transmission: 3.0-litre Duramax turbo-diesel inline 6-cylinder/ 10-speed automatic
Power/torque: 277 horsepower/ 460 lb-ft of torque
Fuel (capacity): Diesel (91 L)
Combined fuel economy ratings (L/100 km): 10.6 L/100 km
Observed fuel economy (L/100 km): 11.7 L/100 km
Warranties: 3-years/60,000 km (basic)
Competitors: Chevrolet Tahoe, Cadillac Escalade, Ford Expedition, Infiniti QX80, Lincoln Navigator, Nissan Armada, Toyota Sequoia
Link: GMC Canada