In my petrol-pumping, heart of hearts I genuinely think the BMW X4 M Competition wanted to be a M3 Touring when it reached the end of the production line. But wagons don't appeal to the North American masses, so Europeans get the low-riding longroof set to debut in 2023 and we get Sports Activity Coupes like this one: a fast, grunty and slick collection of compromises.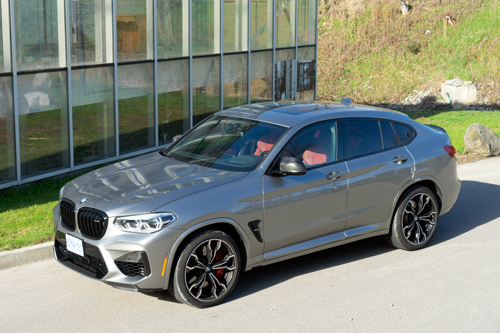 The 2021 BMW X4 M Competition represents the ultimate expression of what the North American market so badly seems to crave at this time in automobile history. Yet another fast-moving soft-roader that sacrifices function for form. Riding high on twenty-ones, this steroidal sport-ute is neither designed to be a definitive M-car nor shaped and suspended to be a particularly good SUV. It is a vehicle that, even after a week behind its wheel, asks more questions than it answers.
Of course, I can't blame BMW for building the X4. Or for creating this hard-edged "M Competition" variant. I can't fault them for any of their SUVs, M-badged or otherwise. Hell, if I were calling the shots, I too would cater to those customers who are willingly throwing six-figure wads of cash at Audi, Porsche, Jaguar, Aston Martin, Alfa Romeo, Lamborghini, Maserati and Mercedes for equally styled and compromised whips.
So then, the BMW X4 M Competition is our fault. Well, yours really. Here's how it feels to reap what we've sown.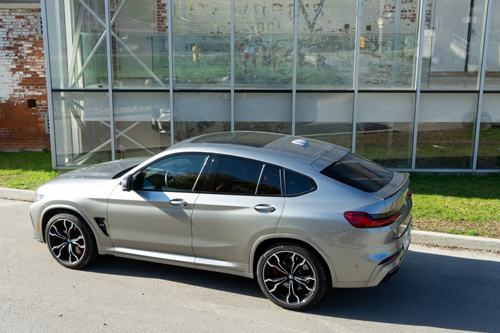 Powertrain: The 3.0L, twin-turbo, six-cylinder engine sitting beneath the carbon fibre strut-brace is the most powerful inline-six BMW has ever produced. It took M-Branch nearly five years to hone this beast and their commitment has paid off. In Competition trim, that Valvetronic M TwinPower Turbo unit spools up a claimed 503 horsepower and 442 lb-ft of torque. From where I'm sitting, it certainly feels like those numbers are conservative — BMW peg a 0-100 km/h sprint in 4.1, though my pinned-to-the-seatback torso is sure it launches quicker. So is Car and Driver. They clocked it at 3.3.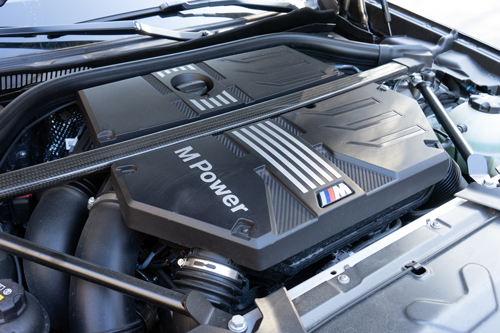 The 8-speed automatic, a gift from the M5, rifles through paddle-actuated cogs quickly and efficiently. Left up to its own devices, it can be a bit finicky at times but BMW has allowed for customization. Tap either of two buttons on the leading edge of the console shifter and you can toggle between three types of shift points. In the most aggro setting, the engine will carry almost to its 7,200 rpm redline before grabbing the next gear.
Sadly though, the soundtrack isn't very good.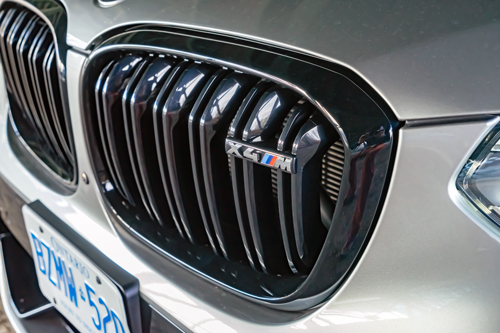 Even with the exhaust button toggled and SportPlus mode engaged, the notes it hits sound as though they've been synthesized. And I don't just mean those actual imposters heard piped in through the Harman Kardon Hi-Fi either. A little more snarl, bark or some character would be nice.
The rear-biased all-wheel-drive and electronic differential, also from the M5 are put to good use in the X4 M. On-ramps are more fun than they deserve to be, as the system works to make quick and stable work of curves.
Exterior: From a styling point of view, the overall shape of the X4 — regardless of trim level — resembles a taller, heftier version of BMW's defunct Gran Turismo models. I'd argue the combination of four-doors and a notched-hatch coupled with the extra sheet metal below the belt-line work better in SAC guise.
With the M Competition box checked, chrome bits get murdered out in black lacquer and the wheels get a staggered, 255-front, 265-rear, 21-inch treatment. Our tester also had the M Carbon Exterior Package applied (as a part of the $10,000 Ultimate Package) which meant carbon-fibre reinforced plastic is used to cap the mirrors, splitters, spoilers and front air intakes. Some may say it comes off a bit yobbish but contrasted against the Donington Grey Metallic paint ($895), I think it looks the business.
Except out back. The rear end just feels unfinished.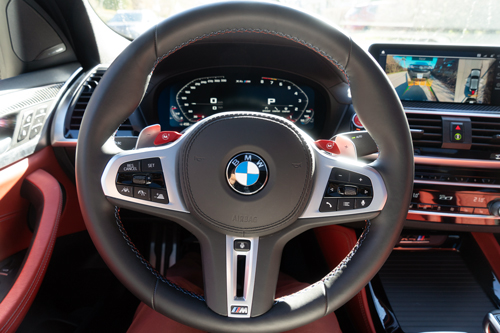 Interior: Thankfully, the business bit is carried over into the X4 M's interior. Plenty of it is wrapped in Sakhir Orange Merino leather, which is a good thing because it is a truly mesmerizing colour. It plays well off of the carbon fibre, piano black and brushed aluminum trim surfaces and is easily the interior colour of choice versus grey, black or two-toned beige.
The driving position is typical M-car brilliance. Everything needed is within arm's reach and nothing is obscured from vision. Taking hold of the thick n' chunky steering wheel feels like engaging in a proper handshake (remember those?) and there is enough adjustability with it and the seat to accommodate nearly any shape or size of human.
The rear seats are (like the fronts) heated but there is a smidge of sacrifice in the headroom department. At 183cm I could find a comfy spot back there (even behind my positioned driver's seat) but I wouldn't want to hang out for an extended road trip.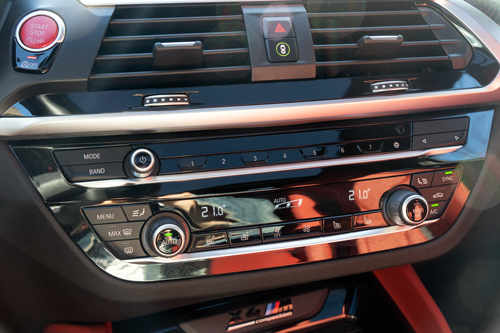 Infotainment: BMW's iDrive interface has grown on me over the years and the layout and interactions in the X4 are intuitive. Proper buttons, knobs and dials control the most important minute-to-minute operations while the 10.3-inch screen can be commanded via touch or the iDrive fob.
Using it to dive into the settings to customize the X4 M's driving and handling characteristics is also fairly simple to do. You can even program the red M1 and M2 buttons on the steering wheel from here to call up the driving attitudes you want at-the-ready.
Android Auto and Apple CarPlay work wirelessly and I had zero issues or interruptions with my Pixel's pairing. If you choose not to link up this way, there is a baked-in Navi system. The 16-speaker Harman Kardon Hi-Fi system is a standard feature on the X4 M Competition and it sounds fantastic.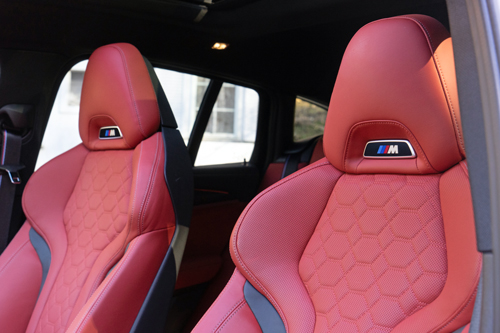 Drive: With over five-hundred ponies on tap in a stilted, two-tonne beast I expected driving the X4 M Competition in anything but a straight line would feel like trying to rodeo-ride the Juggernaut after he'd snorted an eight-ball of cocaine and been hit with a branding iron. I was wrong.
This X4's mass is worn low and is distributed evenly. The stiff, M-tuned suspension, staggered, sticky, wide rubber and that AWD/e-diff combination work wonders to keep this 2082kg SAC composed. Oh what I would give for time on a track with this thing. It is confident, inspiring and feels only hemmed in by the hammy fists behind the wheel.
And speaking of that wheel and those fists, they felt extra hammy due to a lack of feedback. I know that steering-by-wire has more or less robbed us of the highly communicative tillers of yore but there was a notchiness to this one that was off-putting. Make no mistake, inputs were translated with quickness and precision but there felt like a millisecond or two would elapse before physical reactions.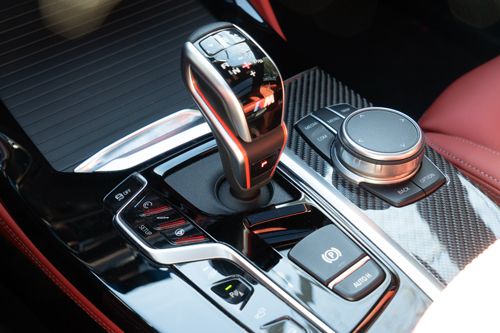 On city streets the X4 M Competition is a ruff-ryder, though. Even in Comfort mode, the softest of suspension settings, this SAC jars and thuds its way along. To put things into perspective, my BRZ feels almost Rolls-like in comparison and that thing is a roller skate. If you have access to smooth, faultless asphalt (or better yet, a track) the X4 M Competition would be a dream, but in the real pot-holed world it just ain't
Conclusions: So what we have sown then, with the 2021 BMW X4 M Competition, is a remarkably engineered example of what I find to be, an unremarkable thing.
BMW hasn't done anything wrong with the X4 M Competition. In fact they've done most of it right: It's quick, arguably fashionable, can easily tote enough gear for a weekend away and is one of the most dynamically gifted stilted wagony coupe things out there. And there's the rub.
So why don't I love it?
It's those stilts, man.
Because of its height and weight, the suspension needs to be stiffer than three measures of warm Wray and Nephew to keep things under control. A wagon, on the other hand, could do more with less.
I can give a pass to Mercedes for their efforts because AMG has made amends with both a C and E-Class longroof. And Audi has wised up and let loose the RS6 Avant, on our shores. Vehicles that are no more niche than the X4 M Competition, really. So, more than anything, this fast, stiff-legged SAC serves as a reminder, to me anyways, to just how wrong we've gone in our vehicular trends. The M3 Touring is going to be an incredible vehicle when it debuts. Please, BMW, send a few our way too.
2021 BMW X4 M Competition
Price: $84,800.00+ ($108,095.00 as tested)
Freight: $2,480.00
Configuration: front engine, all-wheel-drive
Engine: 3.0L 6-cylinder, twin turbo
Transmission: 8-spd automatic
Power/torque: 503 hp/442 lb-ft
Fuel economy ratings: 16.6 L/100 km city, 12.1 L/100 km highway
Warranties: 5 years/100,000 km
Competitors: Alfa Romeo Stelvio Quadrifoglio, Jaguar F-Pace SVR, Mercedes-Benz GLC AMG 63
Link: BMW Canada