"We at Vicarious would like to send the highest of fives to Volvo Cars Canada for their support of www.conquercovid19.ca. When this vehicle was returned, loans to the press stopped. Instead of leaving their vehicles idle, Volvo Cars Canada donated a part of their fleet to help the heroes at Conquer Covid-19 collect and deliver essential supplies to our front line medical workers. Thank you, from all of us!"
There's a distinct eeriness to the barren city streets COVID-19 has spawned. Devoid of pedestrians and vehicles alike, I'm driving around in an illusory metropolis of desolation and lawlessness. This bizarro version of hustle-bustle Hogtown creates a temptation to weld the throttle of the Volvo V60 T8 Polestar Engineered to its floorboard, throw what little caution remains to wind and engage in some classless hooliganism. Not exactly the type of behaviour you'd expect from a station wagon driver, but nothing is "typical" these days… especially this station wagon.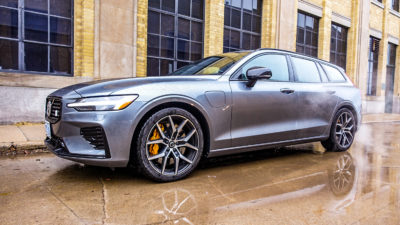 Topping their V60 line of sumptuous estates, the Polestar Engineered T8 is Volvo's modern-day Q-Car: a performance-focused, plug-in hybrid, family hauler that elegantly fuses practicality and speed into one of the sexiest two-box designs since Zagato's Shooting Brake. It's a vehicle that does a lot of impressive things in very different ways. And I like it. A lot.
Powered by a 2.0-litre, inline-4 that inhales via both styles of forced induction, as well as an additional electric motor, the T8 PE generates a combined 415 hp and 670Nm (494 lbs/ft) of torque. The petrol powered portion of that equation is a tuned version of the twin-charged mill from Volvo's T6 designated whips. It uses a supercharger to provide linear boost at low rpm's while the turbo kicks in once the blower runs out of puff, to deliver 328 ponies, channelled to the front wheels. The electric motor, fuelled by an 11.6kWh battery, provides those additional 87 hp directly to the rear wheels, balancing out a competent AWD system in the process.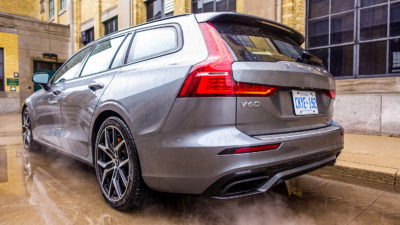 Polestar, Volvo's in-house tuning arm, developed the engine software to make the most of that combination. This is best expressed when you scroll the diamond-textured roller on the centre stack into the "Polestar Engineered" driving mode. Once engaged, the engines offer up all available power and manipulates the 8-speed automatic to optimize all-wheel-drive performance.
From the butt dyno, that propulsion feels incredibly smooth, almost to the point of surprise. Hopping onto the 401, the head-up display alerted me that I'd crested "impound territory" long before I ran out of merge lane and I had to enlist the beefy, golden Brembos before slotting into to hide amongst what little traffic was present.
That's because the T8 PE is incredibly quiet. Unlike other go-fast wagons (those wearing AMG badges come to mind), there's no snarling exhaust note. No drama. No pomp. No circumstance. Giving it the beans then, feels a bit like quaffing good whisky with a touch of the cold; from a sensory standpoint it's all a bit disappointing. Sure, it'll get the job done just the same, but you just know you're missing out on something.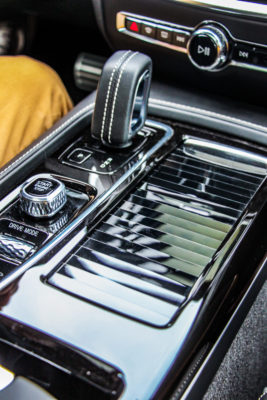 The engineering from Polestar doesn't finish with the engine either. Pop the hood and on either end of a beefy strut bar pokes a beautiful, golden knob. For those familiar, that colour conjures immediate delight and signifies some top shelf suspension from Öhlins. Volvo reached out to their in-country boffins-of-bounce to fit-up a tunable suspension set-up typically reserved for weekend racers.
Out of the box, the rebound and damping rates were firm, but compliant. With 22-clicks of mechanical customization, driver's wishing to extract the most from their car can dial in the type of ride they want. Provided they don't mind getting their hands dirty and wielding some tools, that is. You see, the rear adjusters hide behind the wheels, so they're only accessible with the car hoisted by its jack. Personally, I find this sort of thing appealing — more so even than when suspenders are programmed to respond electronically from the cabin — as I'm happy to wrench on my rides. But I'm willing to wager most Volvo clientele don't share my proclivities and as such will never play with these settings. And that's truly just a shame.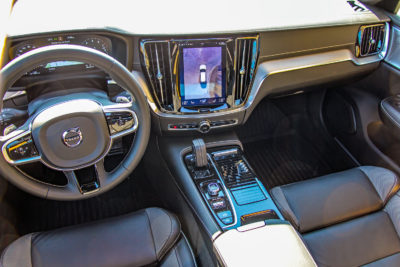 Buyers will be happy to know however, that when left in the factory setting, there is no crashing about on pock-marked streets and when charged to hustle, the T8 PE will oblige with nary a niggle from either end. There's still a touch of understeer when given the beans around a bend, but for a two-tonne wagon, the T8 PE is confidently nimble, even when riding on winter rubber.
The upgraded Contour seats are exceptional. A toggle at the front of the controls lets you adjust both the lumbar support and positioning as well as extend the seat cushion to keep femurs from floating. Firm and supportive bolters hug all the right places to give the impression the T8 PE is rotating around you at speed. And when the pace is dulled down, there's more than enough comfort for extended touring. Much like the Cross Country I reviewed earlier this year, the interior of the T8 PE is a calm and refined place to drive. The gold-toned seat belts are a nice touch.
Still, I'd rather see — or feel — more buttons and knobs poking from the dash to tackle HV
AC and Media control, as the Sensus system can be a bit tedious and distracting to work with: tapping and swiping is all fun and games until someone hits a tree. Not exactly the sort of misstep you'd expect from a brand so entrenched in driver safety. I was also surprised that the T8 PE didn't come equipped with vented/cooling seats. This seems like an oversight for a range topping tourer that rings in north of $80k.
Make no mistake, you still get a lot of car for that money. The Volvo V60 T8 Polestar Engineered is easily one of the prettiest, quickest and most comfortable wagons on the market today. If you're put off by all of the racket created by an AMG's exhaust note, prefer a stealthy approach to performance and don't feel the need to advertise your addiction to speed, while still being able to schlep nearly fifteen-thousand rolls of TP back to your quarantined family, the T8 PE is a refined choice.
2020 Volvo V60 T8 Polestar Engineered
Price as tested: $84,350.00
Engine: 2.0 L, Direct-Injected Turbo & Supercharged Engine + Electric Motor
Horsepower: 415 hp @ 7000 rpm
Torque: 494 ft-lb @ 2200-5400 rpm
Drivetrain: All Wheel Drive
Transmission: 8-speed Geartronic automatic -inc: start/stop and adaptive shift
Fuel Efficiency: 11.1 City / 7.3 Highway / 9.4 Combined
Cargo Capacity: 658 – 1441 L
Links:
Volvo Canada