As EcoMonth with the Automobile Journalist's Association of Canada (AJAC) rolls on, it's a great opportunity to get re-acquainted with one of the world's most popular EVs, the Nissan Leaf. Actually, the car you see here is technically called the Leaf Plus as it gets a bigger battery than the standard Leaf and more range – a claimed 350 km, to be precise – because of it. It was one of the vehicles I most looked forward to driving last year (which, as it happens, was a year after the second-generation car debuted) and it did not disappoint. I wanted to see if a year of driving some more stereotypically fun-to-drive stuff (including Nissan's own GT-R supercar) would take the sheen off the Leaf a little.
Surely, the Leaf would be a bit of a come down after stuff like that, no?
Now hold on a minute.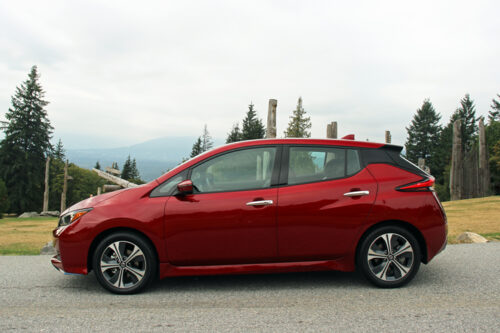 Regardless of how fun the Leaf is to drive – and we will get to that aspect in a minute, I assure you – it remains one of the more important cars both to Nissan itself, and to the car industry as a whole in its current state. Why? Well, put simply, it's because it's an all-electric car that, in Plus form, provides around 330 km of range (condition-dependent) and with a base MSRP of $44,298 before the rebates various Provinces offer (which, at the time of writing, include $8,000 back in Quebec, $1,500 back in B.C. and $5,000 back federally), doesn't ask you to break the bank while doing so. A look at the competition shows that the Kia Soul EV starts at $42,595, the (smaller) Chevrolet Bolt starts at $44,998, the Tesla Model 3 at $51,600. So, you can see how the Leaf is already in good stead based on MSRP alone. The Hyundai Ioniq electric does undercut the Leaf's MSRP, however, to the tune of about three grand.
My test car, however, was the SL Plus trim, meaning a $52,898 price tag thanks to the addition of features such as leather seating, 7-speaker Bose audio and Around View monitor. That other stuff is nice, but even in a small car like this, Around View is the one addition that I would have above all the others if I had to choose. It makes parking so much easier thanks to views up, down and all around the car; during my test, I never met a parking stall that I couldn't perfectly center myself in.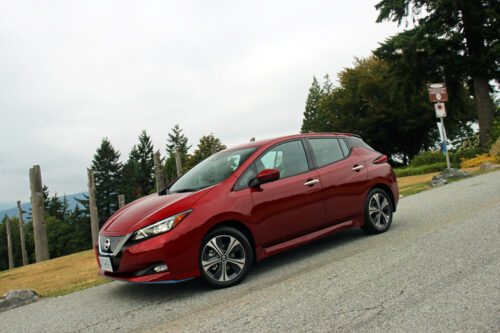 The monitor is one thing, but the seating position is so high and good in the Leaf that it's not the be all, end all when it comes to the Leaf experience in the tight confines of the urban jungle or parkade. The tall roof not only makes for plenty of headroom for both seating rows, but for large windows that reduce the critical over-the-shoulder blind spots that the era of swooping rooflines has brought on.
Of course, the screen that displays the camera is also your infotainment screen and the Leaf gets the latest version of Nissan's infotainment system. That means a more modern look than previous, a more responsive touchscreen and more features overall, as well as a comprehensive list of apps that weren't previously available, including Apple CarPlay and Android Auto. It still has a little catching up to do to be considered alongside the likes of Ford's SYNC3 or Chrysler/Dodge/Ram/Jeeps's Uconnect interfaces, but at least I no longer had to spend time fiddling with an ever-evolving mixture of dials, buttons and on-screen touch commands in perform certain operations.
In addition to the generous headroom, interior comfort is helped by the Nissan Zero Gravity seats up front that are well-padded but support you in all the right places. The rears don't get the same tech, but their cushioned enough that I never heard any complaints from those who sat back there. Not to mention the fact that their slightly flatter build makes installing a child's seat that much easier. I do wish Nissan found a way to get a 40/20/40 split folding rear seat, though; it's just a much more flexible way to load longer items.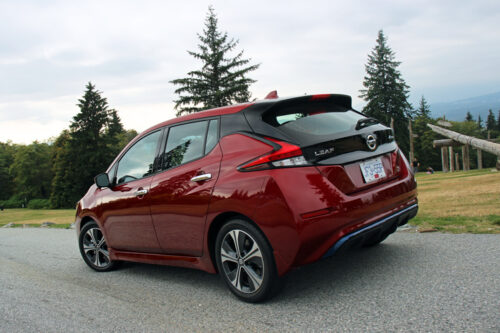 While you'd think the larger battery required for the extended range would cause all sorts of problems for rear storage, it doesn't – the real issue, as it turns out, is the subwoofer whose installation means you don't get a flat loading floor in the trunk. The Leaf also doesn't get the Divide-N-Hide adjustable load floor its Versa Note sibling gets, which is something I'd like to see here. You won't find many complaints from me past that when it comes to the Leaf's interior, however; it's a wonderfully serene place to be.
Which it kind of needs to be because being an EV, there's no engine noise and you wouldn't want a poorly-fettled interior replete with rushing wind and humming road noise to ruin the experience. Thanks to its now more slippery shape, the wind-noise thing is taken care of and the Leaf doesn't even need those weirdo headlamp lenses it used to have to achieve the goal of a low drag coefficient. It's just nice and slippery, from the hood on back.
There is some noise, though; in fact, it's a space-agey soundtrack that is activated on purpose at anywhere below 40 km/h. That's a safety thing so people can hear you moving at slow speeds through parkades and the like. You hear it as soon as you've selected "drive", which is good because the Leaf's drive selector joystick remains a fiddly thing that sometimes left me wondering just what gear I'd selected. When that noise cam on, I knew I was good to go.
As stated previously: while "fun-to-drive" probably isn't a quality most Leaf buyers are going to rate too highly on their punch lists, it's worth noting that thanks to its 1-speed direct drive transmission, torque comes instantly and forward progress is properly zippy on tip-in. It's not neck-snapping by any means, but you will have the ability for quick, point-n-squirt manoeuvres through traffic and so on. Of course, as speeds increase on the highway and so forth that acceleration will wain at a quick rate but the Leaf – like most EVs today – is not a vehicle meant to do too much business on the highway.
Indeed, do that, and that 330 km claim will dip pretty quickly. In the city, I found that my expected range stayed pretty true to my actual kilometres travelled. In fact, I often found myself actually gaining back more than I'd travel, a benefit of the Leaf's e-Pedal technology.
Essentially, by flicking a toggle mounted just above the shifter, brake regeneration gets maxed out. That means as soon as you lift off the throttle, it feels like you're applying some serious brake pressure without ever having to touch the brake pedal. It's a good feature but one might ask: why to I need a toggle to activated it? This is an EV – shouldn't I be in max regen from the get-go.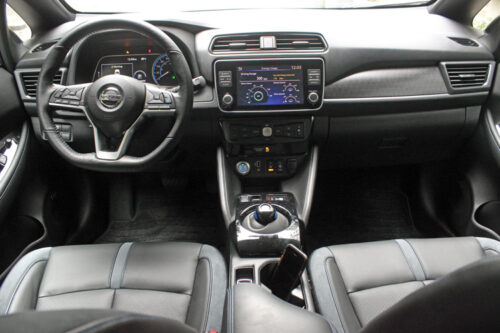 Well, for starters, if you shut it down while in e-pedal mode, it will start up again in e-pedal mode. So, essentially, it's there in its most basic state. However: you may not want that because the brake drag is so heavy, it can make for some fairly herky-jerky progress, especially while parking. That's why you have the option to switch it off.
On the highway, meanwhile, I saw my range dip pretty severely and I went from 385 km of expected range to 290 after just 70 km travelled. So at higher speeds, it's not quite a 1:1 shot in terms of kilometres used, and original kilometres predicted. Which makes sense, as the trip computer can only offer estimates on kilometres travelled based on the kind of driving you've done historically.
What I did like – and has nothing to do with range, but something to do with the powertrain – is how the Leaf stays so pleasantly neutral for corners. It may be a tall car, but since its powertrain drops so much weight down low via its battery placement, it's a nicely controlled tall car. Body roll is pleasantly reduced, further contributing to the overall comfort level.
Indeed, the more I think about it, the more that word "pleasant" is, above all else, what the Leaf Plus is all about. The ride and seating are great, NVH is low and with the extra range no afforded, it's "pleasant" simply because you don't have quite the range anxiety you had previous.
2020 Nissan Leaf SL Plus
Price as tested: $53,198.00
Configuration: Front engine/front-wheel drive
Engine/transmission: 160 KW AC synchronous electric motor, 1-speed direct-drive automatic
Power/torque: 214 horsepower/ 250 ft-lb of torque
Combined fuel economy ratings (L3/100 km): 2.1 L/100 km
Observed fuel economy (Le/100 km): 11.7 L/100 km
Warranties: three years or 60,000 km
Competitors: Chevrolet Bolt, Hyundai Ioniq electric, Kia Rio EV, Kia Soul EV, Tesla Model 3, Volkswagen e-Golf
Links:
Nissan Canada