The 2020 McLaren 570GT is both a dominant supercar and a grand touring sports car extraordinaire. This is the company's first foray into the GT segment, but certainly not their last if my experience behind the wheel is any indication of what future vehicles could and hopefully should be like.
A company renowned for executing speed and performance at the highest level, the fact it is also comfortable and easy to drive makes it a suitable competitor for the likes of Bentley, Aston Martin, Mercedes-AMG and Porsche among other grand touring sports car makers. More choice is never a bad thing, especially when the engine is placed in the middle for maximum balance and performance.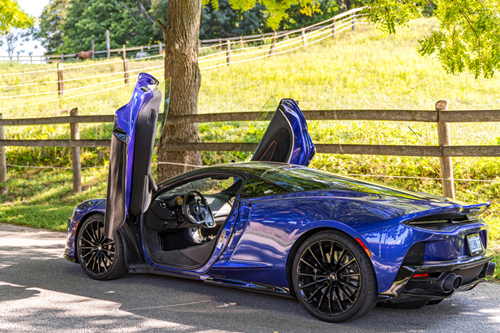 Performance By The Numbers
Power numbers are exceptional, if on the surface a little less intimidating at first glance than some of the aforementioned competitors. Horsepower is, of course, one of the benchmarks people look at first, but as any true sports car enthusiast will tell you, useable power is the truest measure of performance, not just a loaded spec sheet. Weight is as much a deterrent to top speed and cornering as anything and power has its limits when compensating for mass.
On that note, the McLaren 570GT highlights a 4.0L 32-valve 90° V8 twin turbocharged gasoline-powered engine matched to a 7-speed SSG (Seamless Shift Gearbox) transmission. It delivers a potent 612 horsepower and 465 lb-ft of torque.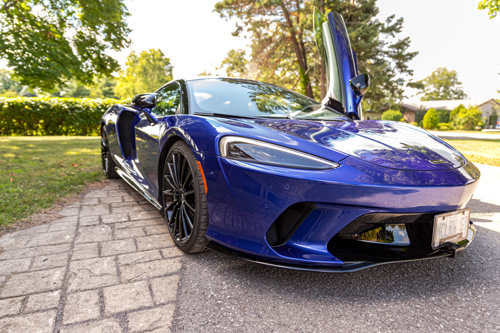 Wrapped in a bespoke carbon fibre MonoCell II-T with a curb weight of 1,530 kg, 0-100 km/h takes just 3.2 seconds and top speed reaches 326 km/h (203 mph). It should also be noted that to reach 200 km/h takes a mere 9 seconds, so be careful as achieving speed is as easy as breathing in the McLaren 570GT.
Braking is equally impressive as 100-0 km/h takes just 32 metres (105 ft) and 200-0 km/h is achieved in just 127 metres (417 ft). Our test vehicle might stop even a little bit quicker as it is equipped with the optional carbon ceramic brakes.
Style On A Grand Scale
The outward appearance of the 2020 McLaren 570GT is as much fighter jet as it is supercar. Our test car appears to be made out of a solid block of space age materials painted in Kyanos blue metallic with Barolo carbon black accents that has been stretched and pulled to all four corners with perfection. There simply isn't a bad curve or detail to be found anywhere on the body. Peering upwards to the sky is easy with its electrochromic panoramic roof and even the rear wing is fully integrated into the shape, flowing out of the elongated trunk lid that houses an incredible amount of storage given the exotic design.
To get in and fully embrace the McLaren 570GT, you don't just open the door and take a seat as you would in a typical 2-door grand touring car. You unlatch the classic McLaren Dihedral doors, slide them gently upwards to fully expand the opening and then as gracefully as possible turn your body, sit down briefly on the door sill and basically drop in. It's a process that takes a little time and practice to achieve with a certain amount of poise, but once in, the experience is well worth the workout.
Inside, it quickly becomes apparent the 570GT offers a completely different take on form and function. You can't directly compare it to a Bentley Continental GT for example, a car that is full of chrome and wood accents, every nook and cranny covered in opulence and pomp. The 570GT takes the exact opposite approach, to the point of minimalism and has one central focus for both driver and passenger- the road ahead.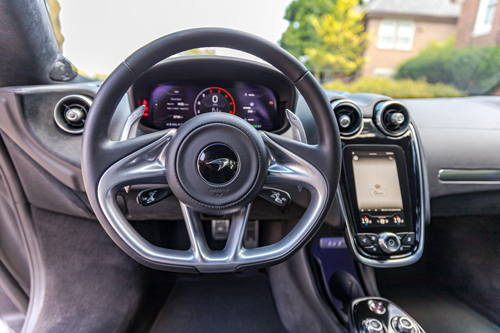 It is almost unsettling that a car priced in excess of $300,000 CDN would offer so little bling. Of course, any concern that you aren't getting your money's worth is instantly put to rest once you press the start button and touch the accelerator pedal. The road is your oyster and the pearl underfoot awaits your appraisal.
Seats are sculpted and offer exceptional back, side and leg support, it grabs in all the right places. Our test vehicle is equipped with leather and fabric seating, plus red stitching for added effect. It is a combination that is both appealing and practical.
A large center panel controls the majority of interior functions, the hooded gauge pod is easy to read and driver-focused. Satin metal graces the round control knobs featured throughout the interior and Bowers & Wilkins audio provide exceptional sounds when you are not listening to the exhaust note of the powerful V8.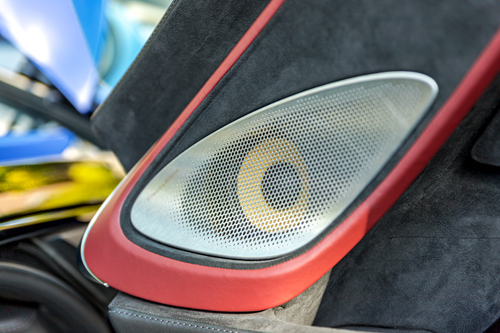 Get In And Drive
Once on the road, it feels connected to the asphalt in a way that is both surreal and reassuring. At speed, turns are quick, controlled and solid, just what you expect from a mid-engine supercar and it doesn't disappoint. The 570GT pivots left and right like a skilled halfback evading tackles while trapped in a phone booth, and sticks to the road with absolute resolve. Understeer is of little concern, and it gets power to the road with authority.
Steering is direct and provides excellent feedback. The ride quality is also more grand touring rather than harsh supercar, but seems to sacrifice nothing in the way of on-road performance. Even dips in the pavement don't unsettle the 570GT, it just keeps looking for new roads to explore.
If there is one drawback to the overall drive experience, it is the automatic transmission. At high speed, it reacts perfectly with each shift. At low speeds, however, it is continuously searching for higher gears which can make for a somewhat lumbering city drive. Once past 3,000 rpm, the searching stops all the way to redline. The best way I found to eliminate this is to drive in manual and use the steering-wheel-mounted shift paddles at every opportunity. It is also much more fun and keeps you focused on the task at hand.
The 2020 McLaren 570GT is not your typical grand touring sports car and it is in many ways better than expected. The drive experience is exceptional, the look is stunning from every angle and there is even a rear storage areas as big or bigger that what is offered by most of the competition. This is definitely a high-performance supercar worthy of the name Grand Touring.
2020 McLaren 570GT
Price: $300,750.00
Freight: N/A
Configuration: mid-engine, rear wheel drive
Engine: 4.0L V8 twin turbocharged
Transmission: 7-spd SSG
Power/torque: 612 hp/465 lb-ft
Competitors: Acura NSX, Aston Martin DBS Superleggera, Audi R8, Bentley Continental GT, Mercedes-AMG GT, Porsche 911 Turbo S
Links: McLaren Canada