The first time I laid eyes on the Lexus spindle grille that ushered in a new design language for the brand, it left an indelible impression.
All these years later, that hasn't changed as I picked up the 2020 Lexus ES 350 F Sport and was immediately drawn in by the look of the entire package, starting with that grille. The only bad thing is that jurisdictions that use a front license plate literally deface the look.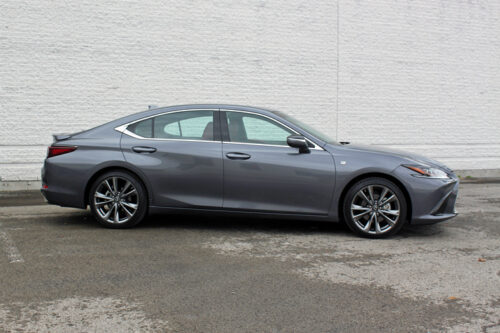 And as nice as it is from the outside, the inside made an even bolder statement with its bright Red leather seats and interior accents.
The ES 350, which is in a highly competitive midsize luxury sedan segment, has a starting price point of $49,250, which is pushed to $58,656.40 once you add in some options and other fees on our Nebula Grey Pearl tester.
While already loaded with standard features, the ES 350 we put through its paces received a ton of add-ons thanks to the optional F Sport 2 package ($7,200).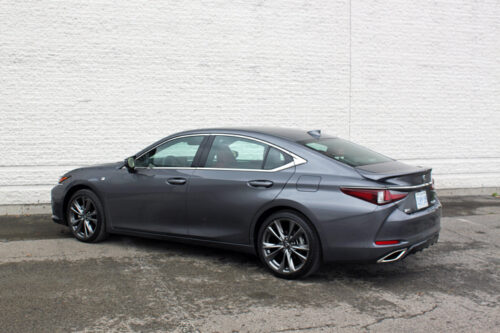 That's a steep price to pay, but you get some welcome additions, including a heated steering wheel, premium triple-beam LED headlamps, a 12.3-inch display screen, Enform Safety Connect with features like Automatic Collision Notification, Stolen Vehicle Locator and more. It also adds a 3-spoke F Sport steering wheel, rear spoiler, 10-inch colour head-up display and adaptive variable suspension.
It really is a quite complete package, even more so when you consider what is under the hood.
While also offered in a hybrid, our ES 350 features a more traditional – and quite excellent – 3.5-litre V6 engine producing 302 horsepower and 267 ft-lb of torque.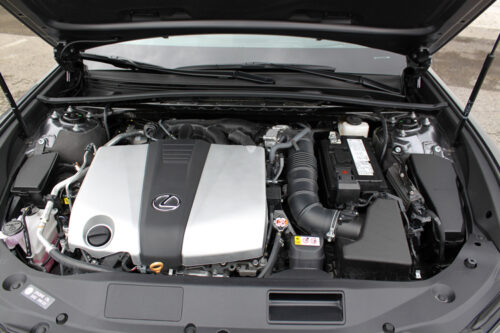 The result is a vehicle that gets moving in a hurry when you want it to, and all that power is handled very effectively by the 8-speed automatic transmission.
Of course, you can tone down the ES 350 a little through the Drive Mode Select system by switching to Eco mode. With the default Normal setting being where I spent most of my time, I found the ES 350 was still responsive and agile. Of course, I also made sure to enjoy some time in the Sport + mode, which is pretty grin inducing when you hit the accelerator.
Maybe I enjoyed a bit too much time in that last setting since my average fuel economy was 11.3 litres per 100 kilometres, well above the 9.1 L/100 km combined average posted by Lexus. Thankfully, the ES 350 doesn't require premium fuel, so the blow to your wallet isn't as high.
As I said at the start, the ES 350 makes an impression. But its more than just the front grille; the entire silhouette of the vehicle draws you in, with it's long wheelbase and nicely sloped roofline that gives off a coupe-like vibe.
Coupled with the elegant headlight assemblies, the front end is as sharp as they come, while the rear end is no slouch either with the wraparound taillights, chrome accents and dual exhaust.
Inside, as mentioned earlier, the bright red leather is an instant attention grabber and is definitely a winning look.
Once you moved past the interior colour, your eyes are quickly drawn to the large optional display screen in the dash, which blends in seamlessly with the design. The fact it also delivers crystal clear information is a huge bonus.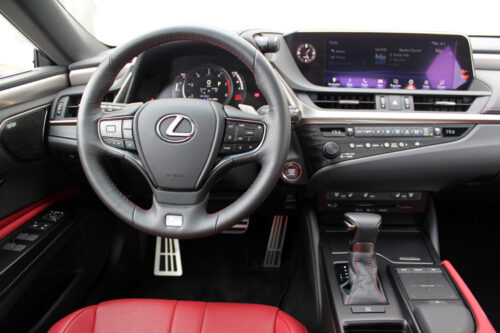 The one thing that struck me as a bit odd are the two control arms that stick out of the top of each side of the hood over the gauge cluster. One is for the drive mode selector, while the other deactivates traction control.
It almost looks like a set of ears! The stubby controls are the one blight on an otherwise excellent interior.
There's plenty of room for five occupants, each of which are coddled in comfortable seating, with the front seats being heated and cooled.
The Lexus touchpad is the primary source of most controls for the infotainment system and other functions, and it does take some getting used to. And let's not forget the signature analog clock in the dash, a feature I have always appreciated from Lexus.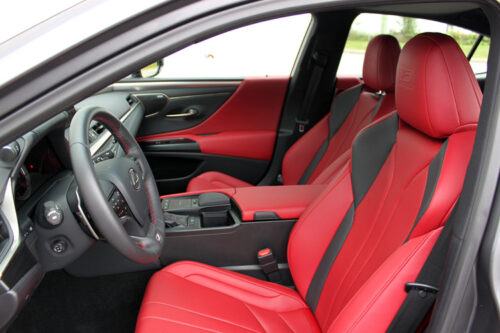 Another feature that music lovers will certainly appreciate is the optional 17-speaker Mark Levinson Premium surround sound audio system, which is compatible with Apple CarPlay and Android Auto.
When you add in satellite radio, you can pump out music to your heart's content as the ES 350 gobbles up kilometre after kilometre out on the open road.
Speaking of which, that is where you want to be with this sedan. It's an absolute pleasure to drive, whether in Eco settings or if you prefer to open it up in Sport +.
The steering is responsive and the suspension tuning ensures the drive is as smooth as butter.
Sedans might be facing an uncertain future with the rise of the SUV, but the ES 350 F Sport is as good a reason as any to shun those sport-utes.
It has the looks, a great interior, offers lots of passenger comfort and does still manage to deliver a fair bit of trunk space. Oh, and for the skiers who might think, well this won't work for me, there's a passthrough from the trunk to the cabin to slip your skis into.
And this is a stylish way to head out for a nice après ski meal!
2020 Lexus ES 350 F Sport
Price as tested: $58,656.40
Freight: $2,075.00
Configuration: Front engine/front-wheel drive
Engine/transmission: 3.5-litre V6/ 8-speed automatic
Power/torque: 302 horsepower/ 267 ft-lb of torque
Fuel (capacity): Regular (60 L)
Combined fuel economy ratings (L/100 km): 9.1 L/100 km
Observed fuel economy (L/100 km): 11.3 L/100 km
Warranties: 4-years/80,000 km (basic)
Competitors: Acura TLX, Audi A4, BMW 3-Series, Infiniti Q50, Kia Stinger, Lincoln MKZ, Mercedes-Benz C-Class, Volvo S60
Links:
Lexus Canada