Twenty-seven days into this lockdown and cabin fever has thoroughly permeated my brain. I've travelled to the end of the internet and back. I've read more books in four weeks than I typically would in a year. The house is cleaner than it's ever been and if I have to cue up one more show on Netflix, binge-bulimia will surely find its way into the sixth-edition of the DSM. My dog no longer wants to walk these familiar routes with me. I need to get outta here, man.
Somewhere.
Anywhere.
Fast.
Salvation appeared, digitally of course, when I needed it most. The message was simple: "If you're interested, we have the new Lamborghini EVO coupe available for press loans". The e-ink on my response didn't have the chance to dry.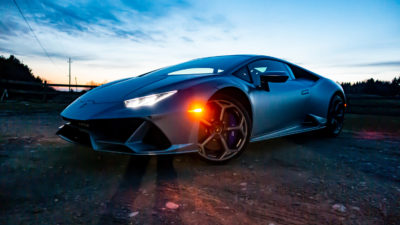 It goes without saying that anytime the keys to a Lamborghini find their way into your hands is a special occasion, but given my current mental state, non-existent traffic and the fact gas prices are hovering below Y2K levels, this feels once-in-a-lifetime rare.
Bathed in a $22,400 matte coating of Grigio Artis, the 2020 Lamborghini Huracán Evo I've been blessed with for the next 60-hours is a thing of modern, muscular beauty. You can tell at a glimpse that every crinkle, fillet, chamfer and void serves purpose. Sharp and smooth, wide and low, angular and angry, the Huracán makes no bones about why it is or what it's capable of: speed in its most visceral form. A tap on the fob and a small, creased sliver of the EVO's skin reveals itself below the beltline as if to say "There's no time to explain. Get in".
The cockpit — and it very much is one — is as focused as the EVO's silhouette. Switchgear is laid out with dedicated precision, flanking either side of the dash with separated toggles.  The sheer number of physical buttons is marvellous: there are six different ones for exterior lighting alone!!! Of course the most important one, the ignition, is activated via flipping up a "missile release" style cover, a Lamborghini staple that never gets old.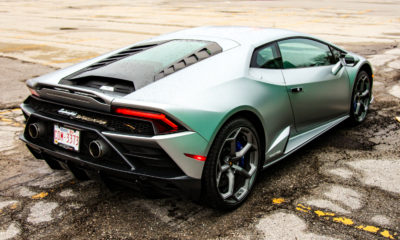 One tap and the 10-cylinder orchestra awakens from midship. The pentatonic scale from each bank searches for harmony as essential fluids are warmed, thinned and dispersed. Warmed and ready (both the EVO and I), I select first gear via paddle and guide the EVO's raised nose onto the street for the first time.
Immediately I'm impressed with just how competent this supercar is at pedestrian speeds. The ride is commuter-comfortable and, with Strada selected as the driver mode, it's incredibly easy to maintain civil obedience despite having 631 caged cavallos (640 CV) raring to go. The seven-speed, Doppia Frizione (dual-clutch) gearbox automatically slots higher gears to keep noise and speed to a minimum. But slow, steady and silent is not why anyone buys a Lamborghini…
Clicking down into Corsa is like prodding this bull with a branding iron. The mood lighting turns red and baffles in the exhaust take a cappuccino break, engulfing the cockpit in a Jacques Villeneuve-era symphony. Acceleration feels almost surreal as the revs climb towards their peak before a tug on the flappy-paddle to my right starts the process all over again. I could listen to this soundtrack all day. Lamborghini states the Huracán EVO will hit 100 km/h in 2.9s and I have no reason to doubt that. This car is quick.
And it handles too. Equipped with an active all-wheel-drive set up as well as all-wheel-steering, I can't put a wheel wrong with this thing. Driver feedback feels exceptional but, devoid of any track time, I'm not able to truly push things to anywhere near a limit, which is a shame, because this bull has a racer's brain to go with its brawn.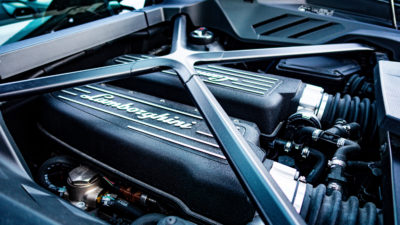 LDVI, or Lamborghini Dinamica Veicolo Integrata, is the all-new, dynamic software and sensor package fitted into the EVO. Its mission is to bestow demonstrable skill to mediocre drivers, right off the hop. In the days of yore, drivers either had to intuit what that car was doing and predict what it would do (with some hope of accuracy) or surrender control to an algorithm, to be truly quick. LDVI bridges the gap. It gathers information on pitch, yaw, traction, braking and even has a direct line to each of the magnetic dampers, to make sure the car can deliver what you're asking of it, without making the mushy bit behind the wheel obsolete. The system noticeably trims ham from fists without turning the experience into a solely digital affair. You feel as if you're in total control when you're getting it right but especially so when you get something wrong. Which is incredibly rare.
That's because LDVI now has a predictive element to its sorcery that can anticipate a driver's input before it is actualized. I would have loved a chance to get the EVO onto a track, to let you know how the system works at both its and my ragged edge, but alas the world is closed right now, so that sort of thing was out of the question.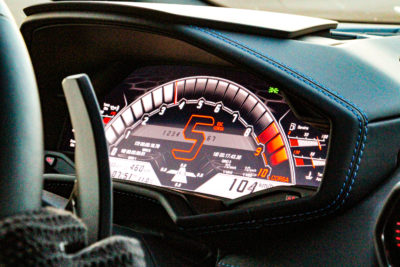 Lamborghini's new 8.4-inch touchscreen display provides a plethora of data and options aplenty (Change the interior mood lighting to match the contrast blue stitching? Yes, please). With some hunting and pecking you can control and monitor the EVO's driving dynamics and there's even a telemetry system built in to help coach and guide you as a driver. Sadly I found it suffered an inability to react while I was wearing gloves and rather pedestrian things like navigating the media source options wasn't exactly easy. I also couldn't fully turn off the HVAC system. Whether the "off" setting is hidden or it just doesn't exist for reasons, remains a mystery. Once stripped of my stringbacks, I could control the most common bits without much distraction. Volume for the loud but crystal clear Sensonum Sound System ($4,900) can be adjusted via a 2-finger swipe, up or down and there is a voice command function, for when you need both hands on the wheel. Apple CarPlay and Android Auto were both present and accounted for ($4,800).
Forward visibility is decent by supercar standards, though notably compromised by ride height and windshield rake. If you're first at the line, getting a bead on traffic lights may require you to duck or crane; not that getting a hole-shot is all that important, really. As for what's going on out back, lets just say the back-up camera does a good job when parking.
Seating is sculpted yet surprisingly roomy and the thick and weighty steering wheel can be manually adjusted for optimal positioning. I found the pedal-box to be a touch cramped — the dead-pedal placement was more centred than I'd like — but there's plenty of room lengthwise. With the seat pushed all the way back, there is a bit of creaking between its shell and the firewall over bumps, but drivers with a normal inseam need not worry.
In my short time with the 2020 Lamborghini Huracán EVO, my world was an infinitely happier place. Despite some anxiety of having a near $400k car sitting in my driveway, concerns of the current pandemic evaporated. Just looking at this thing, poring over its details — like the feel of forged composite bits in the engine bay, the perforations in each titanium exhaust tip and the sheen on those massive blue calipers — will put a smile on even the most pessimistic pistonhead. It gave me everything I needed to fight out of my funk and, if you've got the dosh to make it happen, I'm sure it will for you, too.
2020 Lamborghini Huracán EVO
Price as tested: $384,991.00
Engine: 5.2 L, Direct-Injected V10
Horsepower: 640 hp @ 8000 rpm
Torque: 443 lb-ft @ 6500 rpm
Drivetrain: All Wheel Drive, All Wheel Steering
Transmission: 7-speed dual clutch
Weight: 1,422kg (dry)
Weight to Power Ratio: 2.22kg / CV
Competition: Audi R8 V10 Performance, Ferrari F8 Tributo, McLaren 720S, Porsche 911 Turbo S
Links:
Lamborghini