Giulia, it seems, can inspire either love or indifference. Alfa Romeo's flagship sports sedan was launched with much passion in 2015, befitting the leading lady in the Italian manufacturer's ongoing drama. The car was conceived with love by a dedicated team of designers and engineers and unveiled to the world with fanfare. There was no doubt the company had pinned its hopes on Giulia's appeal.
But at first acquaintance, the 2020 Giulia Quadrifoglio underwhelms. The car is stoutly built, with classic European lines, and little unique flair aside from the almost grotesquely large trefoil grille design. It hunkers on 19-inch rims, its face serious, even mean, and the air vents on the hood lend it a reptilian air.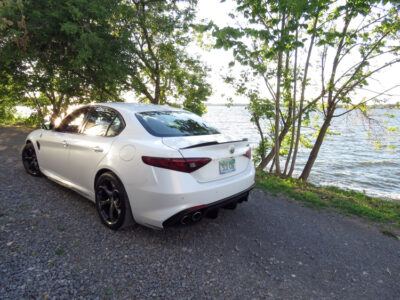 Open the driver's door, however, and the mood brightens. Inside, Giulia presents a calming demeanor. Dark leather trims and grey sueded seating surfaces combine with carbon accents and delicate green and white stitching to present an elegant interior, befitting a premium vehicle.
For 2020 the Giulia received a new steering wheel, console and upgraded instrumentation including an 8.8-inch touchscreen that offers customizable views of everything from phone status to real-time feedback on engine performance. The driver interface is good, but the shifter paddles are far too large and impede access to the right and left instrument stalks. The display screen, combined with the instruments in the driver's direct line of sight, are somewhat distracting – an attribute that is actually unwelcome in what's meant to be a driver's car.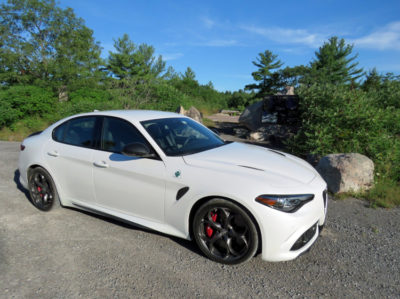 However, once you get rolling the Quadrifoglio begins to show its mettle. Get used to the sensitive Brembo carbon ceramic brakes (an $8,000 option); they are too aggressive for city driving, but they'll come in handy soon. With a zero to 100 km/h acceleration time of just 3.8 seconds, and a top speed of 307 km/h, you can understand why those big brakes are a desirable extra.
Under the hood, the twin-turbo, 2.9-litre V6 generates 505 horsepower and 443 ft-lb of torque. The transmission is an 8-speed automatic with paddle shifters and four drive modes, from Eco through to race. Shifting is delightfully smooth and imperceptible until you transition from normal mode to Dynamic mode. Then the Giulia becomes assertive and dramatic, with more aggressive shifts and delightfully resonant exhaust backpressure to match.
The car is a superb highway cruiser. Comfortable and quiet, with enough automation – lane keeping, adaptive cruise, blind-spot assist, driver attention alert, and more – to provide a less stressful experience in traffic, Giulia would be an excellent daily driver for someone with an urge to speed things up once in a while.
In fact, Alfa Romeo is marketing the car as a family grocery getter with the chops to deliver kids to school during the week and spine-tingling adventure on weekends. Yet, since the back seat is really only suited to kids or short adults, and the trunk does not offer much room for the heaps of detritus the average family lugs around, it seems this aspiration is a bit misguided.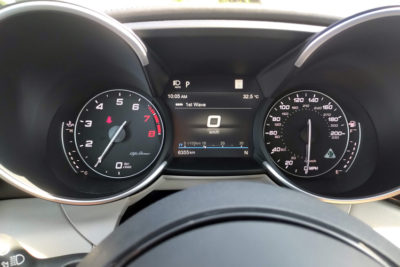 The Giulia is a true sports sedan. In its Quadrifoglio configuration it is an excellent example of the type. It's got the essentials to make it compete with the best – torque vectoring, 50:50 weight distribution, and an adaptive suspension, that practically glues it to the road. It's fast, it loves to hug the curves and hills, and as a rear-wheel drive car it might be best suited for spirited summer driving.
The Giulia will appeal to those looking for a quick Euro-style ride, imbued with the zest and emotional appeal of an Italian automobile. If you can get past the superficial quirks and stolid outward appearance, Giulia has a lot to offer at the price. It may not be love at first sight, but she grows on you. The more you drive and let the car shine over a variety of roads, the deeper the love will go.
Just as in a romantic comedy characters begin with mutual disdain and end up in a passionate embrace, so it could be with Giulia. After all, the Italians practically invented romance.
2020 Alfa Romeo Giulia Quadrifoglio
Price as tested: $109,435.00
Freight: included
Configuration: front-engine, rear-wheel drive
Engine/transmission: 2.9L 6-cylinder twin turbo/8-speed automatic
Power/torque: 505 hp/ 443 lb-ft
Fuel capacity: 58 L
Fuel economy ratings: 13.5 city / 9.3 highway / 11.6 combined L/100 km
Warranties: 4-years/80,000 km (basic)
Competitors: BMW M3, Mercedes-AMG C 63
Links:
Alfa Romeo Canada