Whoever said plaid isn't cool obviously never saw the seats inside the 2019 Volkswagen Golf GTI Rabbit.
They are most definitely "in" these days, as is the Golf GTI, which once again proved why it is such a popular and long-standing model after a week with a Cornflower blue tester recently.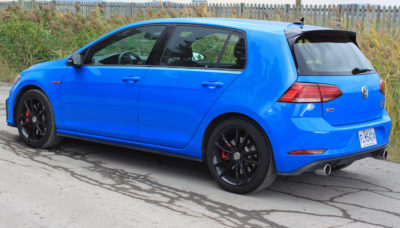 While a regular Golf starts under $23,000, you do pay a bit of a premium for the GTI, with the Rabbit coming in at $38,950 as tested (the GTI starts at $30,845).
However, the extra you will pay for the GTI is worth it just for the fun quotient.
And most of that is thanks to the excellent engine under the hood in the form of a turbocharged 2.0-litre 4-cylinder powerplant.
Paired to a 7-speed automatic (a 6-speed manual is standard), the engine delivers a lively 228 horsepower and 258 ft-lb of torque.
There's very little to complain about in the power and performance department here.
And fuel efficiency is pretty good too, even if premium fuel is recommended. Volkswagen says the GTI Rabbit has a combined fuel efficiency of 8.6 litres per 100 kilometres, while my real world average came in at 8.8 L/100 km. Good numbers all around.
Another number of note on the GTI Rabbit is 18. That's for the 18-inch Pretoria black alloy wheels that really stand out against the blue exterior and also allow the red brake calipers to share the spotlight.
Other exclusive GTI Rabbit features include LED headlights with adaptive front lighting, front fog lights with static cornering lights and black exterior mirror housings.
It's the Golf we have all come to know and love, just with a few attention-grabbing features added.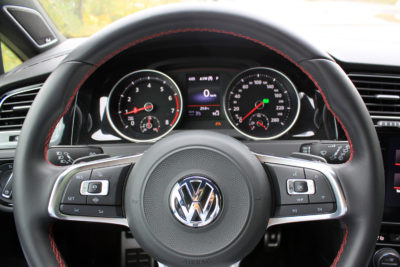 About those plaid seats, they are another GTI Rabbit exclusive (Clark cloth in VW lingo), and really do make a statement. They are fairly comfortable but are heavily bolstered, which wasn't too much of a problem for me, but could pose one for some folks.
Other notable GTI Rabbit features include keyless access with push-button start and a Fender Premium Audio System.
The cabin isn't overly spacious, but you never do feel cramped despite the small stature of the Golf frame.
The essential controls are all logically laid out in an optimal position near the driver, and there's also excellent outward visibility.
And surprisingly, the trunk can hold a good amount of gear and material.
The infotainment system on the GTI is quite good, and comes with Apple CarPlay and Android Auto. It has little lag time when making inputs and the screen is a good size for the cabin. But how on earth is there only one USB port? Come on now.
Where the GTI Rabbit really shines, though, is in how it drives. It's just a whole lot of fun as a daily driver and can deliver the extra kick needed to raise the heartbeat a bit out on the highway.
The ride is relaxed and quite comfortable, with the driver able to select an appropriate drive mode for his or her mood through Dynamic Chassis Control. For a little more fun on the road, select the Sport mode, while Comfort and Normal modes are your other choices. There's a setting for all situations.
The Volkswagen Golf GTI has a long history and has proven itself to be a very popular model. And for good reason: It's a tidy package that looks good and drives quite nicely, which should keep it in good standing against the competition.
2019 Volkswagen Golf GTI Rabbit
Price as tested: $38,950.00
Freight: $1,685.00
Configuration: Front engine/front-wheel drive
Engine/transmission: Turbocharged 2.0-litre 4-cylinder/ 7-speed automatic
Power/torque: 228 horsepower/ 258 ft-lb of torque
Fuel (capacity): Premium (50 L)
Combined fuel economy ratings (L/100 km): 8.6L/100 km
Observed fuel economy (L/100 km): 8.8 L/100 km
Warranties: 4-years/80,000 km (basic)
Competitors: Ford Focus ST, Hyundai Elantra GT N Line, Hyundai Veloster, Subaru WRX
Links:
Volkswagen Canada