There's a long dirt road leading to Matthew B Martin's farm, and I'm pointing the nose of a 2019 Mercedes-AMG GT 63 S 4-Door down that gravel track, risking a bit of dust on its gorgeous satin-blue flanks and 21-inch alloys purely for the promise of maple syrup. Out here in Mennonite farm country, many edible delights await – summer sausage, pies, preserves and the sweet elixir from the sugar maple tree.
My bonkers AMG sedan seems completely at odds with its surroundings – it rudely head butts this bucolic serenity in no uncertain terms. Nothing spells flagrant, conspicuous consumption like a $189,000 German super sedan with 630 horsepower of 4.0L twin-turbo V8 lurking under its bonnet. And by gawd, this car looks sinfully sexy. Art meets aggression, grace meets menace – it's beauty and the beast rolled into one. And if there are any chickens wandering about, they might want to stay away from the AMG's toothy grill.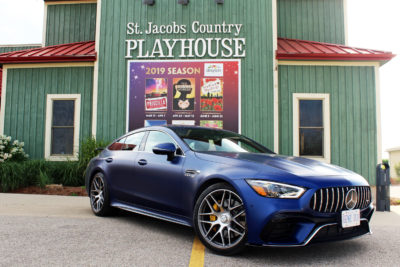 With the sport exhaust button pushed (just because) I slowly burble up the drive. A couple of cows lift their heads and look dreamily my way. Do they know this is the fastest Mercedes four-door in the stable, and will hoof it to the 100 km/h mark in just a tick over three seconds?
A couple of young lads emerge from a barn. They stare and keep their distance. I might as well be arriving in an alien space ship – they'll see lips on chickens before another 2019 Mercedes-AMG GT 63 S 4-Door in Designo Brilliant Blue Magno rumbles into their world. As will most city folk.
After I buy some maple syrup in the family shop, the boys approach the car and we start chatting. I tell them this is the second car designed and built in-house by AMG, and it follows the svelt two-seat rear-drive AMG GT Coupe. I also tell them this lengthy all-wheel-drive executive rocket does not share the Coupe's all-aluminum/rear transaxle architecture, instead riding on the bones of the Mercedes-AMG 63 Wagon.
I open the door and let the wide-eyed lads take in the cabin – stunning with its Saddle Brown/Black Nappa Leather ($1800) and Grey Ash Open Pore trim ($500). The dash panel features the broad expanse of digital screenage currently found in most Mercedes sedans, while the centre console with its array of buttons for modifying the car's behavior is snagged from the AMG GT Coupe.
Ah, the AMG GT 63 S's behavior. Without getting too technical, I tell them how this car backs up it looks with nutty performance and a suitably AMG edgy feel. Even in Comfort mode, it never truly settles into luxury car territory. The GT 63 S is always alert, the nine-peed transmission can be jerky at low speeds, and the nose points into corners like a hound on a scent. Yep, this dog wants off it leash.
Had I wanted to give these fellows a real education, I could have put the 63 S in drift mode, wherein the front axles are disconnected from the V8's prodigious 630 horses and 669 lb-ft of torque and performed dusty donuts in the gravel compound. Instead, I asked if I could take some pictures.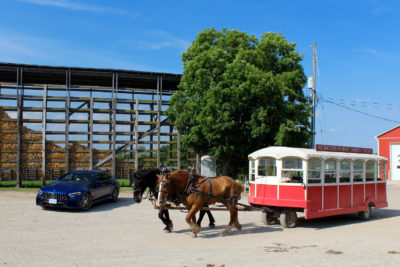 Fittingly, a horse-drawn tour carriage pulled into view. Two versus 630. Not much of a competition, but at least those pair are getting a bit of a workout. These AMG's ponies will live a pretty leisurely life here in Canada, as there is no way to approach the limits of this car on public roads. I ticked its performance with a few felonious blasts and some off-ramp strafing, but much beyond that and you're tempting all kinds of bad stuff. It's a bit like inviting Michael Phelps over for a splash in your pool. Good for bragging rights, and that's about it.
I say goodbye to my new Mennonite friends (and the cows) and return the AMG to a more suitable environment – paved roads. If you don't covet the excessive performance of this 63 S variant, Merc will be happy to sell you the turbo straight-six version – the AMG GT 53 4-Door Coupe – or even the slightly detuned V8-powered 63 variant (577 horsepower). But why would you? With a body this sexy, you might as well take the engine that drop kicks the laws of physics into whimpering submission. Just because.
The famed St. Jacobs Farmers Market operates three days a week through the summer, and for those city folks looking to get away from the hustle and bustle, well, this is not the place to be. Saturdays are nuts here – traffic congestion and throngs of people. But once here, there is plenty of fab produce, meats, preserves, crafts and the like. And if antiques shops tickle your fancy, there is an abundance of those around too.
While 2019 Mercedes-AMG GT 63 S 4-Door is a highly specialized niche rocket, it is also an imminently practical hatchback with surprising load capacity. Flip the second row seats down, and this Teutonic rocket would make for a pretty decent antique hauler.
Just a few steps from the market sits the St. Jacobs Playhouse where, from March until early January, you can take in first class plays and musical theatre productions. Artistic Director Alex Mustakas has grown his one-theatre Drayton Entertainment into one of the major theatrical producers in Canada, with theatres in Grand Bend, Cambridge, Penetanguishine, Drayton, and here in St. Jacobs.
I headed to a pretty little spot called Three Bridges not far form St. Jacobs to find a bit of quiet. In this car? Apparently not. In the little dirt pull off area there just happened to be two Mercedes-Benz SUVs, from either ends of the spectrum. But wouldn't you know it, both owners jumped out and started peppering me with questions. The stylish lady in the Mercedes-AMG GLC 43 knew all about my 4-door Coupe but had never seen one. Considering she had another AMG SUV at home, I pegged her as a potential customer.
The other Mercedes SUV? A filthy and rusted first gen ML 430 occupied by a retired hippy and his sleeping mutt. He paid $1500 for this one, but with V8 power, we had something in common. He got out his old film camera and started taking shots.
There's no escaping attention when driving the 2019 Mercedes-AMG GT 63 S 4-Door. I fire up this masterpiece of a engine, turn the drive mode dial to Sport Plus (just because) and depart in a suitably dramatic fashion. Yes, this 63 S 4-door may be a long and luxurious executive express with generous rear legroom and a commodious hatch to boot, but first and foremost it goes about its business with the classic AMG "atomic-fist-in-velvet-glove" sedan thing that, up until now, has not seen this level of ferocity. And that is saying something.
2019 Mercedes-AMG GT 63 S 4-Door
Price as tested: $189,500.00
Freight: N/A
Configuration: Front engine/All-wheel drive
Engine/transmission: 4.0L twin-turbo V8, 9-speed AMG Speedshift
Power/torque: 630 horsepower/ 669 ft-lb of torque
Fuel: Premium
Combined fuel economy ratings (L/100 km): 13.7 L/100 km
Observed fuel economy (L/100 km): 15.6 L/100 km
Warranties: four years or 80,000 km
Competitors: Audi RS 7, Mercedes-AMG E 63 S, Porsche Panamera Turbo
Links:
Mercedes-Benz Canada