Hyundai is upping its game in the "fun" factor with the Veloster N, and I guess the automaker is hoping some of that will rub off on other models, notably the all-new 2019 Elantra GT N Line.
But unlike the Veloster N, the Elantra GT N Line only gets cosmetic changes that definitely make it look the part at least.
And that starts right from the front, with a cascading grille and more aggressive bumper surrounded by a silver accent line. The N Line also comes with 18-inch alloy wheels, LED headlights and taillights and dual tipped chrome exhausts for a sportier look.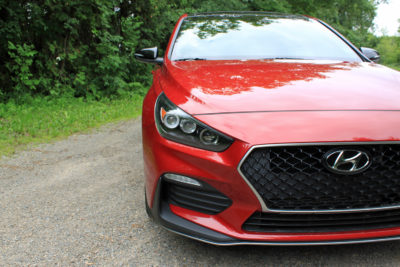 It's a nice package that is definitely eye catching.
The Elantra GT N Line has a starting price of $27,199 with a 6-speed manual gearbox, jumping to $30,699 with the 7-speed dual clutch automatic transmission like our tester.
It comes standard with things like a heated steering wheel, 8-inch touch-screen display that is compatible with Android Auto and Apple CarPlay, forward collision-avoidance assist with pedestrian detection, adaptive cruise control with traffic stop and go, heated and ventilated front seats and an Infinity audio system with 7 speakers and external amplifier.
As mentioned, the engine isn't up there with what one would find in the Veloster N, but the Elantra GT N Line does have a decent powertrain.
It comes with the same 1.6-litre turbocharged 4-cylinder engine found in the Elantra Sport. It delivers 201 horsepower and 195 ft-lb of torque, which are adequate numbers for a vehicle this size.
It's unlikely to win any races, but the engine and accompanying 7-speed transmission are a good combination. In the city, it moves swiftly and it has no problems getting up to cruising speed on the highway. The transmission is, overall, quite nice although it did struggle to keep up at times.
Fuel economy is one area the Elantra GT N Line impressed me. The combined average is rated at 8.6 litres per 100 kilometres and I came within .1 L/100 km of matching that (8.7L/100 km).
Complementing the stylish exterior is a cabin that matches. From the red stitching, red seatbelts and other features, the Elantra GT N Line's interior is quite nice.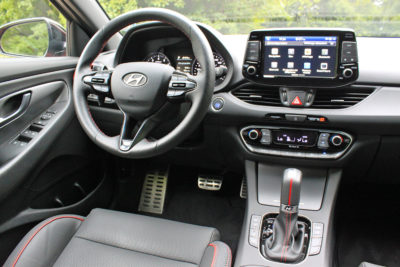 Add to that the comfortable sport seats (with the N badge pressed into the leather), leather-wrapped steering wheel and a panoramic sunroof, and there's a lot to like.
There's also a good amount of storage room in this sporty hatchback, which is another nice feature.
As mentioned earlier, there's an 8-inch infotainment screen that protrudes from the centre stack (a very common thing in vehicle design these days it seems). It includes satellite radio and navigation and is pretty easy to operate and understand.
Unlike some other automakers, Hyundai has retained the dials and buttons around the screen, which does make operation a little more intuitive from the first time you enter the vehicle.
The Elantra GT N Line hasn't only received some styling upgrades.
It also has been given larger brakes, stiffer springs, re-tuned dampers and quicker steering.
To add some more sportiness to it, the N Line has a subtle engine burble out the dual exhaust, although I am not sure it was a hit with my 5 year old, who said the car was farting.
As mentioned, the engine does sometimes seem to lack power, but overall it's a good driver, with a well-insulated cabin that isn't too noisy under hard acceleration or otherwise.
As far as sporty hatches go, the Elantra GT N Line is a pretty good contender and is likely to garner attention from a wide variety of consumers.
2019 Hyundai Elantra GT N Line
Price as tested: $32,719.00
Freight: $1,705.00
Configuration: Front engine/Front-wheel drive
Engine/transmission: 1.6-litre turbo 4-cylinder/ 7-speed dual clutch automatic
Power/torque: 201 horsepower/ 195 ft-lb of torque
Fuel (capacity): Regular (53 L)
Combined fuel economy ratings (L/100 km): 8.6 L/100 km
Observed fuel economy (L/100 km): 8.7 L/100 km
Warranties: 5-years/100,000 km (basic)
Competitors: Honda Civic Si, Mazda 3 Sport, Volkswagen Golf GTI
Related links:
Hyundai Canada