Somewhat like the story of the three little bears, it seems like Honda had a set of crossovers that were either a little too small for some or much too big for others.
So they've introduced one that is just right!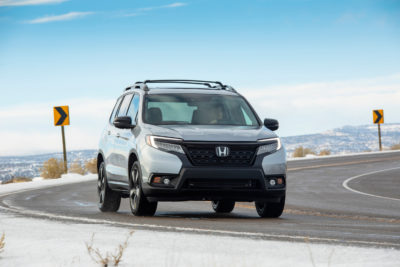 The CR-V and Pilot are well-established and popular models in the Japanese carmaker's lineup. However, the CR-V could be a little tight in terms of cargo space and interior room, while the 7-seat Pilot has plenty of room for cargo and loads of passenger space.
So that may leave some would-be buyers in search of something outside the brand. Enter the 2019 Passport, a 5-seat crossover that is essentially a somewhat smaller version of the Pilot that offers a ton of cargo and passenger space.
It is offered in three trims in Canada, starting from the Sport, EX-L and our tester, the Touring. Pricing starts at just under $42,000, with the well-equipped Touring model we drove costing $50,900.
It comes loaded with features like leather seating, heated and ventilated front seats, Wi-Fi hotspot, navigation, hands-free power lift gate, and the Honda Sensing suite of advanced safety features, which are standard on all trims.
Under the hood, the Passport shares the same engine as its larger stablemate.
It comes with a 3.5-litre V6 paired to an all-wheel drive system and a 9-speed automatic transmission, which is controlled through a series of buttons in the centre console rather than having a shifter. It is a more and more common setup.
The engine delivers a potent 280 horsepower and 262 ft-lb of torque, so there is no problem getting moving with this Passport.
Fuel efficiency is rated at 11.3 litres per 100 kilometres (combined) and I was able to deliver an average of 12.7 L/100 km.
Not only do these models share a powertrain, but at first glance you would be forgiven at not being able to tell them apart.
But there are differences, notably a front end that has a sportier look thanks to the blacked out portions of the grille, a theme continued on the mirrors and wheels on our tester.
I did have an issue with the sidesteps on the Passport. It's not quite high enough off the ground to warrant them in my opinion, and I constantly found myself banging my leg on them.
The overall look of the Passport is more rugged than the Pilot, which should appeal to consumers – especially those who like the outdoors.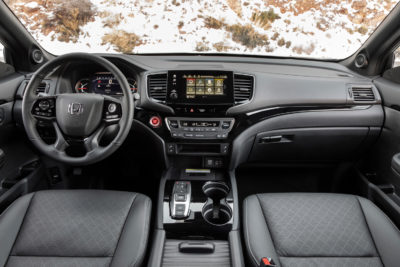 Inside, the Passport offers a spacious cabin that is comfortable for all 5 occupants and loaded with features.
The more upright stance of the Passport means there's a lot of headroom, while rear passengers benefit from a ton of legroom, not to mention heated seats and their own ventilation controls.
The Passport offers excellent visibility from the driver's seat, and all the essential controls and dials are well within reach. The overall layout of the interior, as is the case with many Honda models, is well organized.
The Passport Touring comes with a large 8-inch infotainment screen, powering a premium audio system with 10 speakers, including a subwoofer. It also features navigation, Apple CarPlay, Android Auto, wireless charging and more.
The interface is no nonsense and simple to operate, but make no mistake, it's a modern system that has all the bells and whistles you will need.
Behind the wheel, the Passport is a solid performer. Acceleration is smooth, with lots of power available from the engine. There are a few settings you can select for the drive, from Eco, Sport and normal, which is where it was left most of the time for me.
It's a rather pleasant drive whether you are in the city or cruising on the highway, with minimal road and wind noise intrusion in the cabin.
It is sometimes hard to understand why automakers introduce new models that seem to be very similar to their cousins, but that's not the case with the Passport.
It makes a lot of sense to me after a week with it, offering tons of cargo space, comfortable seating for 5 occupants and loads of capability thanks to the potent engine and AWD system.
2019 Honda Passport Touring
Price as tested: $50,900.00
Freight: $1,795.00
Configuration: Front engine/All-wheel drive
Engine/transmission: 3.5-litre V6/ 9-speed automatic
Power/torque: 280 horsepower/ 262 ft-lb of torque
Fuel (capacity): Regular (73.8 L)
Combined fuel economy ratings (L/100 km): 11.3 L/100 km
Observed fuel economy (L/100 km): 12.7 L/100 km
Warranties: 3-years/60,000 km (basic)
Competitors:  Ford Edge, Chevrolet Blazer, Hyundai Santa Fe, Nissan Murano, Jeep Grand Cherokee, Subaru Outback
Links:
Honda Canada
The Chronicle Herald