The 2020 Aston Martin DB11 V8 is proof that risky decisions often lead to rewarding results. Aston Martin may be best known for the sumptuous British-built sports cars James Bond has been chasing bad guys in for over five decades, but the truth of the matter is that by the mid-2000s, Aston Martin wasn't doing very well.
While the cars continued to look fantastic, their technology, build quality and downright performance were significantly lagging behind their competition. Plus, the company wasn't exactly raking in profitability. By 2007, things were so bad that its parent company, Ford, sold Aston Martin after a 16-year relationship.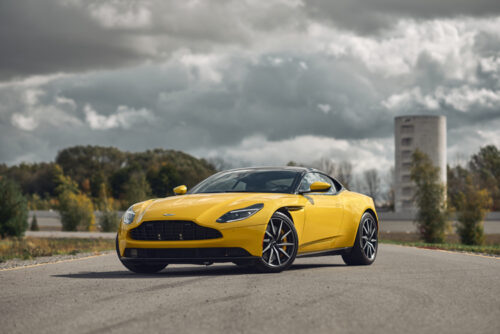 This brings us to the car featured today: the 2020 Aston Martin DB11 V8, a car provided by the kind folks over at Decarie Motors, in Montreal. Many consider the DB11 to be the car responsible for bringing Aston Martin back on the map. It's also rolling proof that risky decisions often lead to fantastic results.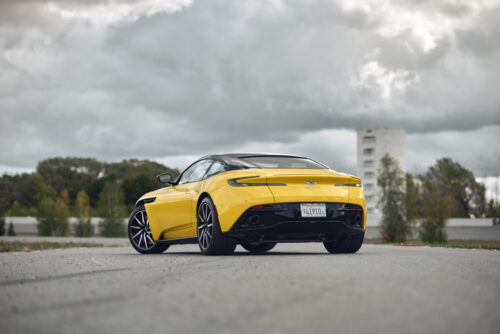 Andy's Car
To fully appreciate the DB11's importance, we must first turn to Andy Palmer, the British engineer and businessman who took the role of CEO at Aston Martin in 2014. Under Palmer's administration, Aston raised new capital for production development, put together a solid expansion plan and engineered new cost-reduction strategies that converted into actual profits. Only one year after Andy Palmer took over, Aston Martin had already registered an 11% growth.
Palmer then secured a deal with Daimler AG, which ended up owning a 5% stake in Aston Martin. The deal stipulated that Mercedes-AMG would provide engines and electrical systems to the iconic British brand. And at the center of it all, there would be an all-new flagship sports car: the DB11.
Palmer believed that a grand tourer would best represent Aston's newfound vigor while honoring its rich history. The DB11 was therefore long, wide, and flat, with a long hood, utilizing a front engine, rear-wheel drive layout., with its cockpit pulled as far back towards the rear wheels as possible. The DB11 therefore checked off all the classic British sports car ingredients, yet it also had to be modern and usable.
Unveiled at the 2016 Geneva Motor Show, the Marek Reichman-designed sports coupe set the pace for an entirely different styling direction at Aston Martin, but also presented a much more cohesive package than what the brand had built before. The car featured up-to-date drivetrain technology, much-improved build quality and, more importantly, electronics that actually worked.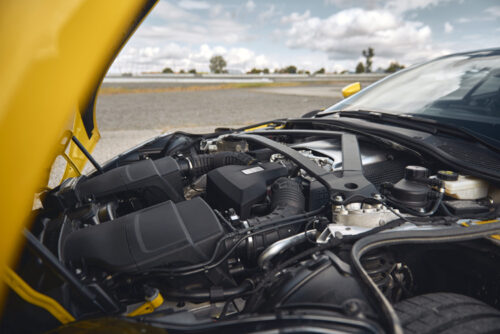 During its first year of production, the DB11 was only powered by an Aston-built, twin-turbocharged 5.2-liter V12 good for a claimed 600 horsepower and 516 lb-ft of torque. The following year, an AMG-sourced 4.0-liter V8 joined the lineup, pumping out 503 horsepower and 498 lb-ft of torque. Both engines were mated to an eight-speed automatic transmission provided by ZF.
Andy Palmer was sadly demoted from his position as CEO shortly after Montrealer businessman Lawrence Stroll took a substantial stake in the company. But many believe Palmer was responsible for saving the entire brand and bringing Aston Martin up to date with the modern age.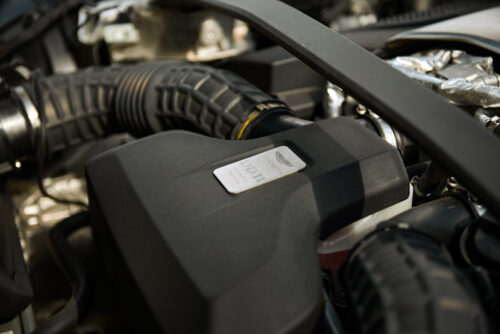 Twelve or Eight?
I drove the V12-powered DB11 back in 2017. I even used it to sample Quebec's finest poutine for Jalopnik. Back then, the DB11 had impressed me by its level of craftmanship, its comfortable ride for long trips and the tower of power provided by its massive twelve-cylinder engine.
Three years later, I'm back behind the wheel of one, but this time, in V8 form, an engine choice that has me somewhat puzzled. Yes, the DB11 V8 is just as comfortable and, in some cases, more agile due to the lowered front unspring weight of its engine, but it has me wondering why one would choose this over, say, a Mercedes-AMG GT, a sports car that utilizes essentially the same drivetrain, but sold at a much more affordable price point.
To answer this existential question, I drove the DB11 out of the city and into the countryside to first sample its on-road composure. I then brought it on the track, at Sanair Super Speedway, to get a feel of its chassis dynamics at the limit. Ironically, I also had an AMG GT-R hanging around during this test, which allowed me grasp what each car can and cannot do.
Even in V8 form, the DB11 remains an immensely satisfying grand tourer, one that will effortlessly carry speed while absorbing road imperfections with grace. While its heart is German, the entire chassis and suspension were developed in house by Aston Martin, yielding an entirely different driving experience than an AMG GT.
In typical Aston fashion, the DB11 allows its driver to independently adjust the car's adaptive dampers from the engine's throttle response, transmission reaction times and steering wheel resistance. This allowed me to keep the car soft on the road, while still enjoying the V8's lively character.
And it sure is alive. Caress the throttle pedal, and the transmission eagerly hands you over the ideal gear. The V8 is smooth, absent of apparent turbo lag, and will steadily provide thrust all the way to its rev limiter. It also sounds rather good, emitting satisfying exhaust burbles when lifting off the throttle. That said, it's definitely a German soundtrack, which somewhat dilutes the DB11's flamboyant character.
Inside, the DB11 envelops you in fantastically bolster leather seats and a unique, modern, and fresh cabin design. I particularly enjoyed the PRND buttons located right smack on the center of the dash, with the engine start button squeezed in between; an iconic Aston Martin design cue.
Build quality is good in a DB11, better than in any Aston that came before it, but some materials feel too flimsy for a car of this stature. The infotainment system is also the previous generation Mercedes interface, which isn't the most intuitive system due to its furiously complicated trackpad controls. The "don't' forget your key" message as you open the door is also taken straight out of an entry level Mercedes A-Class.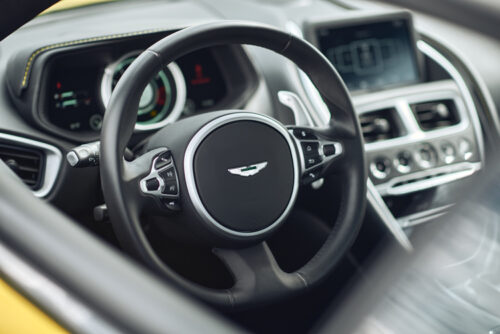 On the track, the DB11 V8 did in fact prove nimbler than its V12 counterpart, especially during turn-in and tight switchbacks, but this remains a long, soft car. It doesn't provide the kind of feedback you'll get from an AMG GT-R. Then again, it was never intended to be a performance tool.
But as far as large grand tourers go, the DB11 did prove rather playful, allowing me to even kick out the rear at times. The smaller engine, pulled back behind the car's front axle, did give it a more planted feel on the road, with a greater sense of control during high-performance driving due to increased cornering grip.
After laying a few patches on the tarmac and pushing this British brute to the limits of what its chassis could handle, I parked it on the side of the track to contemplate its existence. Because at the end of the day, we are talking about a $236,400 sports car ($276,351 as tested).
Now, consider the following: an AMG GT stickers for $170,000, while the track-focused AMG GT-R, which cranks out even more power than this DB11 and comes with a more modern MBUX infotainment system, can be yours for $190,400.
But having these two cars side by side revealed how special an Aston Martin looks and feels. I've therefore concluded that one buys an Aston for its exclusivity and supermodel good looks. It's a downright more attractive machine than any Mercedes-AMG, and its road presence cannot be denied.
As a matter of fact, this car attracted more positive stares and smartphones than any other automobile I have ever driven in my auto journalist career. After all, pulling up in the same car as James Bond carries with it a sense of aura that few automobiles can reproduce. So yes, in that respect, the price gap is justified.
But if you're going to commit to buying Aston Martin's flagship grand tourer, I say skip the V8 and head straight for the twelve. Because that's what agent 007 would do.