It's odd. Season 3 of Succession is topping the chat charts in the UK, and plenty of people are talking about The Bear. But Ted Lasso? Many don't care for it. Others just don't care. Ask any blokey bloke if he watches Lasso and you're as likely to hear "NO!" as be asked back: "Why is American football called football when they use their hands?"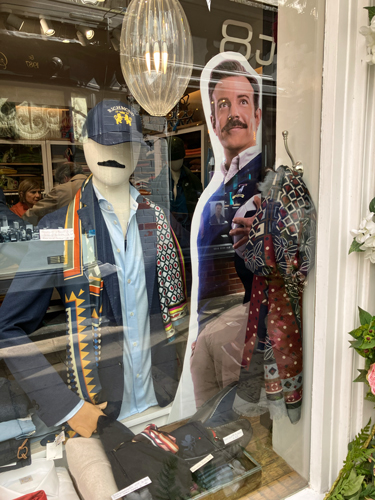 Which is actually a good question.
One reason Brits ignore this show is its inauthentic dialogue: English characters in England use words like elevator instead of lift, commercial versus advert, or parking lot instead of carpark. For perspective, imagine a toothless left-winger from Sault Ste Marie enquiring "whether you'd fancy an ice hockey match." It's sacrificing possible local fans just to play in Peoria.
Other reasons? Cable is still huge in Britain, and the online BBC iPlayer is free to anyone here who can click Yes when asked if they've paid for iPlayer. So, paid streaming's just not a major thing here. And neither is Ted Lasso.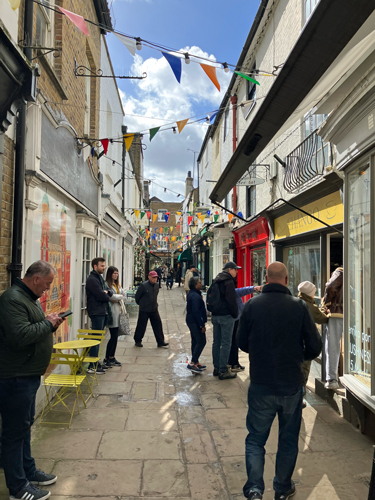 But there's an upside for us fans visiting England. You won't find many Brits on pilgrimage to Richmond, a charming suburb in southwest London, for a selfie with the life-size Ted Lasso cut-out in the shop window across from the hero character's front door. Nor do the locals ask for Mae the barkeep in the Prince's Head, the real-life name of that pub downstairs from Ted's.
All of which means you can make the pilgrimage easier!
My wife lived in Richmond as a child before her family emigrated to Canada. So, sometimes when we visit London, she likes to return there and be nostalgic. This time, however, it was as much for the selfie with cut-out Ted.
But Richmond is a long commute from central London just for a pint and a photo. Best make the most of the visit.
Here are some other Ted-related ideas for your day in Richmond.
Step outside the pub. No trick photography was needed for scenes shot either on the bench in front or on The Green, aka park, across the street. It's precisely as depicted on your screen — except maybe for all those kids always playing soccer.
Richmond Green has been home to cricket matches for centuries and is still renowned for the sport. Despite its universal appeal, football's still a fundamentally working-class game and Richmond is distinctly middleclass.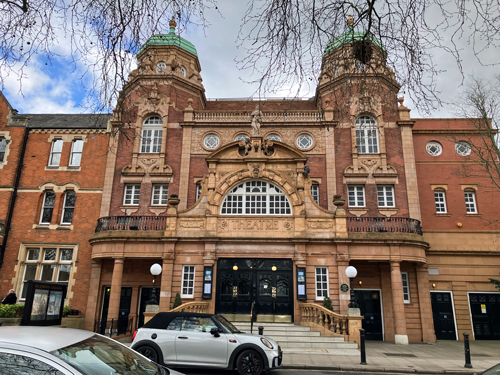 Walk in any direction. Remember Season 1, Episode 4? Just a couple hundred easy metres to your right, you'll find the Theatre where they shot the fundraiser scenes "For the Children." This grand Victorian edifice deserves a pic or two whether you're a fan or not.
Indeed, most of the streets around here are charming and/or grand, including the nearby grounds of Richmond Palace. Take a half hour to just wander. Like most of London, you're not walking a grid and will get pleasantly lost.
2b. A hot tip: Summers have been lethal in London these recent years, and there's little AC in most infrastructure. (Last summer I rode the new, air-conditioned Elizabeth tube line out to Canary Wharf, mostly for relief.) Rather than suffocating Underground or Overground train rides, consider a leisurely boat trip from central London along the Thames. Numerous services float sightseers past multiple photo-worthy stops on their way to Richmond. Which leads to the next suggestion…
Enjoy the traffic-free promenade like "Doc" Sharon. Very little of the Thames gets much airtime in Ted Lasso but this river's played a major role in the history of London since Roman times.
Several huge Richmond pubs spill onto the riverbank. Stop for a lunch before or after strolling past the immense, gnarled trees, some of which are hundreds of years old.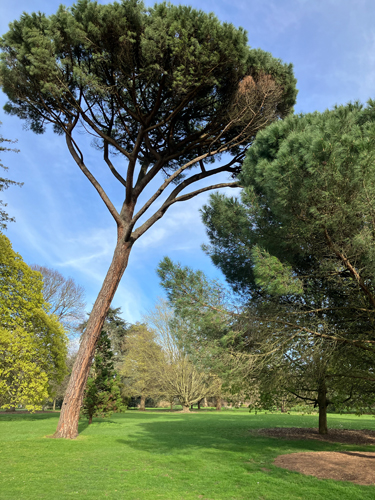 From the riverbank path, walk up Richmond Hill. Beyond the lovely Terrace Gardens, take in the sprawling view that Keeley and Ted featured in Season One when she was modeling for a vodka promotion in lion makeup. Sure, getting here's a few minutes' hard upward striding after a big lunch, but what are you: "a lion or a panda?"
You've come a long way. Don't miss Kew Gardens.
1km down the road from Richmond train station, see the imposing front entrance to Kew Gardens. (The back entrance is a far longer — if lovely — walk along the river. Budget your time wisely.)
Kew? This is the most that the indifferent will ever pay to see vegetation, but fans of flowers will think they've died and gone to Kew Gardens. Even if you know nothing about gardening, like the author, you can't help but be impressed by the sheer magnitude and near infinite variety of well-maintained plant life. (Lasso fans, relax. There's an Easter egg coming.)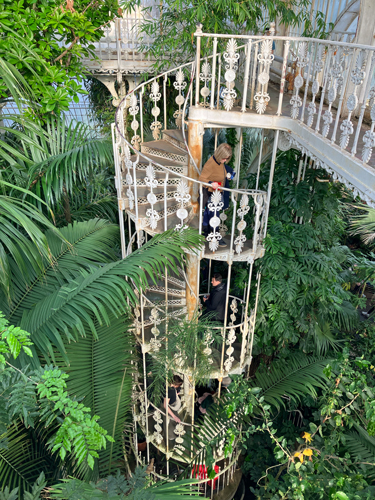 Built on a vast estate inherited by King George III who joined it to his rambling Richmond estate, Kew became and is still a world-leading institute for the study of plants and fungi. The whole place exudes an empire's confidence and grandeur. For instance, the fantastical interpretation of a pagoda predates the American Revolution. By Victorian times, adventurous British botanists and horticulturalists traveled the world, sometimes for years, to re-plant their discoveries here.
In a hurry? The Palm House is a favourite haunt of visiting botany baggers for its sweaty exotica. Be sure to climb the circular ironwork staircase and view the lush greenery from the narrow gallery. Finally, just out front of this immense greenhouse, Lasso fans will want a selfie with a goofy statue sculpted for the Queen in the 1950s but whose symbolism dates back to the 14th century: the Greyhound of Richmond!
Come to think of it, so will fans of Scoobie Doo.