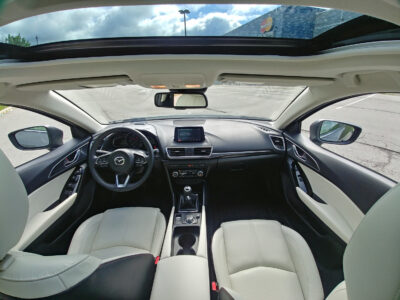 15 years after it picked up where the Mazda Protegé had left off, the Mazda3 has been a recurring hit on the market. The latest generation was introduced five years ago, which makes it a bit of an aging design, however thanks to a few subtle upgrades brought in 2017, the Mazda3 has managed to stay young until its 2019 redesign.
Mazda has been giving us a lesson or two about driving fun at an accessible price. The cool-looking, head-turning MX-5 is the best example of it, however, the same applies to the mainstream model and for under $20k, you can get an engaging drive. The manufacturer has been working off the jinba ittai Japanese principle that identifies the symbiosis between a horse and its rider which translates into a driver-centric experience at the wheel of the Mazda3.
In our latest Review in 2, we take you out for a drive in the 2018 Mazda3 Sport GT for the full Japanese experience.