The task at hand was simple really. Spend four days on the road driving a 2017 Porsche 911 Carrera 4S from Quebec City to Charlottetown, P.E.I. with six influential Porsche owners and two professional race car drivers running lead and follow. Typically, my job as an automotive journalist is to delve into the subject matter, ask pointed questions and deliver an unbiased opinion of the facts in a way that keeps readers engaged. This was different, however. I was being asked to experience the drive in the same way as the Porsche owners. The cost for this experience is $11,955.00 CDN plus flights and tax per person. Equal footing in a $150,000 sports car should provide a very interesting drive.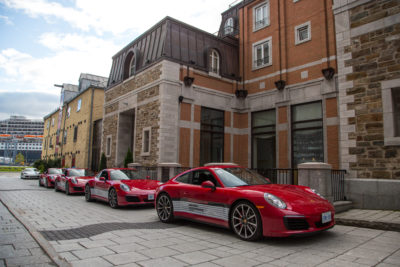 Flying into Quebec City together with automotive journalist Peter Bleakney of AutoTrader.ca, we catch a limo and head straight to Auberge Saint-Antoine, a Relais & Châteaux hotel in the heart of old Quebec. This is an experience designed to impress Porsche owners so staying at one the city's most renowned hotels is part of the package. And, as a star attraction of the Porsche Tour Canada 150 experience, the location is perfect.
Outside the hotel, lines in the pavement indicate where the St. Lawrence river once lapped at the shore, back in the days when wooden military and commercial ships lined the wharfs. Now, this reclaimed property takes guests on a historic tour of old Canada, as treasures from the past continue to be unearthed and eventually put on display throughout the hotel. Across the road, the Queen Mary II calmly pulls into port and drops anchor for the night.
Morning dawns and it is time to get in the cars and start my adventure. My journalist partner and I will be split up over the next three days and nights, driving with a few different Porsche owners on this the longest stretch of a 10-day, 9-night trip covering a total of 2,960 km.
Today we drive from Quebec City to Edmundston, New Brunswick. Leaving the hotel, we track along the northern edge of the St. Lawrence river. Our tour out of the city is filled with glorious fall sunshine, reflected in the subtle changing of the leaves with vivid yellow, orange and red colours providing a kaleidoscopic background to the passing of four red and two white Porsches at speed.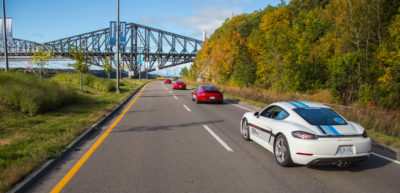 We head west on Highway 136 cross the bridge and bend left on an eastern track into rural Quebec. Following the main road for several kilometres, we eventually take a dramatic turn north before heading east again to join Highway 132. This beautiful stretch of two-lane asphalt bends and twists along the St. Lawrence River, charting a countryside course through rich Quebec farmland and small towns with grandiose central churches surrounded by small white and red houses or mansions built to enjoy the view.
Day one of my trip eventually leads away from the shore and heads south east via an indirect path to the city of Edmundston, New Brunswick. Situated at the junction of the Saint John and Madawaska Rivers, this border town was once the meeting place of the Maliseet Nation during seasonal migrations. Today, it borders the state of Maryland, its twin city Edmonston connected by a bridge. Our evening is spent dining in the hotel, enjoying the company of our east coast hosts and the continuous laughter and storytelling of our Porsche co-pilots. Have pun will travel.
The next morning is crisp with excitement, my breath hangs in the air as summer turns to fall in the matter of a few hours. We are heading to Saint Andrews (Saint-Andrews-by-the-sea) on the northern shore of the Bay of Fundy. Our trip will skirt the Canada-USA border staying mostly on the Trans-Canada Highway, with several planned detours to take full advantage of the proud sports cars we are driving.
The 2017 Porsche 911 Carrera 4S is powered by a 3.0-litre 6-cylinder engine. It produces a pavement pounding 420 horsepower and maximum torque of 368 lb-ft. Matched to a PDK transmission with exceptional steering wheel mounted paddle-shifters, the Carrera 4S accelerates from 0-100 km/h in 4.0 seconds (3.8 with Sport Chrono package) and reaches a top speed of 303 km/h.
Overtaking from 80-120 km/h, a sweet spot while driving eastern Canada roads, takes a mere 2.4 seconds to achieve. We use this impressive power numerous time passing trucks, lines of cars and each other. That is until we get behind one very skilled dump truck driver who sees our approaching line of sports cars and decides to challenge us for road supremacy. To say we are impressed with his talent is a massive understatement and he waves as we ultimately accelerate past in a nice tight line, horns blaring in salute to the unknown truck driver from New Brunswick.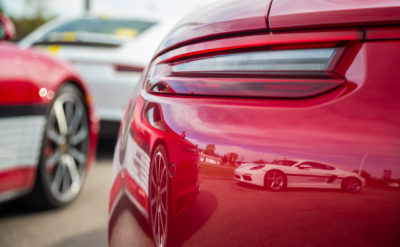 While other, equally compelling sports cars, could handle the backroads of New Brunswick with various levels of athletic aplomb, there is something very special about driving an instant classic like a new Porsche 911. It feels right, like that perfect suit you take off the rack, slide into it one sleeve at a time and watch as the tailor takes a step back before exclaiming "my work here is done." Sinking into the seats, grabbing hold of the 3-spoke leather-wrapped steering wheel and turning the left-side key fob to ignite pure passion, this is an experience any exotic sport car aficionado would appreciate.
Arriving in Saint Andrews after the longest day of driving during our trip, we pull into the Algonquin Resort as the last rays of sun bath the iconic white and red castle by the sea with warm light. For me personally, this is a bucket list hotel, one of those must-see places to see and stay in my lifetime. Score one for the list!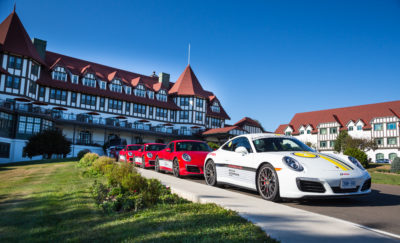 Dinner is served in a private room off the main dining hall. It, like all the other meals to date, pairs the finest local ingredients together with a perfect blend of red and white wines from around the globe. Our companions on this great adventure are from near and far; Ontario, Manitoba, Seattle and Australia.
Throughout our trip, Porsche has carefully chosen meal pairings and dining locales that reflect Canada 150 and embrace the world with its rich diversity of palette-pleasing wines and spirits. As the evening winds down, we hold an impromptu performance in the front lobby of the hotel together with our Porsche guests. Maybe it was the wine, but for the most part no hotel guests were permanently offended in the making of our concert.
Our final day takes us from the Bay of Fundy shores to Moncton and eventually where Canada first took root as a nation in the island town of Charlottetown, PEI. Crossing the majestic Confederation Bridge to Canada's most beautiful island on the Atlantic coast, we are winding our way through tight two-lanes when suddenly the lead Porsche comes to a rapid and complete stop. Experience takes over for all the drivers in our tight line and 911's scatter left and right with no real cause for concern. Our course leader gets on the walkie-talkie to let us know a local cat has been spared by our impressive skill behind the wheel; we all take a deep breath and punch the accelerator getting back to the chase.
The Holman Grand hotel is my final stop on our portion of the Porsche Canada Tour 150 and dining takes place later that evening in a local pub. During the afternoon, we are treated to a period-costumed tour of downtown Charlottetown and quickly brought up to speed about Canada's rich past, the founding Fathers of Confederation and how our country was formed due in large part to the over-consumption of champagne and spirits. Nothing says a party like Canada, maybe that's why it is such an easy place to visit and welcomes visitors with open arms. To experience firsthand some of the best scenery and people our country and this world has to offer while driving the 2017 Porsche 911 Carrera 4S is a memory I will celebrate for a very long time.
Related links:
Porsche Canada