Politicians, board and family members as well as the media were on hand yesterday for the official groundbreaking ceremony to announce the upcoming Porsche Centre Niagara by The Policaro Group. This will be the third Porsche Centre for the luxury automotive retailer joining Oakville and the soon-to open Kitchener/Waterloo store representing Porsche Cars Canada to residents of Southern Ontario.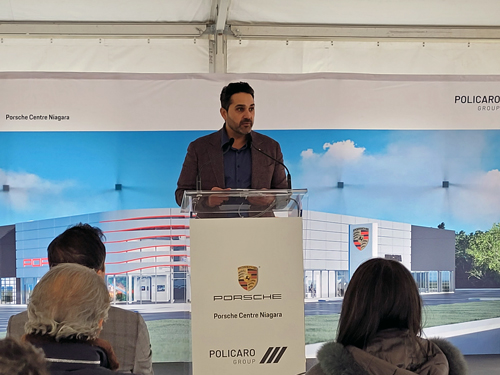 "We are very excited to expand Porsche's presence across southern Ontario with the groundbreaking of yet another Porsche location," said Francesco Policaro, CEO, Policaro Group. "This new location will expand the region's luxury automotive market and bring the love of the drive closer to home. We're thrilled to share our passion for Porsche with the Niagara Region."
Titled Destination Porsche, the 70,000 square foot facility reflects the newest architectural design philosophy of the Stuttgart, Germany based automobile company. Porsche Centre Niagara will showcase a state-of-the-art showroom, offices and service space, situated on 3 acres of prime Niagara real estate.
The two-storey building features 8 distinct showroom pods, 8 service bays, underground parking, a Porscheplatz Café and kids' entertainment area, as well as a handover area, Porsche lounge for bespoke treatment and vehicle visualization and E-Performance charging infrastructure that includes 800V rapid chargers. It is expected the new facility will create up to 40 local jobs for Niagara.
In his address to the group, Mayor Walter Sendzik stressed the significance of the new Porsche facility in St. Catharines as a game-changer for the region. With exceptional sightlines facing the Queen Elizabeth Highway, a stretch of highway that sees 11 million travellers pass through annually, the name Porsche should encourage other large national and global brands to consider Niagara. With easy access to the Toronto and U.S. marketplaces, Niagara offers the perfect location to build and invest in a community with a committed workforce that is focused on the future.
Porsche Centre Niagara is set to open in 2024 and is located at 11 Export Avenue in St. Catharines, ON.