After building stores in Toronto and Montreal, and several others worldwide, Polestar has just opened its third Canadian retail brick and mortar near downtown Vancouver. Dubbed Spaces, the premium Swedish marque hopes to provide a different type of dealership experience.
"We have brand ambassadors showcasing the product in a pressure-less environment. People shop online and come here to confirm their choice and test drive, touch and feel," said Polestar Canada Manager Hugues Bissonnette, during an open house event coinciding with the national launch of the Polestar 3 SUV at the Fully Charged LIVE home energy and EV show.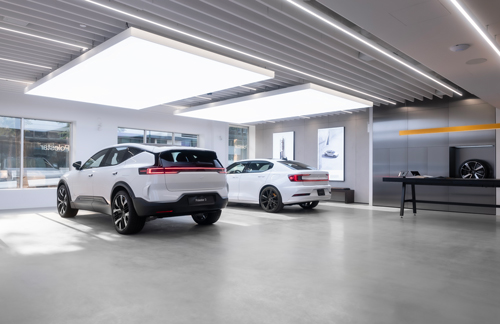 Before the construction of these urban-based Spaces, Bissonnette explained customers ordered their cars sight unseen on the internet and took delivery half a year later. Now, popular trims can be available in as little as two weeks, though more specific configurations could take a maximum of five months to arrive.
Purposefully situated along the luxury Burrard corridor also home to Lexus, MINI and BMW, the storefront is nondescript and matches the minimalistic Scandinavian-inspired showroom featuring the same signature grey and gold colour scheme found at all global locations.
Aside from the up-to-three display models that serve as the focal point, the décor consists mainly of some tasteful artwork on the walls and a section where visitors can see individual components like wheel designs up close, as well as browse samples of different exterior paints and interior finishes.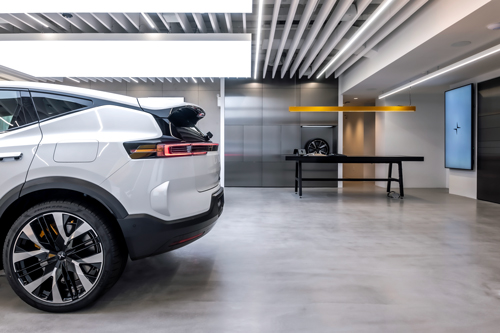 As mentioned above, ambassadors are on hand to facilitate test drives and answer questions about specific products and EVs in general — for example how charging works, or addressing range anxiety concerns, says Bissonnette, adding the latter is becoming less of an issue thanks to the updated single-motor 2024 Polestar 2 boasting a range of 515 kilometres. Prices are set, with no haggling, and the actual purchase happens via the website rather than in a salespersons' office. In addition, buyers can choose have their vehicle delivered onsite.
Polestar Vancouver is located at 2211 Burrard St. and is open Monday to Friday from 9 a.m. to 6 p.m., Saturday 10 a.m. to 5 p.m. and Sunday 12 to 5 p.m. Visit www.polestar.com/en-ca/spaces/vancouver for more information.